Syria News: Aleppo Evacuation Delayed As Russia-Turkey Ceasefire Deal Unravels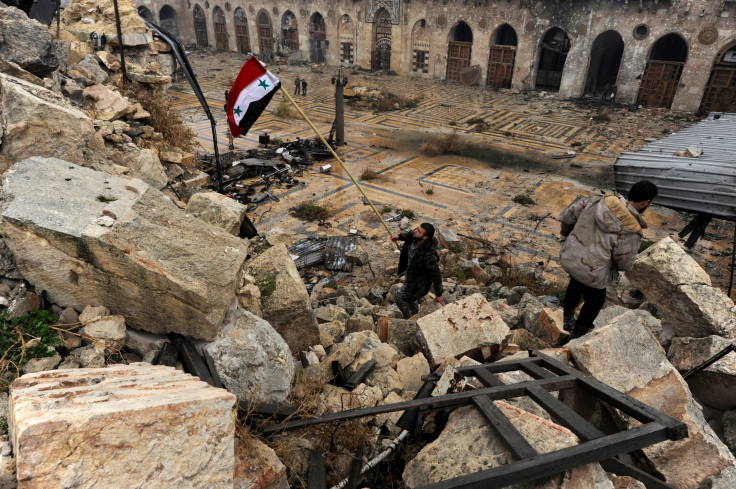 The evacuation of civilians and rebel fighters from east Aleppo has been delayed despite a ceasefire deal brokered by Russia and Turkey on Tuesday that ended military operations in the battered city. However, a monitoring group said shelling resumed Wednesday morning.
Russia blamed the delay in evacuation on rebel forces who, Moscow said, opened fire on pro-government, forcing them troops to retaliate. The Russian Defense Ministry said rebel troops had "resumed the hostilities" at dawn Wednesday. The ministry also alleged that rebel groups fired at a convoy carrying other rebel fighters who had agreed to leave eastern Aleppo.
Russia's Foreign Minister Sergei Lavrov said rebel resistance was likely to end in the following two or three days. He also added that Russia's talks with Turkey on Syria would be more efficient than "fruitless get-togethers with U.S.," state media reported. Lavrov also said Russia was in talks with all armed groups in Syria except the Islamic State terrorist group and the Nusra group.
Meanwhile, Turkey blamed pro-government forces and other groups for the delay in evacuation, adding there would be more talks with Russia and Iran. Russian President Vladimir Putin will be speaking via telephone to his Turkish counterpart Recep Tayyip Erdoğan later Wednesday. The two leaders will be discussing the situation in Aleppo, reports said.
But rebel groups blamed Iran for the delay.
"What is stopping the agreement presently is Iranian obstinacy," a commander with the rebel Nour al-Din al-Zinki group told Reuters.
The ceasefire deal was expected to hasten the end of the five-and-a-half-year war in which Aleppo, once Syria's industrial center, was a key battleground. Rebel groups have had control over east Aleppo since 2012. In 2016, troops loyal to Syrian President Bashar Assad, backed by Russian airstrikes, launched an offensive to retake eastern Aleppo.
A senior Turkish official told the Guardian the ceasefire deal would allow "civilians and moderate rebels with light weapons" to leave Aleppo for Idlib province and that they would be free to relocate elsewhere once they reached Idlib.
The United Nations alleged Tuesday that Syrian troops had carried out extrajudicial killings in newly reclaimed districts in east Aleppo. The U.N. said Wednesday it was not involved in the evacuation process but was ready to help.
"[The UN] stands ready to facilitate the voluntary and safe evacuation of injured, sick and vulnerable civilians from the besieged part of the city," the U.N. office for the coordination of humanitarian affairs reportedly said.
In a separate development not related to the Ankara-Moscow ceasefire agreement, Russian media reported 6,000 civilians and 366 rebel fighters left east Aleppo over the past 24 hours.
Russia's aid in the Syrian war has helped Assad gain not only the whole of Aleppo but also rebel-held districts near Damascus this year.
© Copyright IBTimes 2023. All rights reserved.