Syrian Electronic Army Hacks International Business Times Website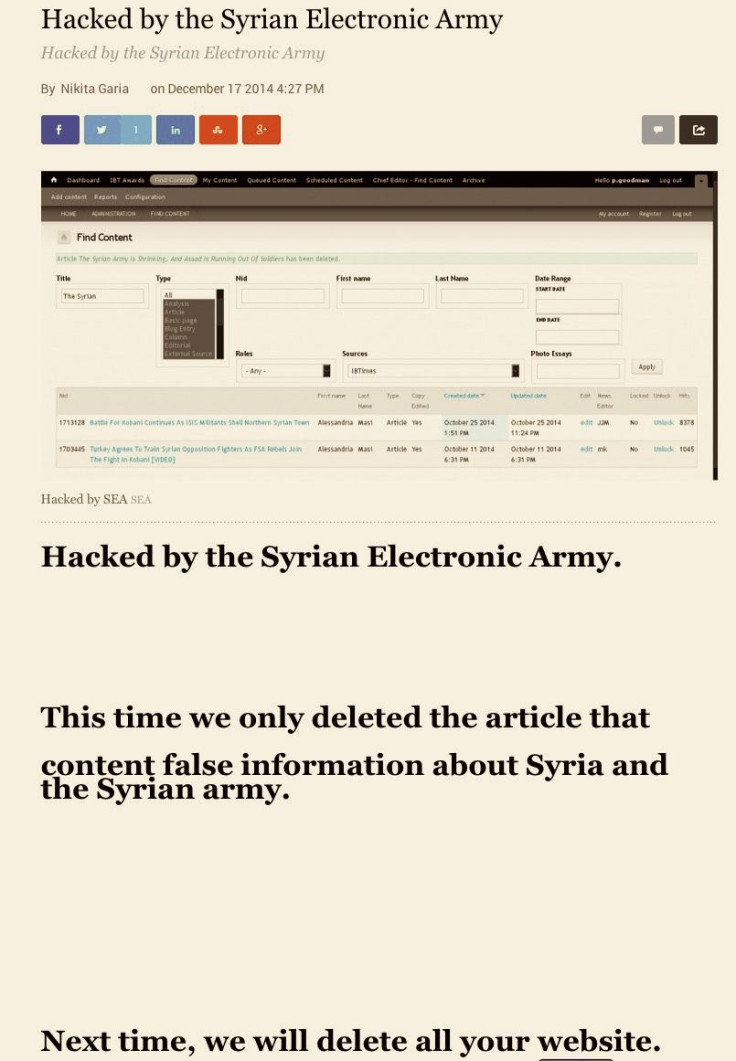 Someone purporting to be the Syrian Electronic Army claimed to have hacked the International Business Times website Wednesday evening and removed a story titled "The Syrian Army Is Shrinking, And Assad Is Running Out Of Soldiers."
The group also appeared to have taken over prominent features of IBTimes' front page, replacing a column of news stories titled "In Depth" with "Hacked by SEA." The heading later disappeared altogether after being fixed.
The deleted story, written by this reporter, cited a report from the Institute for the Study of War that stated Syrian President Bashar Assad's armed forces had shrunk from 325,000 to an estimated 150,000 because of widespread death, defection and desertion among soldiers.
The article also stated that there is growing anti-regime and anti-war frustration among certain pro-Assad Alawites in certain areas of Syria and other minority groups aligned with the regime. Their discontent comes, in part, from high casualty numbers among the regime forces which have discouraged possible army recruits.
With the number of troops at his disposal dwindling, Assad has looked to untraditional army units that include foreign fighters, National Defense Force volunteers and local militias armed by the regime.
The group replaced the story with an article titled "Hacked by the Syrian Electronic Army," and a byline under the name of "Nikita Garia," who is a news editor working out of the publication's Bangalore, India, bureau. A Twitter account with the handle @Official_SEA16 also put out a tweet claiming responsibility for the hack with a screen capture of the IBTimes website.
The group, last month, claimed to have hacked the Independent and the Evening Standard from London and Italy's La Repubblica. It also claimed a cyber-attack on the Telegraph earlier this week.
© Copyright IBTimes 2022. All rights reserved.
FOLLOW MORE IBT NEWS ON THE BELOW CHANNELS