Syrian Rebel General's Wish List Of Equipment From America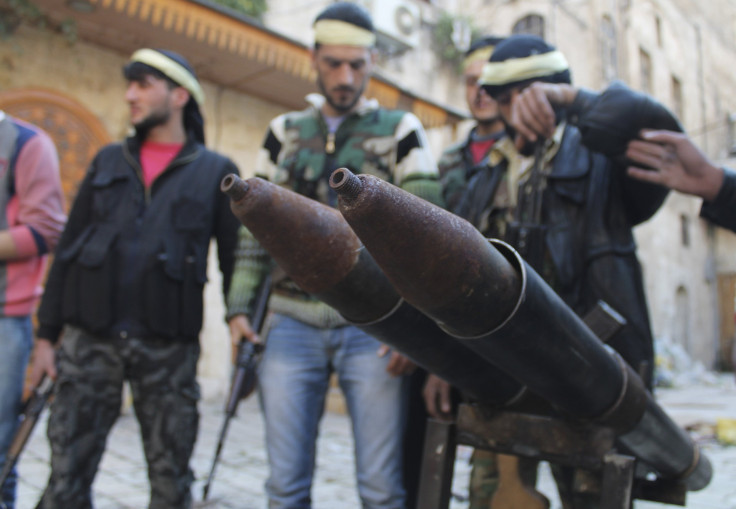 CAIRO -- This week, the U.S. was slated to send $8 million worth of so-called nonlethal aid to Syria's opposition, the first batch of the $127 million aid package announced by Secretary of State John Kerry in late April in Istanbul.
"That aid is providing food now, medical kits now and support for local leaders who are trying to lay the groundwork for a stable and a democratic future," Kerry said on April 21.
These supplies, which are primarily limited to humanitarian and medical technology, fall short of the rebel forces' demands, amid mounting pressure on the U.S. and other Western nations to take a tougher stance on Syria and supply opposition forces with arms.
According to Salim Idriss, a defected general from President Bashar al-Assad's regime who now heads the Supreme Military Council and coordinates the Free Syrian Army's operations, U.S. support has consisted of humanitarian and medical aid.
"The last delivery was ready-to-eat meals for the fighters," he said by email on Thursday. "I don't know if the [total cost] is less or more than $8 million."
So far, the U.S. has stuck to nonlethal aid and committed $250 million in total to the Syrian conflict, but analysts and activists on the ground say it had limited impact on the conflict as fighting between rebels and government forces continues across the country.
On Tuesday, Hezbollah leader Hassan Nasrallah stated the influential Shia party's commitment to intervene militarily in support Bashar al-Assad's regime, highlighting the Syrian conflict's regional complexity and risk of potential escalation.
"Syria has real friends in the region and the world that will not let Syria fall in the hands of America, Israel or Takfiri [infidel] groups," Nasrallah warned on the Al-Manar TV channel, owned by Hezbollah.
The Syrian National Coalition, a leading opposition group that has called for tougher U.N. resolutions and a no-fly zone, is now calling for a U.N. expert delegation to Syria to investigate the possible use of chemical weapons, which was the Barack Obama administration has called a "red line" that al-Assad should not cross. "The regime used chemical weapons against civilians in Syria's northern district of Serakib," according to a statement issued on Wednesday by the group.
For months, General Idriss has been requesting ammunition, anti-tank and anti-aircraft missiles and, more recently, gas masks and training on how to react to chemical weapons.
In a March interview with CBS News, Idriss claimed the Free Syrian Army could take down Assad's regime in one month if provided with arms and ammunition.
Faced with reluctance from Washington and its allies, the general's requests for assistance became more subdued: tranquilizer rifles and pistols, binoculars and armored vehicles, according to a copy of a list of his requests obtained by the International Business Times.
The general's wish list of equipment for the Free Syrian Army also includes items such as military helmets, GPS tracking devices, military-grade mobile computers and mine-detecting equipment, as well as a range of medical equipment and office supplies.
Analysts remain skeptical about how these provisions alone can help tip the balance in favor of Syria's opposition movements, given Syria's government ongoing access to heavy weaponry and supplies from its allies, primarily Iran and Russia.
"It's doing nothing," said Rami Jarrah, a Syrian activist who runs a network of Syrian journalists and activists called ANA, of the current aid. "If there was a political decision, then that money would be relevant and that support would mean something."
Joshua Landis, director of the Center for Middle East Studies at University of Oklahoma, agreed that U.S. assistance for the opposition forces is not sufficient to topple the Assad regime.
"No, it this is not enough, which is why Obama is considering giving them more," he said, noting the rebel forces need heavy artillery to go against the government's forces. "And America seems to be hesitant, because it is going to increase casualties in the short term."
But U.S. reluctance may change soon if more evidence of the use of chemical weapons by the Syrian regime comes out and Washington is able to get more partners on board.
The April 21 announcement by Kerry left the door open to a change in the American position if the current support levels from the international community prove insufficient: "We are all committed to continue to support the Syrian opposition, and there would have to be further announcements about the kind of support that would be in the days ahead," he said.
The White House remains cautious. At a press conference on Tuesday, Obama said more evidence of chemical bombing is needed before America rushes in.
"What we now have is evidence that chemical weapons have been used inside of Syria, but we don't know how they were used, when they were used, who used them," the president said. "If we end up rushing to judgment without hard, effective evidence, then we can find ourselves in a position where we can't mobilize the international community to support what we do."
There's also the issue of who gets the arms shipments, once the U.S. and its allies decide to send them. The Supreme Military Council is currently the main distribution channel for U.S. assistance to Syrian opposition forces, but analysts question its ability to execute orders, control militias and make sure supplies do not fall in the hands of extremists.
U.S. officials have already encouraged Saudi Arabia and Qatar, countries that have acknowledged providing weapons to the Syrian opposition, to use the SMC as their distribution structure to prevent supplies from falling into the hands of extremists.
© Copyright IBTimes 2022. All rights reserved.
FOLLOW MORE IBT NEWS ON THE BELOW CHANNELS