Syrian Rebels Say US Train and Equip Program Delayed, At Risk Of Failing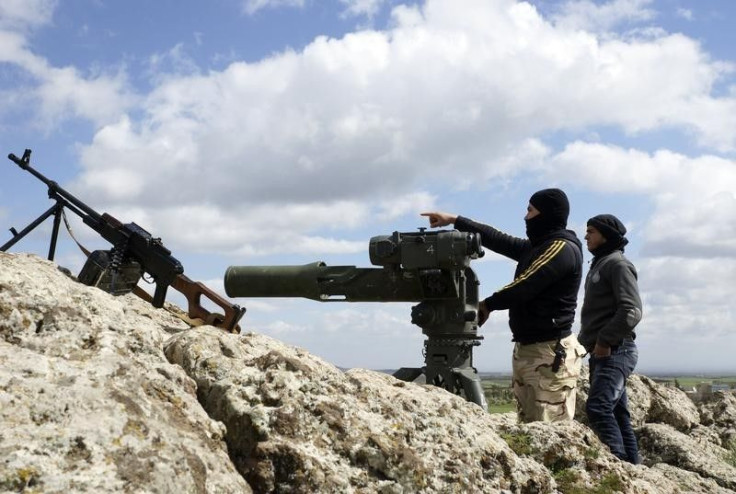 ISTANBUL -- When the U.S. announced last year it was going to start a new training program in Turkey for Syrian rebels, the program's target audience -- rebel groups based in the north of Syria -- hoped that the United States would not fail them again as it had before, fighters in Aleppo told International Business Times. Now, their fears may be about to come true. The so-called train and equip program, which was set to start last week, has been delayed, and no one knows when, or even if, it will start. The reason, the rebels said, is a deep disagreement with Washington on whether they should focus on fighting the Syrian regime or the Islamic State group.
The U.S. program to train and arm Syrian rebels was delayed because of "technical reasons," Turkish Foreign Minister Mevlüt Çavuşoğlu said this week. Both U.S. and Turkish officials said the program would proceed at some point, but Syrian rebels say there are too many disagreements between not only the U.S. and Turkey but also among the rebel groups participating to move forward.
"The arrival of U.S. soldiers in Turkey was delayed due to distance," Çavuşoğlu said Monday in a televised interview. Some of the U.S. soldiers and weapons arrived in Turkey May 1, but Çavuşoğlu said more were needed to officially begin the training program.
"There is no problem regarding the train-and-equip program apart from the logistics issues," U.S. Ambassador to Turkey John Bass told Daily Sabah, a Turkish news outlet, Tuesday.
But Syrian rebels on the border of Turkey and Syria told the International Business Times that there are fundamental disagreements about who the enemy in Syria is: The Americans want to fight the Islamic State group, but the Syrians want to get rid of President Bashar Assad.
"The revolutionary armed groups are not ready to join the training plan because it is only against ISIS," said Oussama Abu Zayd, a military and legal adviser for several of the rebel groups in Aleppo that were once affiliated with moderates but have since disbanded because of a lack of international, especially U.S., support. "In Syria we have two enemies, the Bashar Assad regime and ISIS. We can't join any plan to fight ISIS without Assad because he killed our children in Aleppo with barrel bombs and put so many of our neighborhoods under siege."
President Assad's forces, though they have been pushed back from rebel strongholds in the northern part of the country, are still in control of key areas in Damascus and in areas south of the capital. Iranian-backed Hezbollah, a U.S.-designated terrorist group that supports Assad, is instrumental in propping up the Assad regime, which also can count on an air force and advanced weaponry, as well as possible stockpiles of sarin gas, a chemical weapon.
Rebels from the northern part of the country, those who would be part of the U.S. train and equip program, say that ISIS is a tough fight, but Assad is tougher. Still, they add that they would rather fight him alone, even though they know they need more help from the U.S. and its Western allies, if it means holding on to their original cause: to oust Assad from power.
Turkey, the program's host, agrees with them. For Washington, the train and supply program was designed to fight extremist groups like the Islamic State group and Jabhat al Nusra. But Turkey, which is providing bases for the training and is a key partner in the program, is focused more on getting rid of Assad. Those competing views about who is the enemy in Syria are at the crux of the delay in the program, rebels said.
The U.S. has in fact already tried to help rebels fight Assad, unsuccessfully. President Barack Obama had approved a previous, CIA-backed program in the summer of 2013 that was supposed to provide heavy weaponry to vetted rebel groups in the northern part of the country, to help them get closer to defeating Assad. That program, though, fell apart in December amid the downfall of several key rebel groups, which proved no match militarily for ISIS or al Nusra and disbanded, alleging the U.S. had not armed them enough.
The new train and equip program, the rebels said, was supposed to be different. It was supposed to provide a more constant stream of weapons that would end up in the hands of fighters who knew how to use them. The U.S. and the program's partner countries such as Turkey were also supposed to hold regular conversations with the opposition to increase transparency, rebels said. None of those expectations have been fulfilled.
"No one knows what is going on. It is all so secret. People keep trying to get information, but no one knows how," said one source inside the Syrian Opposition Coalition who asked to remain anonymous because they were not authorized to speak on the subject. The Syrian Opposition Coalition is an umbrella group that consists of thousands of opposition rebel fighters and acts as a liaison with the U.S. and the United Nations.
"We aren't going to wait for anyone to tell us that we have to fight ISIS. We fight ISIS everyday," Abu Zayd said. "But if this group that the U.S. trains does not fight Bashar Assad. It is not part of the revolution. No one can trust it if it does not fight Assad. If we destroy ISIS without Bashar Assad, another terrorist group will rise up."
© Copyright IBTimes 2023. All rights reserved.