As Syrian Refugee Crisis Worsens, US Hasn't Taken Any Syrian Refugees From Lebanon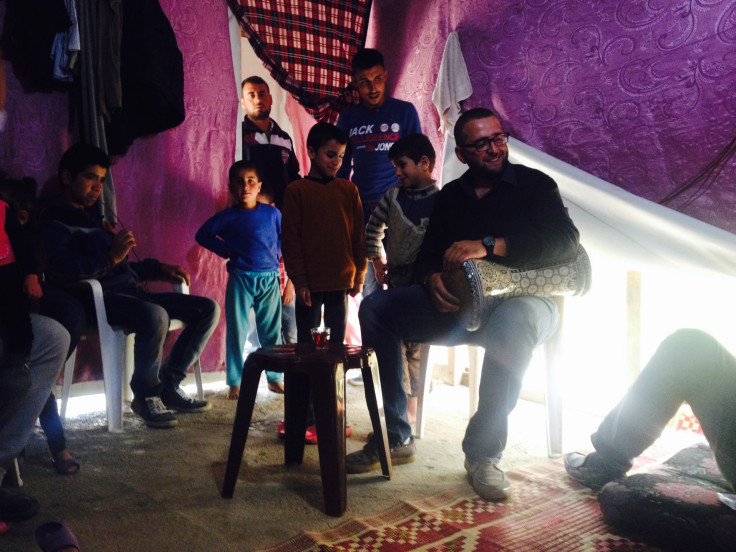 BEIRUT -- The body of a little boy wearing laced-up running shoes washed up last week on a beach frequented by tourists has become a symbol of the horrors refugees face on their journeys to Europe. Countries on the continent and the U.S. have made repeated vows to help deal with the growing Syrian refugee crisis, but America still falls short when it comes to sharing the burden with host countries such as Lebanon, where poor living conditions have made refugees desperate to escape.
The U.S. has resettled a sliver of Syrian refugees living in host countries in comparison with other Western nations, and for Syrians living in Lebanon who are hoping for better lives, resettlement in the U.S. isn't even an option. Since the country tasked its Refugee Admissions Program to boost its intake of Syrian refugees last year, the U.S. hasn't taken any cases from Lebanon and, in fact, has indefinitely suspended the operation in the country that has taken in more Syrian refugees per capita than any other in the world.
"There are no Syrian refugees from Lebanon waiting to be resettled to the U.S.," a representative of the Office of the United Nations High Commissioner for Refugees (UNHCR), the primary international body in charge of Lebanon's refugees, told International Business Times. "The program is still on hold, and we don't know why."
The U.S. Refugee Admissions Program operates based on referrals for resettlement by UNHCR. This process is applied to refugees from all over the world, and there is no acceptance quota by location. The U.S. "resettles more refugees than the rest of the world combined," a State Department official told IBT in December. But that doesn't apply to Syrian refugees, especially not those living in Lebanon.
UNHCR has referred refugee cases from Lebanon to the U.S. -- but none of them were Syrian as the program was suspended almost as soon as it was implemented. The U.N. refugee agency said it did not know if or when the program would be reinstated, but the situation in Lebanon was becoming increasingly dire for refugees depending on humanitarian assistance. Last year, the U.N. refugee agency could only raise $700 million of its $1.7 billion budget for Lebanon.
If the U.S. did reinstate the program in Lebanon, "it would affect individual lives, that's the bottom line," the UNHCR representative said.
"Every single refugee wants to go back to Syria," the representative said. "They don't want to be here, but there doesn't seem to be an end to the conflict so they're beginning to lose hope."
Refugees from Syrian Arab Republic | FindTheData
In December, the number of Syrian refugees admitted to the U.S. was expected to surge after President Barack Obama said America would "lead" the world in its efforts to handle the growing humanitarian crisis. At that time, the U.S. was already reviewing 9,000 cases from UNHCR and was expecting to receive roughly 1,000 new cases each month.
"These Syrians will begin to arrive in the United States in larger numbers in 2015," a State Department official told IBT in December.
But that did not pan out as hoped. Since the beginning of the Syrian Civil War in 2011, the U.S. has received nearly 17,000 resettlement applications and hopes to have accepted roughly 1,800 by the end of this month, according to the State Department.
The State Department did not address the specific situation in Lebanon in its response to IBT's multiple queries on the topic. And the Bureau of Population, Refugees and Migration, the unit responsible for refugee admissions, did not respond to IBT's multiple requests for comment.
In a press briefing this week, however, State Department deputy spokesperson Mark C. Toner attributed the country's poor Syrian resettlement rate to the security issue posed by the Islamic State group and al Qaeda. Syrian refugees are "folks coming from that part of the world, that region [and] we need to obviously conduct a thorough review process."
"As compelling as it is, the situation of these refugees, our first priority is to maintain the national security of the United States, protect American citizens," Toner said.
UNHCR selects referral candidates using "strictly humanitarian criteria," its representative said. For example, families with single mothers and refugees with critical health conditions take priority in resettlement referrals. After the U.N. refugee agency's referral is received, the U.S. begins a strict vetting process that can take as long as two years and is the joint responsibility of the departments of State, Homeland Security and Defense.
Most Syrian refugees are fleeing active conflict zones in large numbers and lack the proper paperwork to register in different countries, according to a recent U.N. report. In Lebanon, this is no different, but a recent government ban on new registrations means many have had to come in without telling UNHCR. There are at least 1.2 million Syrians registered with the U.N. in Lebanon, but the actual number of refugees is estimated to be much closer to 2 million.
Without proper infrastructure to accept new refugees in Lebanon, it has become increasingly difficult to weed out militants from groups such as the Islamic State group and al Qaeda-linked Nusra Front posing as refugees.
Yet most refugees are civilians, imprisoned by poor living conditions and government crackdowns. Nearly one-half of the refugees live below the Lebanese poverty line of $4 per day and are not allowed to work legally. They are desperate to leave Lebanon and start new lives in any country that offers to help them.
Hassan, a Syrian refugee living and working in a UNHCR-run camp in Lebanon's Bekaa Valley, got married to a Syrian woman this year who is now pregnant. He wants to take his family to Europe, where he can study law. Anywhere in Europe would be better, because they respect individuals, he said.
"These are the free countries," Hassan said. "You feel like a human in these countries, not like our country."
FOR FREE to continue reading
✔️ Unlock the full content of International Business Times UK for free
offer available for a limited time only
✔️ Easily manage your Newsletters subscriptions and save your favourite articles
✔️ No payment method required
Already have an account? Log in
© Copyright IBTimes 2023. All rights reserved.