Takata Air Bag Recall Update 2015: Is Your Car Affected? How To Check VIN, Model, Year For BMW, Dodge, Ford, Honda, Toyota, Nissan And More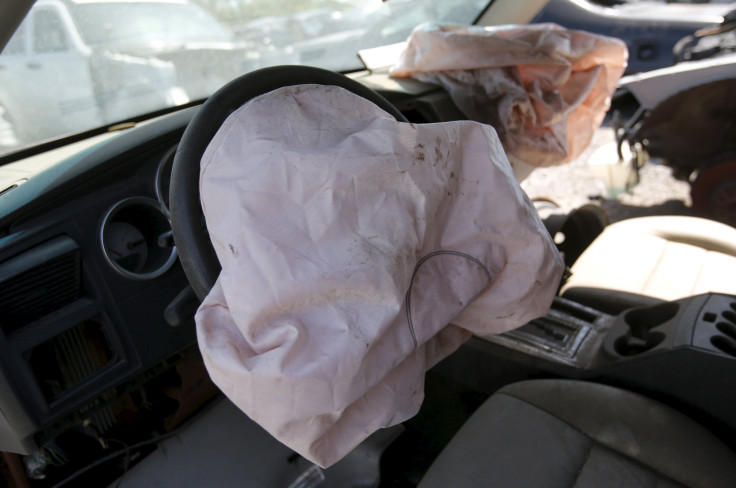 Mazda and Mitsubishi recalled 624,000 vehicles Friday, joining a growing list of automakers that issued recalls for millions of vehicles this week. The warnings were sparked by air bag maker Takata's Tuesday announcement that nearly 34 million cars in the U.S. -- double a previous estimate by the company -- could be equipped with air bags that shoot shrapnel into drivers and front-seat passengers upon deployment. Could your sedan, minivan, truck or SUV be among them? Below are the models listed since the Takata airbag-related recalls that began last year.
As automakers continue to issue recalls, this list may not be comprehensive. Check your own vehicle with the maker (links provided below) to be certain. Sometimes recalls can take a few days to be posted on automakers' websites, as well as at SaferCar.gov.
BMW has recalled approximately 765,000 automobiles including the following models. You can also enter your Vehicle Identification Number here to check if your car might be affected.
3-series sedans and wagons (2000-2005)
3-series coupes and convertibles (2000-2006)
M3 coupes and convertible (2001–2006)
Nearly 3 million Dodge and Chrysler vehicles have been recalled—check your Vehicle Identification Number here. Potentially affected Chrysler models include:
300 (2004-2008)
Aspen (2007-2008)
Dodge models recalled include:
Ram 1500 (2003-2008)
Ram 2500, 3500 and 4500 (2004–2008)
Ram 550 (2008)
Dakota (2004-2008)
Durango (2004–2008)
Charger (2004–2007)
Ford vehicles can be checked here. Below are models recalled so far:
Ranger (2004–2005)
GT (2005–2006)
Mustang (2005–2008)
More than 5.5 million Honda and Acura cars have been recalled. Check your specific vehicle here. Honda models include:
Four-cylinder Accord (2001–2007)
V-6 Accord (2001–2002)
Civic (2001–2005)
CR-V (2002–2006)
Odyssey (2002–2004)
Element (2003–2011)
Pilot (2003–2008)
Ridgeline (2006)
Acura recalled:
TL (2002–2003)
CL (2002)
MDX (2003–2006)
RL (2005)
If you own a Mazda, check here to see if your car may be affected.
Mazda 6 (2004–2008)
MazdaSpeed 6 (2006–2007)
Mazda RX-8 (2004–2008)
MPV (2004–2005)
B-series (2004)
Mitsubishi recall information can be found here:
Lancer (2004–2005)
Raider (2006–2007)
Nissan and Infiniti models can be checked using the VIN here. Nissan recalls so far include:
Maxima (2001–2003)
Pathfinder (2001–2004)
Nissan Sentra (2002–2006)
Infiniti:
Infiniti I30/I35 (2001–2004)
Infiniti QX4 (2002–2003)
Infiniti FX35/FX45 (2003–2005)
Infiniti M35/M45 (2006)
Pontiac and Saab vehicles can be checked on the General Motors website here. Pontiac recalled the Vibe (2003-2005), while Saab recalled its 2005 9-2X.
Subaru has recalled (Check your VIN here):
Baja (2003–2005)
Legacy (2003–2005)
Outback (2003–2005)
Impreza, Impreza WRX, Impreza WRX STI (2004–2005)
Toyota and Lexus cars can be checked here. Recalled Toyotas include:
Toyota Corolla and Sequoia (2002–2007)
Matrix (2003–2007)
Tundra (2003–2006)
RAV4 (2004–2005)
Lexus, meanwhile, recalled the SC430 (2002–2007).
© Copyright IBTimes 2023. All rights reserved.