Taliban Militants Storm Shia Mosque In Pakistan's Peshawar, Kill At Least 19 People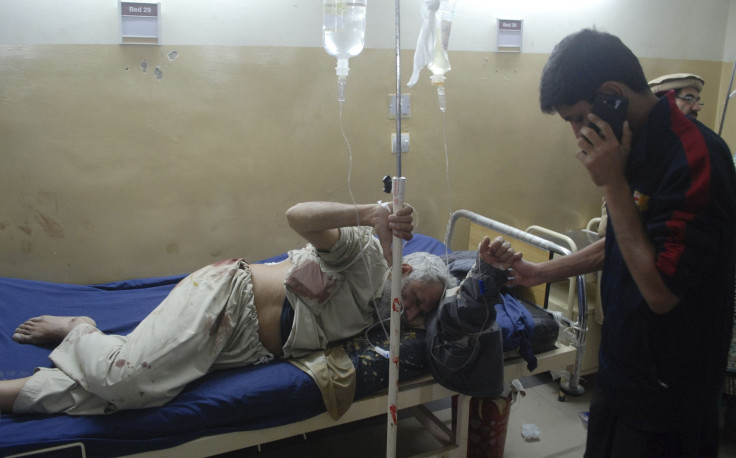 Update as of 6.50 a.m. EST: Militants of the Pakistani Taliban have claimed responsibility for the attack on the Shia mosque in Peshawar, according to local media reports.
In a statement accessed by The Express Tribune, Mohammad Khorasani, a spokesperson for the Tehreek-e-Taliban Pakistan (TTP), said that the attack was revenge for the execution of "Dr Usman." Usman, a former Pakistani army soldier, was hanged in December after being found guilty of involvement in an attack on the Pakistani army's headquarters in Rawalpindi in 2009.
Original story:
At least 19 people were killed in successive blasts and firing at a Shia mosque in the Pakistani city of Peshawar on Friday, according to local media reports. The attack comes less than two weeks after more than 60 people were killed in a blast inside a Shia congregation hall in the Shikarpur district of Sindh province.
Police officials said that militants threw hand grenades at the mosque before raiding the building and opening fire on worshippers. Over 50 people were also injured, according to local media reports. Eyewitnesses interviewed by Dawn News, a Pakistani daily, claimed that at least three attackers -- one of whom blew himself up -- entered the Imamia Masjid (mosque) during Friday prayers, wearing suicide vests.
At least 100 people were believed to be inside the mosque when the explosion occurred, according to a report by The Express Tribune, a Pakistani newspaper.
While no group has so far claimed responsibility for the attack, it bears the hallmarks of previous blasts targeting Shia buildings in January. Jundallah, a Taliban splinter group, which had pledged allegiance to the Islamic State group in November last year, had claimed responsibility for one of the attacks last month.
Several Sunni militant groups, including al Qaeda and the Taliban, have frequently targeted Shia Muslims, whom they have previously labeled as "the greatest infidels on earth."
The city of Peshawar is still recovering from the December attack on an army-run school, in which over 150 people, mostly children, were killed. In response to the attacks, for which the Pakistani Taliban claimed responsibility, the country's military had intensified its operations in the restive North Waziristan region.
On Saturday, the Pakistani government also announced the arrest of 12 Taliban militants for their alleged involvement in the Peshawar school attack, according to media reports. Another nine members of the same cell were reportedly killed by the army during its counterterrorism offensive.
© Copyright IBTimes 2023. All rights reserved.