Target, Other Retailers Beat Estimates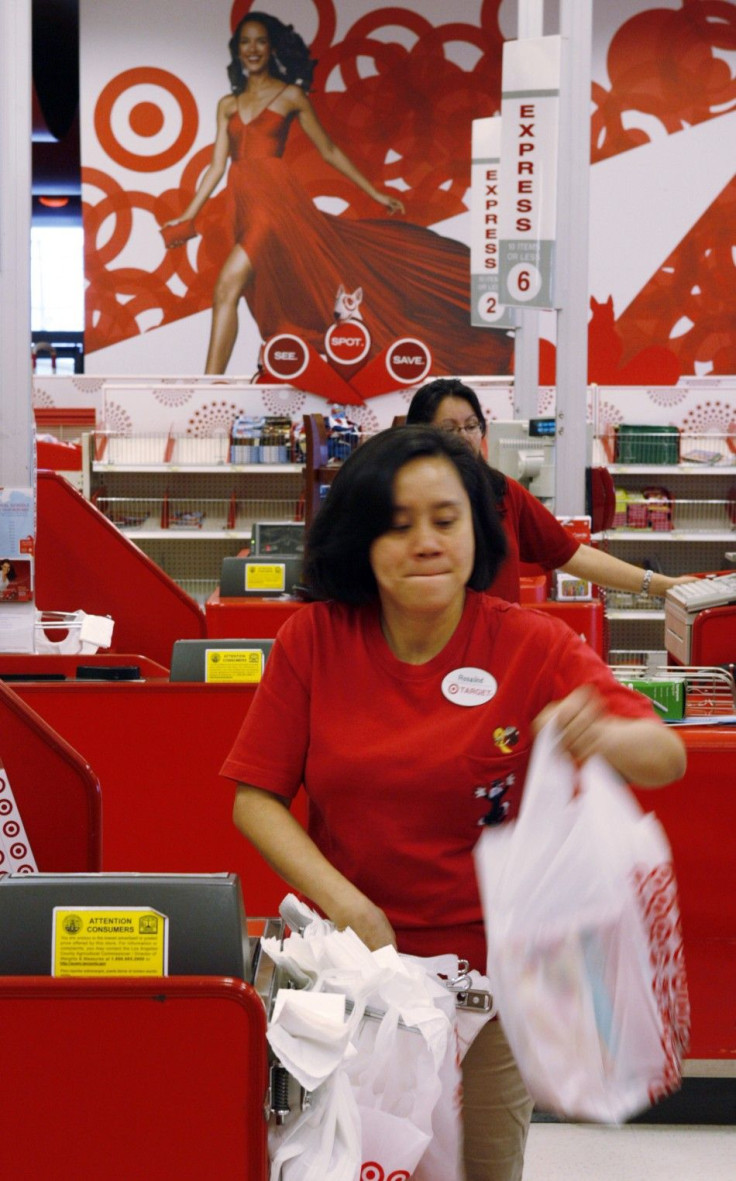 Target Corp (TGT.N) reported a bigger-than-expected rise in quarterly profit and forecast a more profitable year than analysts were anticipating, as its credit card business continued to grow and sales perked up as the summer progressed.
Shares of Target, which has more than 1,760 U.S. stores and is getting ready to open stores in Canada, jumped 4.2 percent to $51.46 on Wednesday.
Recent changes such as an emphasis on low-margin food sales and a 5 percent discount for customers that pay with Target's credit card did not crimp profits as much as feared, pleasing analysts.
Target was not the only retailer reporting better-than-expected results. Wal-Mart Stores Inc (WMT.N), the world's largest retailer and Target's main superstore competitor, said its profit rose more than expected.
On Wednesday, retailers such as BJ's Wholesale Club Inc (BJ.N) and Staples Inc (SPLS.O) also surpassed expectations.
Abercrombie & Fitch Co's (ANF.N) quarter was also better than anticipated, but it warned of troubles as it enters "a period of greater uncertainty," and its shares tumbled.
GROCERY MARGINS
Target has been adding groceries to more of its stores, a move that boosts sales but also pressures profitability, as food carries lower margins than merchandise such as apparel.
Still, the second-quarter gross margin decline was not too steep. Gross margin declined to 31.6 percent from 32 percent.
"The big win was the gross margin coming in better than expected," said Rob Plaza, senior equity analyst at Key Private Bank, who had anticipated gross margin would fall to around 31.2 percent to 31.3 percent.
The number of transactions in comparable stores rose just 0.5 percent, after rising 2.4 percent a year earlier. While traffic was down, customers spent more when they shopped as they added items to their carts and prices rose.
The small increase in store traffic was a surprise given Target's efforts to bring people in more often, such as the grocery expansion and the credit card discount, said Janney Capital Markets analyst David Strasser.
Shoppers are visiting remodeled stores more often, and spending more, said Chief Executive Gregg Steinhafel.
A large part of Target's profit coming in ahead of expectations also came from the credit card business.
Target said in January that it wants to sell its credit card receivables, or the debts that cardholders owe the retailer.
But it wants to keep control of the credit card operations, part of a key marketing strategy in which it offers a 5 percent discount to cardholders who pay with their Target branded cards.
Average receivables declined 12.4 percent to $6.2 billion, bad debt expense plunged to $15 million from $138 million and profit rose to $171 million from $149 million.
PROFIT UP
Target earned $704 million, or $1.03 per share, in the second quarter, up from $679 million, or 92 cents per share, a year earlier.
Analysts, on average, expected it to earn 97 cents per share, according to Thomson Reuters I/B/E/S.
Target forecast third-quarter earnings per share of 70 cents to 75 cents, and full-year earnings per share of $4.15 to $4.30.
Analysts were looking for Target to earn 71 cents per share this quarter and $4.12 per share this year.
Earlier this month, Target said second-quarter sales rose 5.1 percent to $15.9 billion, with sales at stores open at least a year up 3.9 percent.
© Copyright Thomson Reuters 2023. All rights reserved.