As Tech Giants Push For Diversity, Blacks And Latinos Are Fleeing Once-Diverse San Francisco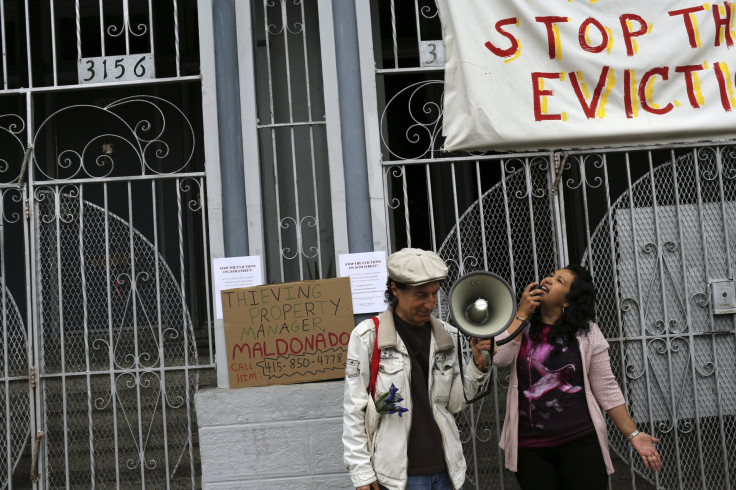 San Francisco has long been known as a mecca for diversity and the acceptance of all people, but lately its population numbers tell a different story. While the city continues growing from the latest tech boom, African-Americans and Latinos continue getting displaced, driven out of their homes and, in many cases, out of the city.
While the city's population has grown from 776,700 in 2000 to 817,500 in 2013, the black population has fallen from 60,500 to just 48,000 in that same time frame, and now, African-Americans account for less than 6 percent of San Francisco's total population, the U.S. Census Bureau says.
Latinos, meanwhile, have seen similar losses in San Francisco's Mission District, a historically Hispanic neighborhood that has recently become an attractive hub for young tech workers. In 2000, more than 30,000 Latinos lived there, making up 50 percent of the Mission's population, but in 2013, that number fell to 21,893, or 38.5 percent of the neighborhood's total population, said a study by the Mission Economic Development Agency and the Council of Community Housing Organizations.
It's been a year since many tech companies in Silicon Valley released workforce transparency reports laying bare a sorry track record in minority hiring and announced plans to be more inclusive. But the Bay Area's changing demographics are working against them. Local African-American and Hispanic residents are employed only in minuscule numbers by the tech industry, and increasingly finding themselves priced out and forced to leave.
"We don't want to continue to allow the displacement of the culture, of the life and the vitality of the city and of the Bay Area itself," said Robbie Clark, the regional housing rights campaign lead organizer at Causa Justa Just Cause, an organization that fights for equal rights for black and Latino communities in San Francisco.
2 Percent
At many top tech companies in the region, African-Americans make up less than 5 percent of the workforce, and in San Francisco, there are only about 1,000 blacks working in tech, accounting for 2 percent of its more than 47,000 total tech workers, the Census Bureau says. By comparison, Jefferson County, Alabama, and East Baton Rouge Parish, Louisiana, each employ more than 2,250 black tech workers, making up 18 percent and 20 percent of their tech workforce, respectively.
At the root of the challenge for tech companies is that there are fewer African-Americans and Latinos with degrees in tech fields than there are whites and Asian-Americans. In 2012, underrepresented minorities earned 18.9 percent of bachelor's degrees in science and engineering, the National Science Foundation says.
Over the past year tech companies have at least paid lip service to the issue. Some, like Twitter, have teamed up with diversity organizations and colleges that serve minority groups to improve their recruitment of African-Americans and Latinos. Others, meanwhile, have committed millions of dollars toward this cause. Apple, for example, donated more than $50 million to groups focused on increasing the number of minorities in the tech talent pool.
Twitter serves as a lightning rod in that it received tax breaks to move into a gleaming headquarters in a lower-income neighborhood in San Francisco without creating commensurate housing. "They're bringing talent from all over the country, if not the world, and those new residents are displacing the old residents who are already here," said Gabriel Medina, policy manager at the Mission Economic Development Agency.
When it released its first diversity report last year, Twitter revealed a workforce that is just 2 percent black and 3 percent Hispanic. Since then, it has identified at least one obstacle to hiring more African-Americans: over-reliance on referrals from current (mostly white) employees. Companies "need to start building a workforce that's more representative of the nation that their company is in," said Janet Van Huysse, Twitter's vice president of diversity and inclusion.
Black Exodus
The challenge of hiring local minorities has become more difficult. San Francisco's black population peaked at 96,000 in 1970, and since then, African-Americans have been leaving in waves. Lately, it's been their exclusion from the tech boom that's led to their exodus, often referred to as "Black Flight." Additionally, African-Americans have seen their institutions of support -- such as churches and cultural centers -- replaced because of the high costs required to operate in the city.
Tech companies "bring their people in, eat up the housing and in the midst of all of that, they just scatter African-Americans" said Frederick Jordan, president of the San Francisco African-American Chamber of Commerce, saying he feels like "this is a city that doesn't care about black folks."
One of the stalwarts in the efforts to diversify high-paid tech jobs is Intel, which first publicly posted its workforce diversity figures in 2004. Intel in January announced a clearly defined plan to achieve full minority representation at all levels of the company by 2020. As part of this plan, Intel announced it would spend $300 million to fund various initiatives to increase the number of minorities available in the talent pool as well as tie its leaders' bonus pay to the inclusiveness of their hiring.
"We're treating it as a part of our business, and that's how we do business," said Gail Dundas, an Intel spokeswoman. "We look at what's the problem that we need to solve and then set out a plan of action to solve that."
But in many ways, racial diversity is becoming a victim of the Bay Area's economic success. As more tech workers come into San Francisco and put more demand on housing, the price of rent keeps skyrocketing. In the Mission, the median rental of a one-bedroom apartment was $3,250 last summer, up 71 percent from 2011, says Priceonomics, a data company. For many low-income families, San Francisco's rent prices have simply become too expensive and can't be covered by the jobs that are afforded to them.
Changing Neighborhoods
For Latinos, the displacement is focused around the Mission District, which has been steadily gentrifying since the early 1990s. Once a landing spot for immigrant families, the Mission continues to grow whiter and its streets keep filling up with bars, coffee shops and restaurants that cater to more affluent people. Latinos are expected to account for just one-third of the neighborhood's population by 2020, says the study by the Mission Economic Development Agency and the Council of Community Housing Organizations.
Mauricio Simbeck, CEO of Milagros de Mexico, a grocery store in the Mission, said he now stocks natural, organic items like what you might find at a Whole Foods Market in order to cater to its new type of customers."The charm of the murals and some of the architecture, the charm of the Mexican restaurants and food and then you add to that the new restaurants and new coffee shops and new bars -- it has become a very attractive neighborhood for young people," he said.
David Miree, social justice and policy analyst for the San Francisco Human Rights Commission, said the city has introduced many programs to enhance the quality of African-Americans' lives in the city. One of those was an internship program that connects minority youth with tech companies and prepares them for the job market.
"We just try to do programs that are targeted to the African-American community to instill a sense of pride and instill a sense of respect for the community that is still in San Francisco, and in hopes of also attracting new members of the African-American community to San Francisco," Miree said.
But despite companies' recent vows to increase diversity, the tech industry largely hasn't done much to change the way it goes about hiring employees, said Wayne Sutton, general partner at Buildup.vc, a pre-accelerator for startups based in San Francisco. Sutton will be hosting a tech inclusion conference in San Francisco later this year.
"Overall, a lot has not changed," Sutton said. "Culture barriers between blacks, Latinos and whites and Asians still exist. There's a lot of conversations happening around diversity, but there's still not a lot of tangible, what-everybody-can-do solutions we've seen effectively work in place."
Manny Fernandez, CEO and co-founder of San Francisco angel investment platform Dreamfunded, said the tech world does care about the city's diversity and hiring more minorities, but it's impossible to improve workforce diversity figures overnight.
"I believe the tech world cares and understands the concerns. It just takes time to make a change," Fernandez said.
Unless the region's tech companies become more inclusive with their hiring, there is nothing being done to stop San Francisco from becoming a homogenous city, many experts said.
"At the same time people were getting beaten in Selma, Roy Clay was the manager of computer research and development at Hewlett-Packard, so that's the history of what California should be and that's why folks have always tried to get here so that they could have those opportunities," said John William Templeton, author of "Our Roots Run Deep: The Black Experience In California." "We need to restore that history and keep it from being turned into this fantasy camp for rich folks."
© Copyright IBTimes 2023. All rights reserved.