Tesla Model S Is A 'Contender' To Become An Official Government Vehicle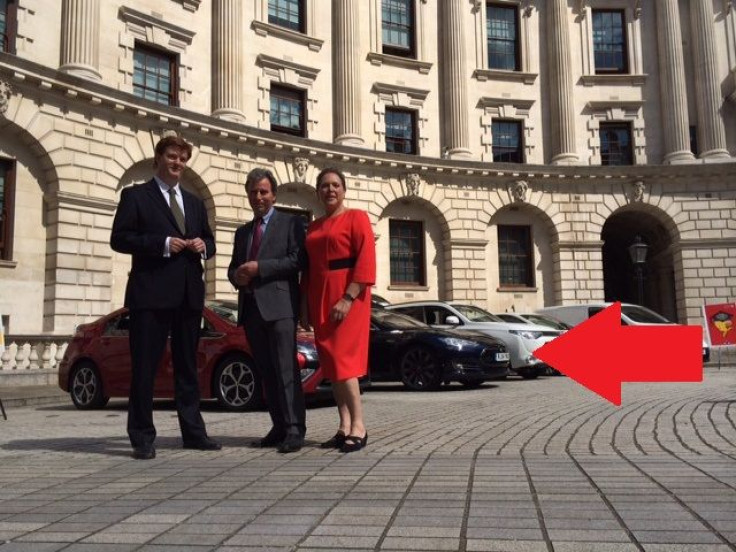 Tesla recently unveiled the right-hand-drive Model S and began selling the car in the U.K. for a starting price of nearly $89,000 including a hefty $16,000 consumption tax. Now, the California-made all-electric luxury sedan is reportedly being considered for the U.K. government's $8.5 million program to introduce electric and plug-in hybrid vehicles into its agencies.
By the fall, Whitehall says the government will begin purchasing its first wave of 150 plug-in vehicles for U.K. ministers.
"The Model S we understand will be under evaluation for inclusion," Tesla Motors Inc. (NASDAQ:TSLA) told Bloomberg. If the U.K. were to purchase Model S sedans it would be the first government to buy the high-end luxury electric car instead of more economical all-electric or hybrid plug-in vehicles.
The Model S offers the longest range of any battery electric vehicle (BEV) in the market right now, but the car also cost significantly more than other BEVs or plug-in hybrids (PHEVs). And if U.K. ministers begin shuttling around in Model S sedans, they could be criticized for riding in imported foreign-made cars.
The 2014 Nissan Leaf costs around $30,000 with a range of about 84 miles, according to the U.S. Department of Energy; that's about half the price of a 60 kWh Model S with 208 miles of range. In January, Deputy Prime Minister Nick Clegg was touting the government's efforts to promote the use of electric cars through government incentives under the Go Ultra Low campaign. That $4.3 million program brings together the five biggest BEV and PHEV makers in the U.K.: Nissan Motor Co. Ltd. (TYO:7201), Renault SA (EPA:RNO), Toyota Motor Corp. (TYO:7203), Vauxhall Motors Ltd. and Bayerische Motoren Werke AG (ETR:BMW).
Those automakers are likely to be strong contenders for the public procurement program, especially the Nissan Leaf, which is manufactured for the European market in Sunderland, U.K. Toyota also has manufacturing operations in the U.K.
International Business Times reached out to the U.K. Department for Transport to see if there was any confirmation that Tesla was in the running for government procurement.
"This announcement on Thursday did not set which models would be chosen for government fleets. It allows every agency to looks at which car suits their specific needs," a press office spokesperson told International Business Times by phone on Monday. "The review considers the whole life-cost of each vehicle to determine the most cost-effective choice."
Telsa's belief that it's being evaluated by the U.K. government is likely a result to the image posted on the U.K. government's website announcing the plan, which shows Minister of Transport Susan Kramer, Treasury Chief Secretary Danny Alexander and Cabinet Office Minister of State Oliver Letwin standing in front of five plug-in cars, including a Model S.
In 2011, New York City began buying all-electric Nissan Leafs, Chevrolet Volts, Ford Transit Connects and Navi-star e-Star utility vans. Other U.S. state and local government have begun rolling out official plug-in vehicles. Range is less of an issue for many government fleet vehicles because they are more likely to have predictable routes where government charging stations can be installed and maintained. They are less likely to be used for long-distance driving, too, eliminating concerns over running out of power between charging stations.
Tesla will announce its second-quarter financial statement on July 31. Click here for a preview.
© Copyright IBTimes 2023. All rights reserved.