Tesla Model Y Features: Crossover SUV Seen As Reliable Off-Roader?
There's no doubt in anyone's mind that Tesla's Model Y is one of the most anticipated electric vehicles today.
Thanks to some amazing features such as its impressive long-range of 300 miles on a full charge and sprinting capabilities that can accelerate from 0 to 60 mph in about 3.5 seconds. Elon Musk's fifth offering in its bid to mass-market an electric vehicle is also impressive in terms of size. It is officially labeled a cross-over SUV which means that it can carry as much as seven passengers despite its almost sedan-like appearance.
And with prizes approximately pegged at $47,000, the vehicle is fairly affordable for an electric vehicle
What's surprising about the Model Y analysis is that the vehicle could actually be an excellent off-road beast. According to a report, the Model Y only needs some small changes to make it ready for conquering some rough roads.
By fitting the Model Y with some small upgrades like a rim that can give it an edgier stance, the electric vehicle might actually pull off some off-road performance. According to the report, the Model Y already has some rough-ready features such as the black cladding over the fenders and side sills, a faux, front-mounted skid plate with a new grille piece, and a slightly raised ride height could prove useful for an off-roader or people more inclined to an outdoor lifestyle.
The Tesla Model Y was introduced as a "crossover SUV," a term that describes a hybrid of a sedan and a much-bigger SUV. The SUV is patterned using around 75 percent of the Model 3 parts. The general silhouette of the car is also more like a sedan because it lacks the trapezoidal shape at the back which is generally present in most SUVs, making it the perfect city car.
Arguably, the new crossover SUV is meant to be the smaller version of the more premium Model X (also an exceptional off-roading vehicle), and has a higher roofline and raised body compared to the Tesla Model 3 sedan. Per this report, thanks to its unique shape including the sloping back the Model Y performs well in terms of aerodynamics. Per some analysts, the design allows for a 0.23 drag coefficient compared to other SUVs, which efficiently makes it faster on urban roads.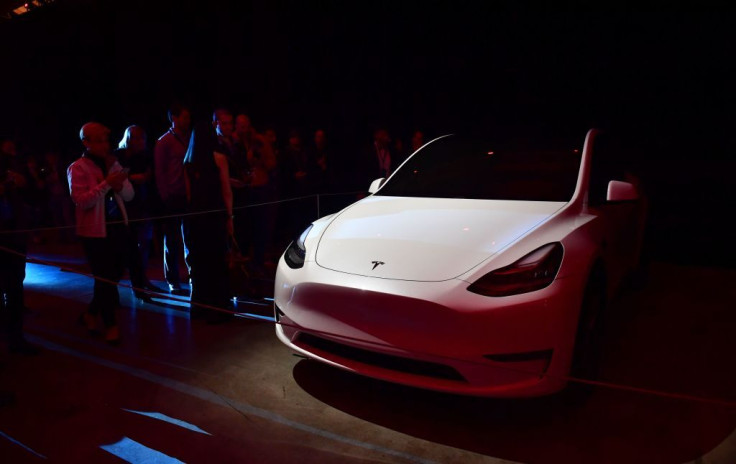 © Copyright IBTimes 2023. All rights reserved.