Tesla Motors Denies It Has Delayed Model 3 Electric Car Launch To 2018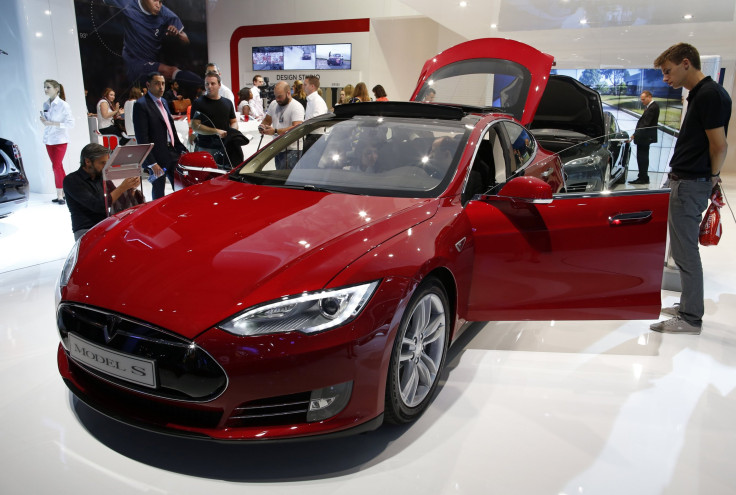 Tesla Motors spokesman Ricardo Reyes has denied his company has delayed the release of the $35,000 Model 3 electric car. His statement, posted on Twitter, comes after the popular electric car blog insideevs.com pointed to a recent Tesla presentation claiming the company pushed the Model 3 release from 2017 to 2018.
Vehicle releases dates are a touchy subject for Tesla Motors, because the Palo Alto, California, company isn't profitable and likely won't be for years as it sheds billions of dollars to hit an ambitious goal of selling 500,000 electric vehicles annually by 2020. The company recently secured a critical line of credit for up to $750 million to cover day-to-day operations.
Tesla is under immense pressure to meet deadlines. The Model X was delayed three times and is now expected out in the first half of next year. According to a June 15 presentation at a conference in Washington, D.C., the Model 3 is "planned for 2018."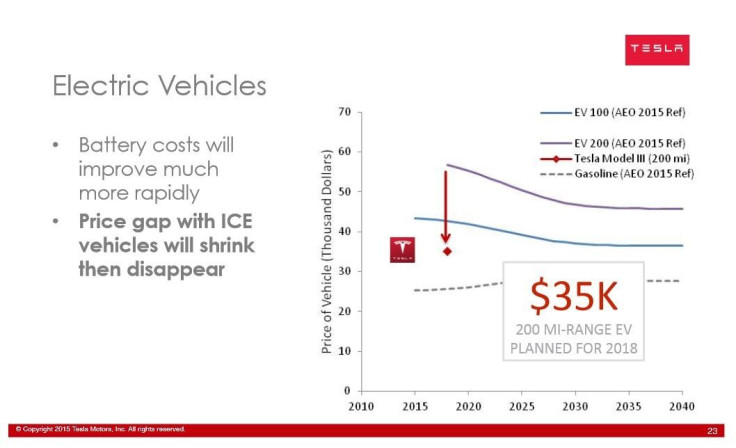 Insideevs.com says this is essentially a delay from a previously mentioned 2017 release date. The Wall Street Journal said in April the Model 3 was "due" in 2017. But that doesn't make clear if the Tesla due date is for production or for delivery. Automakers typically announce release dates that imply when cars appear in dealerships. Tesla doesn't work with dealerships, so its delivery dates are closer to when cars start rolling off the company's Fremont, California, factory line.
"We are hoping to show off the Model 3 in approximately March of next year [2016]. Again, like, don't hold me to that month, but that's, like – that's our aspiration," Tesla Motors CEO Elon Musk told analysts. "And that's – and then be in production with Model 3 in the, I'd like to say mid, but probably closer to late 2017 time frame. Late 2017 is probably more realistic."
If the Model 3 begins production in December of next year, it will likely see its first deliveries in 2018. Last year, the company said about 1,400 Model S sedans were produced in December and delivered in January because of weather and shipping delays and because some customers weren't home during the Christmas break.
The news of the alleged delay hasn't had much of an impact on the company's share price. Though Tesla's stock price was down 0.8 percent to $260.41 on Monday, the shares are up 4 percent since the June 15 presentation and up nearly 12 percent since the May 22 conference call when Musk announced the Model 3 production date.
© Copyright IBTimes 2023. All rights reserved.
FOLLOW MORE IBT NEWS ON THE BELOW CHANNELS