Tesla Motors Expected To Reveal All-Wheel Drive Model S, Crash Avoidance Tech, And Maybe Even A Surprise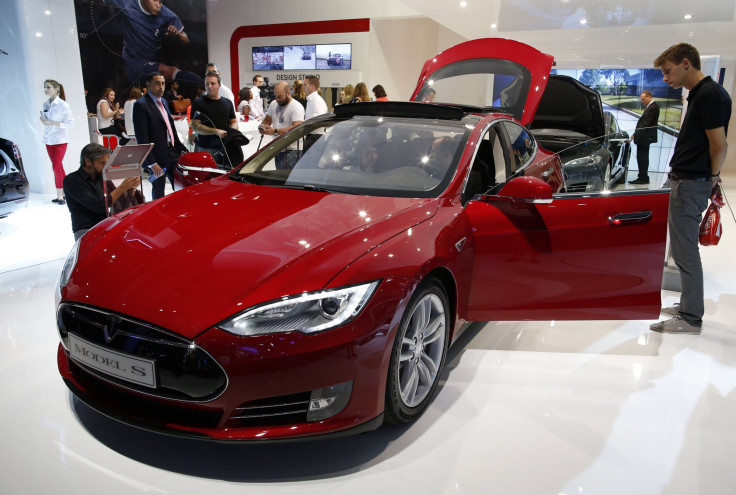 If the buzz that's been emanating for the past week from electric car fans, tech bloggers, analysts and news outlets is correct, we already know some of what Tesla Motors will reveal Thursday. But with so much happening with the Palo Alto maker of the Model S luxury electric car, there could still be surprises in store.
The company's billionaire founder and CEO, Elon Musk, boosted the speculation by posting a coy message on his personal Twitter account Oct. 1, saying his company would unveil "the D and something else." Since then a few compelling photos and reports have emerged suggesting strongly that two unveils will take place Thursday, Oct. 9.
"The D"
A day after Musk's Twitter, a longtime member of a Tesla fan site posted a picture of a Model S bearing the P85D model badge, claiming it came from "a friend." The P85 indicates the car is the high-end 416-horsepower, 265-miles range Model S powered by an 85 kWh battery pack.
Assuming the photo is genuine, the D could indicate the car has a dual-motor powertrain feeding torque to all four tires rather than the standard rear-wheel drive of the current Tesla Model S. Putting power to all four tires would not only give Tesla buyers an option offered by other luxury carmakers – think the Mercedes-Benz S-Class 4MATIC or the Audi A4 Quattro – but would also lure buyers in icy or rainy climates that prefer the road-gripping all-wheel-drive capability.
"And Something Else"
Trip Chowdhry, managing director of Global Equities Research in Redwood Shores, California, released these images on Wednesday showing a Model S sedan manufactured earlier this month that appears to have radar sensors in the front grille and above the rear-view mirror and two forward-pointing cameras behind the windshield: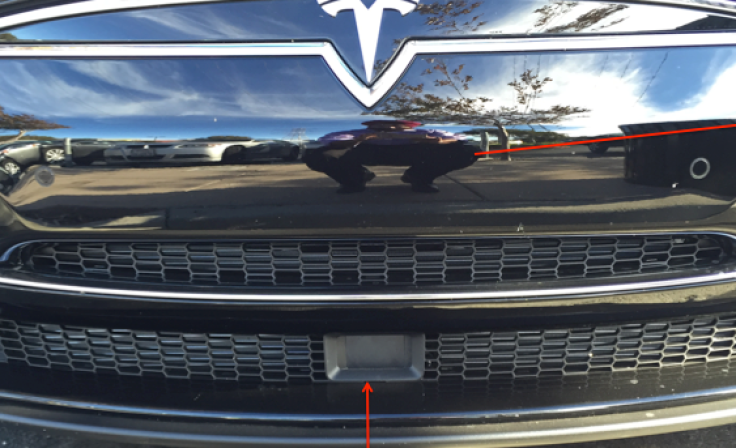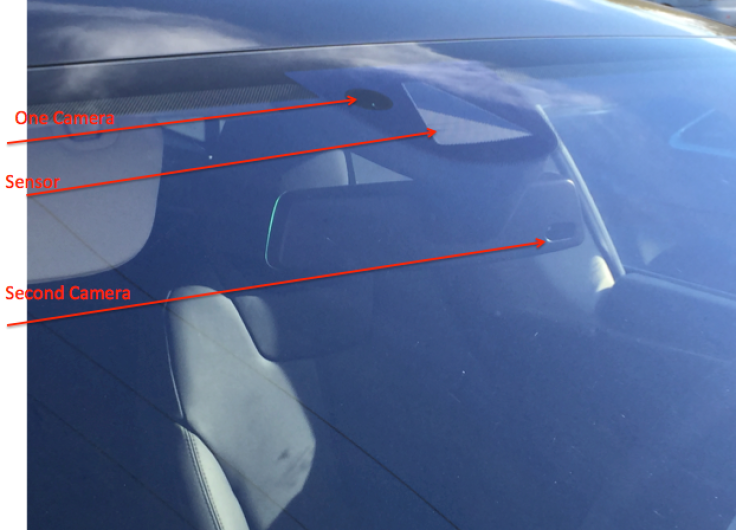 The images come after Bloomberg News reported on Sunday that Tesla Motors began installing the hardware last month aimed at complying with new European regulations requiring crash avoidance technology. Musk said in June that by next year Tesla cars would be able to drive autonomously on highways, performing on- and off-ramp maneuvers without the driver's navigation, but the sensors here appear to be less sophisticated, resembling the radar-and-camera combos used by some luxury automakers for crash-avoidance systems.
Chowdhry speculates that these sensors could be activated wirelessly on Oct. 9.
What else could be in store?
Within six months, Tesla is scheduled to begin selling its highly anticipated Model X crossover. The prototype of the family hauler with gull-wing passenger doors has been making its round at international auto shows for the past two years. It's possible Tesla could unveil the final version to the public.
The company's lower-priced Model 3 isn't due out until 2017, but Tesla could have a prototype of some kind to unveil.
What else is going on with Tesla?
Tesla has a lot on its plate right now. On Friday it said its financial arrangement with Panasonic Corp. had been finalized. Panasonic established a Nevada-based company that will be headquartered in the $5 billion "Gigafactory" battery assembly facility under construction east of Reno, Nevada.
And this week the company said it will soon offer a certified used Tesla Model S program, similar to ones offered by the large automakers, and would extend its U.S. resale value guarantee to its customers in the U.K. The deal means anyone in Britain who leases a Tesla Model S will get 50 percent of the value of the starting Model S price (that's $37,785 in the U.S.) plus 43 percent of the value of all options, such as the $3,750 tech package and the $2,250 automatic air suspension.
The news surrounding Musk's Twitter message has added almost $20 to the company's share price despite the announcement on Monday that Tesla Vice President of Communications Simon Sproule was departing the company to become the head of marketing at Aston Martin.
© Copyright IBTimes 2023. All rights reserved.