Tesla Motors Inc (TSLA) Stock Is Falling: Five Reasons UBS Says It's Time To Sell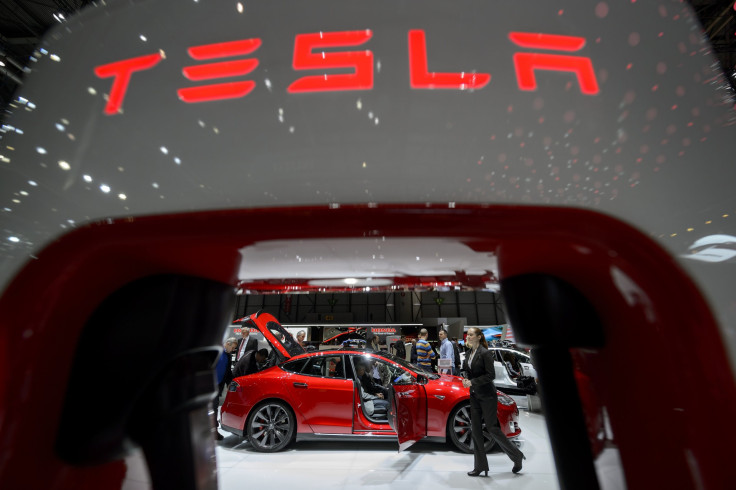 UPDATE: Tesla Motors' shares closed down 5.49 percent to $266.77 on Tuesday.
Original story begins here:
Tesla Motors Inc. (Nasdaq:TSLA) shares hit their second-highest price on record this week, but a prominent Wall Street analyst says it's now time to sell. The research unit of the Swiss bank UBS is casting doubt on the Model S luxury electric carmaker's ability to meet its sales targets for cars and electricity-storage units.
"We expect both storage and auto volume growth to disappoint," UBS' Colin Langan, wrote in a research note released early Tuesday. The equities analyst downgraded the stock's rating from Neutral to Sell and lowered its 12-month price target from $220 to $210 per share.
Tesla's shares fell 4.72 percent to $268.95 after the downgrade.
The news came days after CEO Elon Musk introduced new Model S options and said the upcoming Model X crossover SUV was "on track" to start delivering the vehicles to pre-order customers in September. Tesla shares hit an all-time high of $286.04 on Sept. 4, 2014, when the company announced the location of its "gigafactory" battery plant near Reno, Nevada.
Earlier this year, Tesla unveiled its Powerwall and Powerpack energy storage systems for home, business, utility and off-grid purposes. The Nevada gigafactory is being constructed to produce 35 gigawatt hours (GWh) of battery storage capacity, including 15 GWh for energy storage. (One GWh is a standard energy measurement that represents 1 million kilowatt hours; a high-end Model S uses a 90 kWh battery pack.) UBS estimates that Tesla would need to capture 75 percent of the energy storage market in 2020 to utilize its planned storage capacity.
Here are five takeaways from UBS's bearish note on Tesla's prospects.
* Tesla would need to grow its luxury car market share from 0.6 percent today to 8.5 percent by 2020, making it six times larger than Porsche, twice as large as Lexus and just behind Audi and BMW in terms of annual sales. "These automakers will not cede share easily," says the note.
* UBS's best-case scenario, based on the company's projected future sales and profit margins, suggests the company's 12-month stock price should be $300, or roughly $31 less than the current stock price. The downside scenario, where future sales and profit margins are less than expected, would put the company's 12-month price at $48 a share, way under its current price.
* The company's current stock price assumes it will be selling 1.5 million cars and using all of its battery production capacity annually by 2025. UBS believes this is "unlikely."
* To sell 1.5 million cars by 2025 "would require adding two more assembly plants and probably two more gigafactories" at a cost of $6 billion to $9 billion.

* Early orders for Tesla's Powerwall and Powerpack energy storage units are misleading. "Customers did not put down deposits, so these are just solicitations of interest," says the report. Early adopters will drive up initial orders, but making a leap to the mass market will be a big challenge.
© Copyright IBTimes 2023. All rights reserved.
FOLLOW MORE IBT NEWS ON THE BELOW CHANNELS