Tesla Pickup Features: Elon Musk's Vehicle Will Be Decked Out With Awesome Tech
Tesla CEO Elon Musk's upcoming Tesla pickup has been getting a lot of media attention ever since the vehicle was teased early this year during the launch of the Tesla Model Y.
And it is easy to understand why -- the Tesla pickup's mysterious appeal is a very sexy option for those looking to get into the electric vehicle movement. Musk has been very successful so far in trying to keep information about the new utility vehicle under wraps. What we know, however, is quite exciting -- a futuristic truck that the enigmatic CEO once described as "cyberpunk."
Following his statement, concept designers came out with impressive renderings for the vehicle which Musk said won't feel out of place in a "Blade Runner" movie. Turkish designer Emre Husmen started the trend when he came out with bold designs of how the vehicle would look like. Pretty soon, others followed suit and we were given a wide array of impressive options that brought to life the CEO's cyberpunk vision. We've even seen actual "Tesla pickups" from individuals who transformed existing Tesla vehicles into a utility truck.
Despite not knowing how the Tesla pickup could actually look like, however, what we do know is how the pickup could eventually perform. The new electric utility vehicle is expected to be quite powerful, with a towing capacity of over 300,000 pounds -- a feat overpowered only by Ford's electric F-150. The truck could also drive upt 500 miles or more on a full charge and at a speed that's equal to the iconic Porsche 911.
Now there is also news that the Tesla pickup is going to be a technological wonder and will be decked out with tech features that will make the vehicle seem even more futuristic. Per the report, the truck is going to be powered by a dual-motor all-wheel-drive system that will have a "crazy torque." What's more is that Musk said that the suspension will automatically adjust according to load, a big plus if the company aims to capture a fiercely loyal pickup market that are looking for vehicles not for looks but based on performance.
The Tesla truck will also have an exceptional sonar feature with a 360-degree camera that's going to help during parking, except that the pickup is said to be capable of doing automatic parallel parking for the driver.
The pickup will be powered by a high-voltage lithium-ion battery, which is powerful enough to support outlets inside the vehicle that can be used for tools. The energy is said to be enough to operate "high-power tools in field all day. No generator needed," Musk once said in a tweet.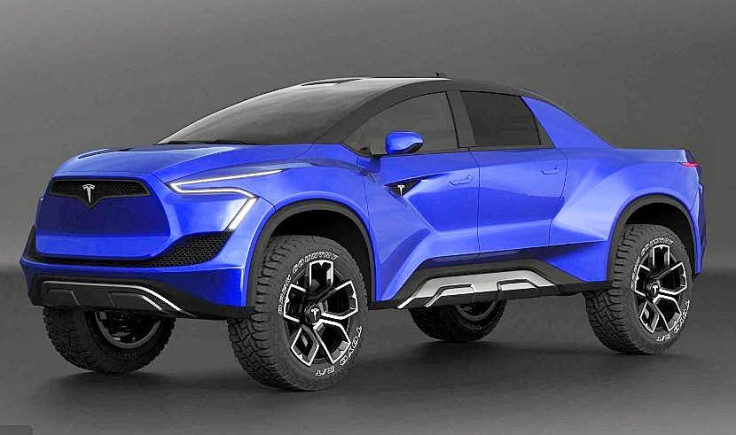 © Copyright IBTimes 2023. All rights reserved.