Tesla Pickup Final Details Taking Shape: What To Expect
Tesla's pickup truck is already shaping up to be one of the EV company's most successful vehicle in its stable despite the general public not actually getting a glimpse of the vehicle.
For months, Tesla fans and analysts had to rely on an obscure teaser shared during the Tesla Model Y launch early this year for people to get an idea what a cyberpunk truck, something that CEO Elon Musk coined, actually looks like. We have relatively very little information about the pickup which seemingly makes it more exciting to watch out for.
Now, we know that the final details of the new Tesla vehicle are already being completed, and based on Musk's recent statements, it won't take long before we finally get to see the elusive vehicle.
"We're close, but the magic is in the final details. Maybe 2 to 3 months," Musk said on Twitter, revealing the Tesla Truck's schedule.
So what are the final details that we can determine to be true of the Tesla pickup? There are a few actually. Based on statements that Musk revealed during Tesla's 2019 Annual Shareholder Meeting, the enigmatic CEO highlighted the vehicle's towing capacity and performance. We know for sure that the truck's towing capacity is going to be impressive at 300,000 pounds. Musk proceeded to compare the upcoming truck with the classic Ford F-150.
He also said that the truck will be "better" than the Porsche 911 which we can only conclude that the pickup is going to be fast. Considering this, the pickup will most likely accelerate from 0-60 mph in four seconds. This would put the Tesla at par with the Rivian R1T pickup truck which claims to run from 0-60 mph in three seconds.
Next, we're pretty sure the pickup will be relatively "affordable" at $49,000 for the base model - something that both Ford and Rivian might have a hard time competing against.
"You should be able to buy a really great truck for $49k or less," Musk said during Ryan McCaffrey's Ride the Lightning podcast. In comparison, the R1T will start at $69,000. The Rivian, however, will sport a more traditional look which could work to their advantage in the long run. Musk once admitted that the futuristic look of the Tesla pickup might not appeal to traditional pickup owners and they might come up with a more traditional design.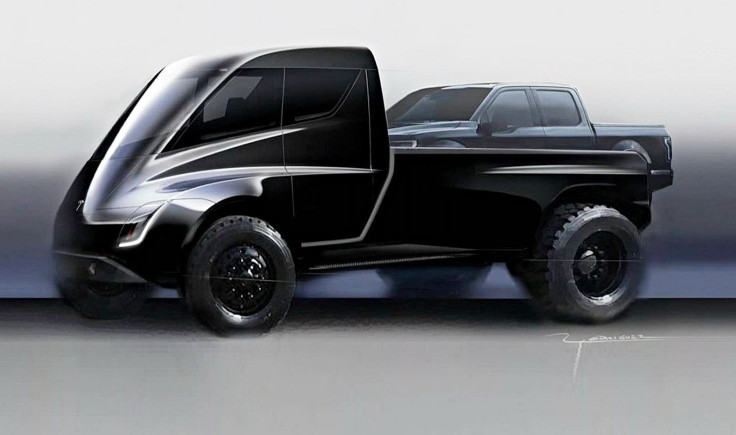 © Copyright IBTimes 2023. All rights reserved.