Tesla Smashes Delivery Record With 95,200, Stock Up 7%
Tesla Inc. reported new production and delivery records during the second quarter --- including record deliveries of 95,200 Model S, 3 and X -- temporarily silencing Wall Street bears proclaiming its days as an independent company are numbered.
Tesla's shares, which started Tuesday at $228.89, fell 1.2 percent to close at $224.55. A huge after hours rally, however, brought the stock to $240.20, up 6.8 percent.
Of the total electric vehicles (EVs) delivered by Tesla in Q2, 77,550 were Model 3 luxury executive sedans; 8,200 were Model S liftback sedans; while 8,400 were Model X mid-size luxury SUVs.
Tesla produced 72,531 Model 3 sedans and 14,571 Model S and Model X. Total production for Q2 came to 87,048 EVs while total deliveries surged to 95,200 EVs. The previous delivery record was 90,700 EVs in the fourth quarter of 2018.
During Q1, Tesla delivered 50,900 Model 3 EVs and 12,100 Model S and X EVs, up 51 percent quarter-over-quarter and a huge 217 improvement year-over-year
In April, Tesla told investors it expected to "deliver between 90,000 and 100,000 vehicles in Q2. Although it is possible to deliver a higher number of vehicles."
CEO Elon Musk confirmed that high number in a June 25 companywide email. He told employees their company was on track to deliver a record number of cars in the second quarter. Tesla's deliveries are the nearest reflection of its sales, since it shows how many cars were actually delivered to customers. A sale is only counted once the buyer takes possession of his new Tesla EV.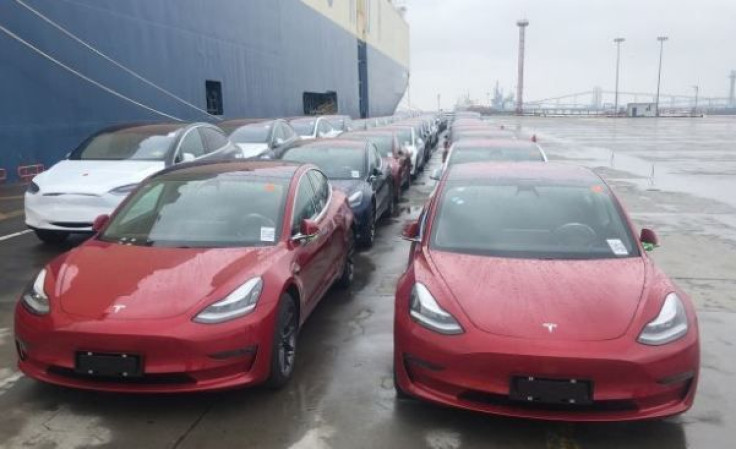 Wall Street analysts expected Tesla to deliver 91,000 vehicles during the second quarter, according to average analysts' estimates compiled by FactSet. A few bears even predicted deliveries would amount to only 87,000 EVs.
Tesla delivered a disheartening 63,000 EVs during Q1 when it had to fend off problems transporting its EVs from the Tesla Factory in Fremont, California to Europe and China. These delivery delays led some analysts to claim demand for Tesla EVs is waning, leading to downgrades in Tesla's already battered stock price.
Tesla's stock, however, has lost almost a third of its value over the past year. It currently has a market value of about $39.7 billion.
© Copyright IBTimes 2023. All rights reserved.