Thailand, Cambodia soldiers settle down near Preah Vihear temple pending talks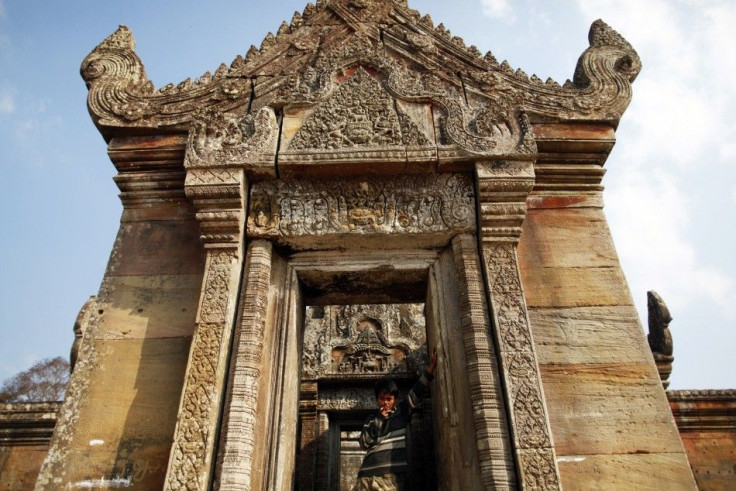 The border clashes between Thailand and Cambodia over Preah Vihear temple ended temporarily following the intervention of an ASEAN mediator on Wednesday.
Marty M. Natalegawa, Indonesian foreign minister and chairman of the Association of Southeast Asian Nations, has apparently mediated to end clashes between the two nations. As Thailand was averse to third party mediation over the issue, he said both the nations will resume bilateral talks soon. Cambodia had earlier moved the United Nations Security Council over the issue.
The issue can only be addressed bilaterally, Natalegawa stressed. A statement by the ASEAN also said five people were killed since the clashes erupted on Friday.
A 900-year-old temple, Preah Vihear in Cambodia, was attacked last week by Thai soldiers with grenades, partly damaging the outer wall of the UNESCO World Heritage Site.
Here are some key facts on Preah Vihear temple in Cambodia, Thai border:
-- Built in 11th and 12th century by Khmer dyansty rulers, the temple of Lord Shiva was built atop a 525-meter cliff in Dangrek mountains in Cambodia, visible from over ten kilometers in range.
-- Bordering Kantharalak district in Sisaket province of eastern Thailand, the temple was claimed by Cambodia and Thailand for decades and in 1962, the International Court of Justice ruled the site as part of Cambodia.
-- Though the temple was awarded to Cambodia, nearly 4.2 sq km of the border area is still occupied by Thailand, claiming the demarcation has not yet been completed.
-- The temple surroundings remained controversial and sporadic battles ensued during the insurgency by Khmer Rouge rebels who were based in the area in the early 1990s and mined the foothills where thousands of refugees were killed later.
-- The temple construction was unusual among Khmer temples as Hindu temples are traditionally built in rectangle facing the east. But Preah Vihear was built in a long north-south axis.
-- The temple, though lies in Cambodia's Preah Vihear province, was easily accessible from the Khao Phra Wihan National Park in Thailand's Sisaket province.
-- In July 2008, Preah Vihear was listed as a UNESCO World Heritage Site after a joint effort by both Cambodia and Thailand.
-- A clash between Cambodian and Thai armies in October 2008 and again in April 2009 led to the temple's damage.
© Copyright IBTimes 2023. All rights reserved.
FOLLOW MORE IBT NEWS ON THE BELOW CHANNELS