Thousands Of New York City Flights Grounded Due To Hurricane Sandy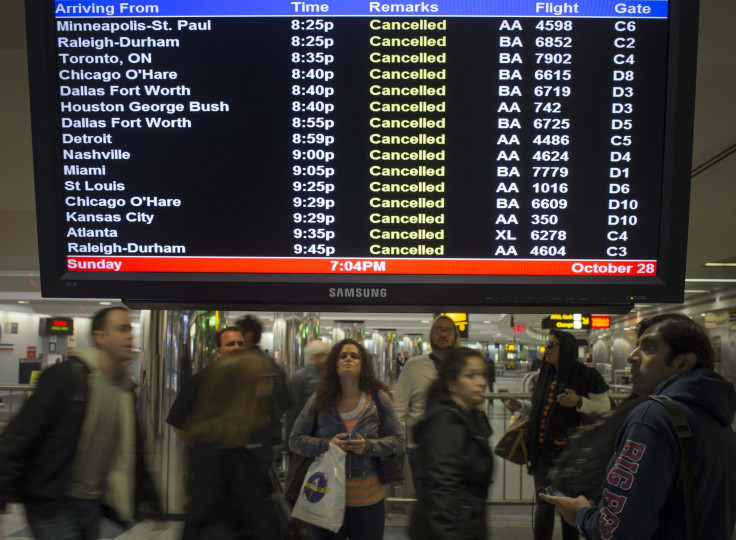 In the face of Hurricane Sandy's destructive potential, thousands of airline flights have been canceled across the U.S. Northeast.
Hurricane Sandy is poised to make landfall in the mid-Atlantic region late Monday or early Tuesday, and cities in the region have already been subject to heavier-than-average rain and wind.
Because of the even more severe weather on the way, airlines have canceled more than 6,800 flights from Sunday night to Wednesday morning in New York. Meanwhile, airports in Philadelphia and Newark, N.J., each have had more than 1,200 cancellations, according to ABC News.
JetBlue, whose main hub is at JFK International Airport in New York, has canceled more than 1,000 flights from Sunday to Wednesday. American Airlines and its partner American Eagle have canceled about 1,500 flights during the same period.
In addition, Delta Air Lines, US Airways, and even international carriers such as Air France and Lufthansa have scrapped all or most of their flights leaving the New York area. Many flights in Washington have been suspended, as well.
ABC News also reported the Port Authority of New York and New Jersey has plans to suspend all its operations at the five airports in the area by Sunday night. Most carriers plan to begin offering flights again Wednesday after the worst of Hurricane Sandy has presumably passed.
Many passengers reportedly are unable to access airline call centers or are experiencing wait times of multiple hours. The flight cancellations and delays have caused massive crowds at New York airports as travelers wait to find some way to get to their homes.
© Copyright IBTimes 2023. All rights reserved.