Thousands Of Palestinians Are Behind Bars In Israeli Jails: Are They Terrorists Or Political Prisoners?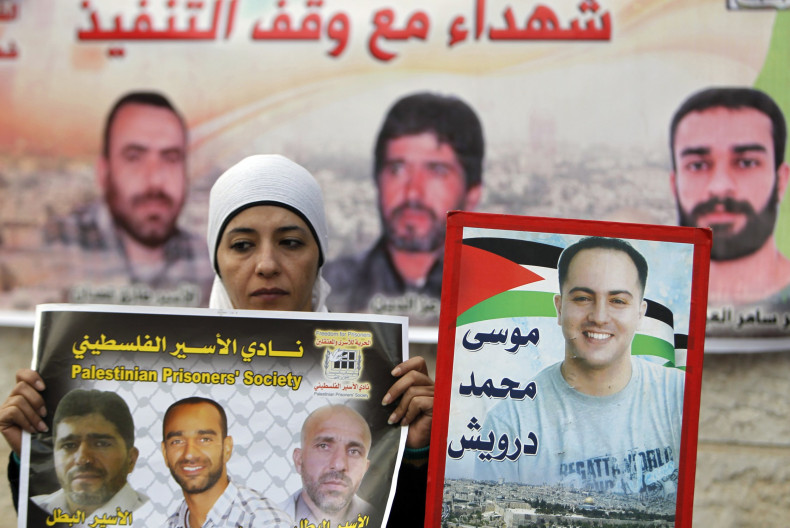 JERUSALEM -- There are 5,000 of them, in prisons across Israel.
They have been there for decades, in some cases. But they don't have a name. Are they security prisoners, as Israel calls them? Or political prisoners, as they call themselves? Are they terrorists, or heroes of their people's struggle for nationhood?
Whatever the moniker, the 4,998 Palestinians housed in 17 Israeli prisons on charges related to crimes against Israel's security are snagging headlines, and international attention. They are at the center of a fight not with bombs and guns, but based on words.
"This conflict is built on narrative," said Ronni Shaked, a former officer in Israel's internal security service, Shin Bet. "This conflict is not just to put bombs, but to delegitimize the other side."
In this conflict of dueling narratives, the Palestinian side has been louder. A recent wave of demonstrations across the West Bank over the deaths of two prisoners incarcerated in Israeli jails, Arafat Jaradat and Maysara Abuhamdia, has threatened to spark a return to violence after a period of relative calm.
Sixty-four-year-old Abuhamdia died on April 2 at the Soroka hospital from esophageal cancer. Israeli authorities determined that 30-year-old Jaradat died on Feb. 23 from heart failure within a week of his detention, allegedly at Megiddo prison. Palestinians have accused Israel of inadequate medical care in Abuhamdia's case, and out-and-out torture, resulting in death, in Jaradat's case.
Israel strongly refutes the claims, but Palestinians are undeterred. Hardly a day passes in the West Bank and Gaza without a crowd brandishing megaphones and placards picturing loved ones interned in Israeli prisons. They protest outside prisons. They call the media when a Palestinian is arrested by Israeli authorities. They engage with local and international advocacy groups. They put pressure on the Palestinian Authority to secure their release, and the prisoners themselves protest by staging hunger strikes.
Palestinian Authority President Mahmoud Abbas recently added the release of 105 prisoners, all serving life sentences, detained before the 1990s Oslo Accords that created the Authority, as another precondition to restarting direct peace negotiations with Israel. That was in addition to demanding a complete halt to Israeli settlement construction, as well as Israel's recognition of pre-1967 borders.
Then, last week, Israel decided to fight back in the media war. On the Sunday ahead of Prisoner's Day on Wednesday, April 17 -- a date that Palestinians dedicate to remembering their prisoners in Israeli jails -- it opened the doors of Ofer Prison to a group of foreign journalists for the first time, in an attempt to disprove allegations of abuse.

Some parts of the prison complex remained off-limits; journalists could visit the youth wing and the one housing militants from the radical Muslim group Hamas.

"You, the foreign press, are an important part of protecting these prisoners' rights," said the prison director, Shalom Yaakov. "Anyway, we know the prisoners call you from smuggled cell phones if anything happens here."

Ofer Prison is located on the outskirts of Ramallah in the West Bank. It's more of an incarceration facility than a prison: Most of its 800 residents are detainees awaiting trial. Each day there are heavily secured trips to and from the Yehuda Courthouse, a military court just 200 meters (650 feet) away.
Ofer has now been transferred to civilian control from the military, but Palestinians are still judged by military courts, in the areas of the West Bank that Israel administrates. "Legally, Israeli law does not apply here. But 99 percent of the laws that pertain to the Israeli system, pertain here," Yaakov said.
The procedures in the military courts are becoming more and more similar to what applies under the Israeli justice system proper, he added. Waiting times for trial and sentencing are now in line with Israel's civil courts system, and the prisoners are guaranteed the same rights and treatment as other prisoners inside Israel proper.
At the prison, the main facilities are new buildings made of concrete and steel. They were built after the prisoners burnt in protest, in 2008, the tents that were used as makeshift cells within the prison walls. Now each prisoner has his or her own bed, access to television, newspapers, regular physical activity and sport, a canteen and library, among other amenities. The Israeli Prisons Service, the Ministry of Justice and the Red Cross regularly check that prisoners receive what they are entitled to. In the male wing, prisoners are divided by political affiliation, to avoid dangerous contact between rival Palestinian factions.

'Narrative Is Stronger Than Evidence'
Across Israel, the number of security prisoners has substantially decreased. In 2007 there were 9,850, said Prison Service Deputy Commander Naftali Shmulevitz.
Of those remaining today, "2,325 directly have blood on their hands," said Shmulevitz. "The rest have tried to injure and to kill, or send money across for terrorism." Five hundred and fifty are serving life terms, or accumulated life terms, with an average of about four each.
According to Shaked, the former Shin Bet officer, those facts were conveniently missing from Palestinian discourse: "Narrative is stronger than evidence."
"Abu Mazen [Palestinian President Mahmoud Abbas] tells the small children in every place that prisoners in the Israeli jails are political prisoners, or captives, not terrorists," he said.
"According to Israel and according to international law and according to the regular understanding of the West's values, those are people who are terrorists: they killed people or attempted to kill people."
Abuhamdia, who was laid to rest in a full military funeral conducted by the Palestinian Authority, was serving a life sentence for orchestrating what was ultimately a failed suicide bombing of a Jerusalem cafe in 2002.
He was examined post-mortem by Israeli and Palestinian doctors, who both concluded that esophageal cancer was the cause of his death. Still, many Palestinians believe that Israel was to blame for his death, said Shaked: "That's the narrative, and nobody can convince them."
Jaradat's case is all the more tragic given his young age, and that he stood accused of throwing stones and a Molotov cocktail -- lesser crimes, while still potentially deadly crimes. An intermediate autopsy report released by Israel's Health Ministry found there was no evidence of poisoning or physical violence against him. The post-mortem examination was observed by a Palestinian pathologist. Israel's police are continuing to investigate the death, and a judge has ordered an investigation, as is the case in all instances of prison deaths.
Then there's Samer Issawi, whose case was profiled on the site of Palestinian prisoner advocacy NGO Addameer. The 32-year-old was freed from jail as part of a deal in 2011 to free 1,027 prisoners in return for captured Israeli soldier Gilad Shalit.
Issawi was accused of breaching his release conditions by crossing from his native East Jerusalem to the West Bank, was re-arrested in July 2012, and may serve the remainder of the original 30-year term, which he began serving in 2004. (Palestinian media have reported in the last few days that the now-dangerously ill Issawi has struck a deal for his release, but neither Israeli officials nor Issawi's lawyer have confirmed an agreement.)
Addammer's website said Issawi's hopes in life have been cut short by incarceration, and that he refuses to end his hunger strike, now more than 250 days long, unless he is released.
What Addameer doesn't say is that Issawi was originally convicted for manufacturing and distributing pipe bombs and for several instances of firing indiscriminately at Israeli civilians. A spokesman for Addameer said the NGO doesn't discuss individual prisoners' convictions because its focus is on opposing the military imprisonment system: "I don't want to go into the narrative of terrorism. We don't consider them terrorists. Israel is the terrorist. It's the occupying power. The Palestinians have a right to resist that," said the spokesman, who requested to remain anonymous.
Detention Without Trial
On Prisoner's Day, Addameer relaunched its campaign against Israel's policy of "administrative detention" -- the arrest and detention of individuals by the state without trial, usually for security reasons.
It's a system Israel defends, citing its perpetual state of emergency. Israel's parliament, the Knesset, has renewed the state of emergency, every six months to a year, since the founding of the state in 1948.
According to Shaked, it's also a system that needs to be revised if Israel wanted to be an ethical democracy. But there may be little alternative, from Israel's point of view.
"I think we have to finish with the administrative arrest of people. But we don't have another way. They're really dangerous people in potential. We are not talking about regular conflict; it's a bloody conflict, and in a bloody conflict you have to prevent people to be killed before other things," he said.
Administrative detainees account for 3 percent of Palestinian security prisoners, including 57-year-old Mohammed Ghazal, a civil engineering professor from Nablus.
He eagerly walked out of his cell into the courtyard of Ward 12, the Hamas wing at Ofer, to enjoy the sunshine in his brown prison garb and talk to the foreign press. That morning he received a letter from a judge, Ghazal said, informing him that he was still a threat to security after 17 months in administrative detention, and that his detention was extended for another five months.
"They arrested me and they always say there's security evidence against me, but they don't tell us what. They don't even tell my lawyer," he lamented.
It's his second time in detention: The first was in 2005. He denied being affiliated with Hamas, although a quick Google search identified him as giving interviews while representing that organization.
'Terror Is Terror'
Ghazal complained about the military tribunal system, but otherwise had no complaints about his treatment, only about the lack of access to family visits. Contrary to media reports, Palestinian security prisoners are granted family visits supervised by the Red Cross, but those can be canceled as a disciplinary measure which opponents say is used arbitrarily.
Visits are limited to immediate family, three adults and up to eight children, once every two weeks, for 45 minutes. Youth in custody have additional rights, such as the right to have a parent present for questioning, and to education. Many advocacy organizations report that these rights are not routinely enforced.
There are also complaints about the age for criminal prosecution in Israel, which is 12. However, Yifat Revah, a Justice Ministry official who investigates Israel's prison systems, said that in practice it began at 14.
Ofer doesn't have a dedicated juvenile system. Young inmates are detained separately from the main prison population, with 10 adult prisoners serving as supervisors in addition to guards. Ofer currently has just one accredited teacher for its 100 young inmates, and only two classrooms for a total of 40 students. The problem was the prison's budget, said Yaakov, the prison director.
Yaakov also confirmed the practice of midnight arrests, a method roundly condemned by advocacy groups. The reason, he said, was that daylight arrests caused riots.
In this battle of narratives, the Palestinian side may pass over important details such as the nature of alleged crimes committed by detainees, but the Israeli side isn't immune from bias either, ignoring conviction rates, as well as the overall validity of the military system.
Figures from the Israel Defence Forces state that 94 percent of military trials in 2010 ended in some form of conviction. But that's a figure that needs qualification: 40 percent of individual charges were dropped by prosecutors, indicating a high number of plea bargains, perhaps stemming from an overall lack of trust in the independence of the court. A further 40 percent of charges resulted in defendants being found not guilty, the IDF report said. And of the cases that went to trial, 94 percent resulted in a conviction on at least one count.
The Israeli court system did not have figures immediately available for Israelis residing in West Bank settlements convicted of security crimes against Palestinians. Media reports have suggested the figure is very low.
That's something that Shaked, the former Shin Bet officer, would like to see changed.
"Terror is terror -- I don't care if it's by settlers or Palestinians. A terrorist is a terrorist. If we are living here together on this piece of land, I want the same law on Palestinians and Jews."