Tiger Woods vs. Phil Mickelson: Winner-Takes-All $9M Showdown Available For $19.99
The build-up for the Tiger Woods vs Phil Mickelson match gathered pace Thursday after the pay-per-view prize for the event was released by the program's producers Turner Sports.
American television audiences will have to part with $19.99 to watch the exhibition match between the two former world number one golfers. The match between Woods and Mickelson will take place on the Friday of the Thanksgiving weekend — Nov. 23 at the Shadow Creek Golf Course in Las Vegas with the encounter beginning at 3 p.m. EDT.
The match is an 18-hole winner-takes-all event with the prize money set at $9 million. The matchup between the two golfing legends was first announced in August. They have shared a strong rivalry over the course of their careers and a showdown has been mooted for many years, but it was unable to come to fruition owing to their commitments on the PGA Tour.
The match on Nov. 23 will be a closed event with the public not given access — it is a match made purely for television. The producers recently announced that Capital One will be the main sponsor of the match with the title officially "Capital One's The Match: Tiger vs. Phil."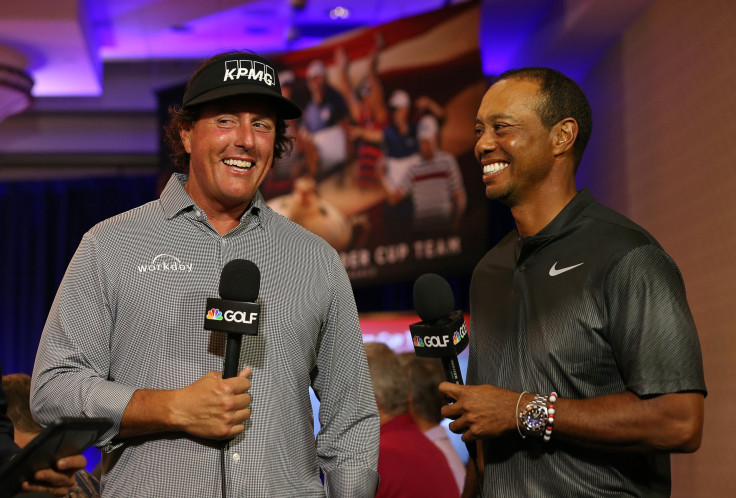 Live broadcast of the match will be available on Turner Sports' Bleacher Report Live, its live-sports streaming service, in addition to AT&T's DirecTV and AT&T's U-verse. The Golf Digest reports that HBO Sports will capture content leading up to the match for its 24/7 reality franchise.
The producers, Turner Sports, also revealed that during the showdown between Woods and Mickelson, the two golfers will be making side bets. They can challenge each other to the longest drive, closest to the pin or any other competitions during a particular hole, this will be apart from the winner's purse of $9 million. The winnings from the side bets will go to the charity of the winner's choice.
Woods has generated quite an interest after making a successful comeback from injury during the 2018 season. After recording multiple top six finishes during the course of the season, the 14-time major winner finally ended his winless streak by picking up his 80th PGA Tour title at the season-ending Tour Championship at the East Lake Golf Course.
The two players' seasons, however, ended in disappointing fashion after performing poorly during Team USA's humbling at the hands of Team Europe in the 2018 Ryder Cup. Woods lost all his four matches, while Mickelson lost two of his matches after being picked as the captain's wild cards for the biennial event.
According to ESPN, the Westgate in Las Vegas has installed Woods as the favorite for the match at -180 over Mickelson, who is rated at +150.
© Copyright IBTimes 2023. All rights reserved.
FOLLOW MORE IBT NEWS ON THE BELOW CHANNELS