Tim Cook Answered Apple's Business Questions; Now He Answers The Most Personal One Of All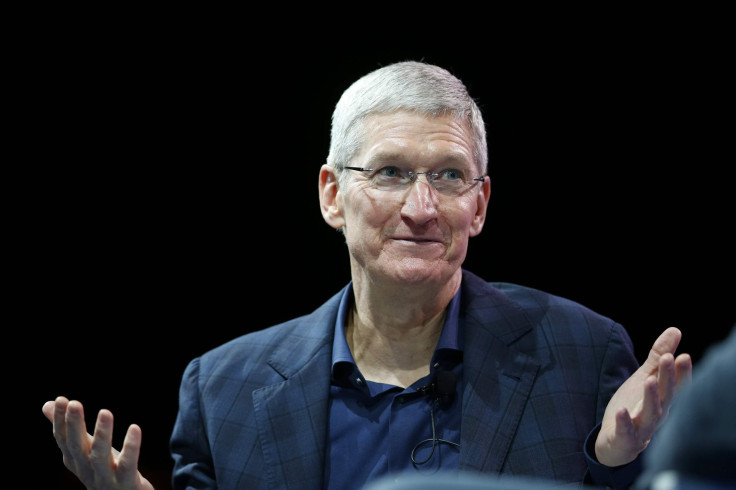 There, he finally said it. With five words -- "I'm proud to be gay" -- Apple CEO Tim Cook, who just so happens to command the most valuable company, let alone lifestyle brand, on the planet, put a part of his identity on display, making him the highest-profile business executive to identify as homosexual.
Cook has now added a personality to his stellar stewardship of Apple in the post-Steve Jobs era. Since he took over leadership of the company in 2011, among the questions surrounding Cook were the following:
Can Apple still create new markets?
Would Tim Cook simply be a caretaker?
Filling the shoes of Steve Jobs is an impossible task, but would he put on his own shoes and create the kind of global hits the company is known for?
The answer to all of these questions turned out to be yes. In 2014, Cook settled them with the company's record-breaking profits, skyrocketing iPhone sales and its Apple Watch, a new device aimed at transforming the nascent wearable technology market. Cook answered the business questions resoundingly, which allowed him to then answer the most personal question of all.
"[This] is something he has been thinking about for a while, but it's not precipitated by any event," Bloomberg Businessweek Editor Josh Tyrangiel said on Bloomberg TV. "It's not a reaction to anything."
That may be true, but Apple is in a much different position today than it was just a few months ago. Before the September introduction of new iPhones and the unveiling of the Apple Watch, the company had gone three years without anything new, but simply updating existing products. Instead, the iPhone 6 appears to be a global game-changer in mobile and the Apple Watch has spurred intense curiosity.
Had that not gone well, we'd be having a different kind of debate. "I think the fact that his disclosure is coming at a time when there is not a high-octane debate about [Apple] is better," crisis management consultant and author of "Glassjaw" Eric Dezenhall said. "If he made this announcement when there was debate about the future of the company, it would have been considered a swing and a miss."
At first glance, Cook's coming out is primarily a personal moment for him (or for any homosexual person, for that matter). But on a larger scale, it serves to remind onlookers that Apple's brand goes well beyond the products it sells. It is a tech company that also happens to be the most powerful lifestyle brand in the world, which challenges it to live by the principles it represents.
"The fact that he can do that and be supported by the company, board of directors and customers says as much about him as it does about the company itself," Deep Focus founder and CEO Ian Schafer said. "It is and always has been a very values-driven business, and that comes through in lots of their communications."
Even before Cook's announcement, Apple has been highly supportive of LGBT employees.
It was one the first Silicon Valley technology companies to offer same-sex benefits in 1993, according to the Silicon Valley Business Journal. And the company donated $100,000 in 2008 to fight Proposition 8, a ballot measure that made same-sex marriage illegal in California. More recently, Cook slammed his home state of Alabama for being too slow on equality for the lesbian, gay, bisexual and transgender community.
Cook's announcement further distinguished Apple from others by making the company the only one in the Fortune 1000 to have an openly gay CEO, according to the Human Rights Campaign. Though there's some concern that the company may receive some backlash from the announcement, most onlookers aren't worried.
"I'm not surprised most reactions are positive, though there is the potential for this unmeasurable underground effect that Apple won't be able to detect," Dezenhall said. "I think what will ultimately drive Apple is the fact that it is not seen as a business but a religion. There's an evangelical belief in this company. To me, this is going to trump everything else."
© Copyright IBTimes 2023. All rights reserved.