Apple Inc. (AAPL) Earnings Beat Expectations With Strong iPhone 6 And 6 Plus Sales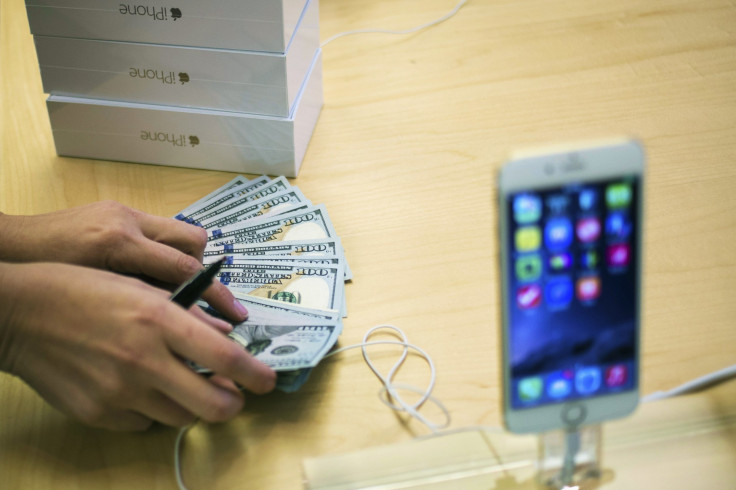 Apple Inc. beat Wall Street's expectations Monday on strong early sales of the new iPhone 6, but weak sales of the iPad showed just how much the company is depending on new models to revive sales. Apple's quarter, which ended Sept. 30, includes the 10 days of iPhone 6 sales but does not include sales of new iPads, which were unveiled last week.
The company posted earnings of $8.5 billion or $1.42 share on $42.1 billion in revenue, which was blew past analysts' forecasts of a modest earnings of $1.31 per share and $38 billion in revenue. Monday's results compared with earnings of $7.5 billion or $1.18 per share on revenue of $37.5 billion in the same quarter last year.
"Our fiscal 2014 was one for the record books, including the biggest iPhone launch ever with iPhone 6 and iPhone 6 Plus," Apple CEO Tim Cook said. "With amazing innovations in our new iPhones, iPads and Macs, as well as iOS 8 and OS X Yosemite, we are heading into the holidays with Apple's strongest product lineup ever. We are also incredibly excited about Apple Watch and other great products and services in the pipeline for 2015."
Apple's iPhones slightly beat expectations with 39.3 million units sold, compared to estimates of 37.9 million from Goldman Sachs. Despite supply constraints, demand for the iPhone 6 and 6 Plus hasn't seemed to wane globally. "We're selling everything we're making," Cook said.
Unfortunately for iPads, the tablet fared slightly worse than expected with 12.3 million units sold in the quarter ending in September, compared to projections of 12.6 million by Credit Suisse. Compared to the same quarter last year, iPad sales declined 13 percent from 14 million.
Apple's iPads continue to be a problem for Apple as users have continued to hold on to devices as old as the original iPad years after they have been retired from Apple's lineup.
"To me, I view it as a speed bump, not a huge issue," Apple CEO Tim Cook said. "That said, we want to grow. We don't like negative numbers on these things."
To remedy this issue, Apple will have to turn to markets such as Japan, which saw iPad sales jump and enterprise sales. The company expects to roll out its enterprise solutions to banks, governements, retailers and telecoms in partnership with International Business Machines Corp. or IBM next month, according to Cook.
Following the trend of increased PC sales in recent months, Macs beat expectations with 5.5 million units sold, exceeding IDC estimates of 4.9 million units shipped globally. The increase in Mac sales was attributed to strong back to school sales and demand for the MacBook Pro and the Macbook Air, according to Apple CFO Luca Maestri. Mac sales are said to have increased 46 percent in emerging markets, Maestri said.
IPods continued their decline with unit sales sinking 24 percent to 2.6 million, down from 3.5 million units during the same period in the previous year. Reflecting the ongoing decline of the iPod, Apple announced that it will now categorize iPods under its "other" product category.
The next quarterly dividend of 47 cents will be paid on Nov. 13 to shareholders of record as of Nov. 10.
Apple is expecting $63.5 billion to $66.5 billion in revenue for its first quarter in 2015. Gross margin is expected to range between 37.5 percent and 38.5 percent.
© Copyright IBTimes 2023. All rights reserved.