Top 10 Features of Windows 8: Will Microsoft Outshine Apple?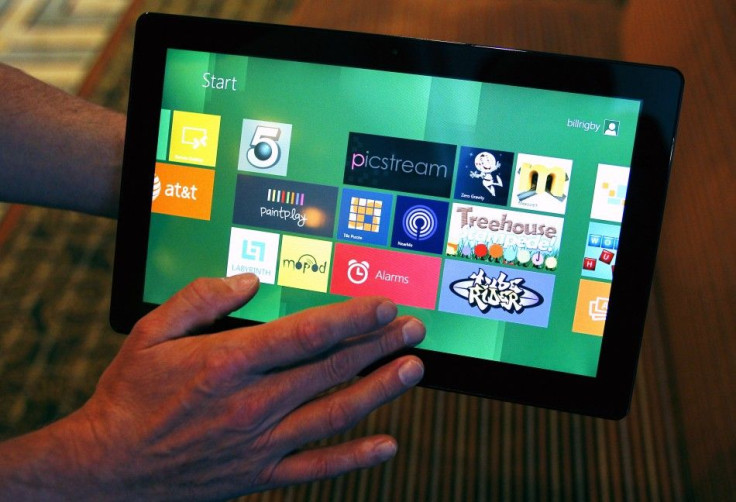 When Microsoft Windows Division President, Steven Sinofsky, gave an audience of developers a full preview of its imminent Windows 8 operating system at the company's Build 2011 conference on Tuesday, the mix of new features came as a surprise.
Calling Windows 8 a bold reimagining of the platform, Sinofsky also added that the upcoming OS is a complete overhaul without compromise starting from the chip level to the user interface (UI).
Apart from giving developers a head-start to commence building apps for the new OS, Microsoft also showed off tablets, laptops and PCs, all running Windows 8.
Although there is a plethora of new features in Windows 8, here is our take on the top 10 that Microsoft announced in the conference. The features mentioned here are based on the company demo and not a hands-on test.
Tile-based Metro Style UI: Highly evocative of the UI for Windows Phone 7, the new Metro interface is subdivided into blocks or Live Tiles, as Microsoft calls them. The touch interactive tiles display immediate data from email services, social networking sites, instant messaging apps and other information sources. In addition, the multi-monitor support built in allows the new Metro UI to operate on one monitor, while the basic Windows desktop UI shows on another.
Windows 8 introduces a new Metro-style interface built for touch, which shows information important to you, embodies simplicity, and gives you control, said Microsoft. The Metro style UI is equally at home with a mouse and keyboard as well.
Internet Explorer 10: According to Sinofsky, IE 10 will allow end users to search either their desktops or the web through Microsoft's Bing search engine. Users will also be able to use virtual thumb and full soft keyboards to perform all these searches.
Apart from being just a browser, IE 10 will also play a major role in the Metro UI. Users will be able to surf the Internet with a skinned version of Internet Explorer 10. The Metro IE 10 browser brings a start screen for quick access to the Web sites frequently used by the user, as well as the pinned Web sites.
The Metro IE10 has the address bar and a set of common commands at the bottom and Tabs at the top. It also supports private Tabs when users opt to leverage the browser's InPrivate feature. The new draw mode will help users to draw on a Windows 8 touch screen using anywhere between two and five fingers. In addition, an enhanced magnifier will allow users to magnify only a selected portion of the screen.
Retooled task manager and control panel: Windows 8 will incorporate a new task manager, in which applications will be listed independently from background processes, allowing users to view statistics, such as CPU usage, memory usage and performance for both apps and processes.
Control Panel is also modified in Widows 8 with a sensitive interface that lists categories down the left side and options for those categories on the right. Users can personalize the Lock Screen, manage users and toggle notifications for different apps.
Refresh and Reset: According to Sinofsky, the refresh function will allow users to test and compare new and old system setups with the help of a new feature called the Windows Assessment Console. He also suggested that users can also compare the impact of a software setup on hardware performance over time. The refresh function will allow users to refresh their PCs without the files getting affected.
On the other hand, the reset function helps to reset the PC and start over. With this function, the system can be restored to their original values. Users can remove any programs that they have installed, while keeping the user account and personal files intact.
ARM Processor: Adding to the traditional x86 chips from Intel and AMD, Windows 8 will also run on ARM-based processors. Thanks to their low-power, connected computing, ARM processors like Nvidia's Tegra, Qualcomm's Snapdragon and TI's OMAP have dominated both the smartphone and tablet industry.
Faster booting: Microsoft demo of Windows 8 showed a system cold boot in eight seconds. In the Building Windows 8 blog, Sinofsky said that Windows 8 achieves such super-fast booting because it doesn't quite shut down in the traditional sense. It uses a fast boot that's a combination of cold booting and hibernating.
We designed Windows 8 so that you shouldn't have to boot all that often (and we are always going to work on reducing the number of required restarts due to patching running code). But when you do boot we want it to be as fast as possible, Sinofsky said.
Windows 8 app store: With the rise of Apple's iOS App Store, a wave of app store obsession has been developed across the user base. Given that, inclusion of an app store in the upcoming Windows 8 OS shouldn't be big surprise. However, it does give Microsoft a solid support in its rivalry against Apple.
The app store creates a kind of incentive for developers to build Metro-style apps. Users will have the availability of both Win32 apps and Metro apps for Windows 8 via Windows Store.
NFC support: Microsoft has announced that Windows 8 will ship with native support for NFC (Near Field Communications). The company has demonstrated the usage of NFC on its Windows 8 tablet at the Build conference. The demonstration showed that using an NFC-enabled business card, users can easily collect the Web site address from it by simply pointing the corner of the tablet toward the card and tapping the notification.
NFC allows for simplified transactions, data exchange and wireless connections between two devices close to each other, usually by no more than a few centimeters.
Built-in Hyper-V virtualization technology: As an answer to VMware's popular hypervisor, Microsoft has announced that its Hyper-V virtualization technology will come to Windows 8. The software will be available in both the server and desktop versions of Windows.
Hyper-V requires a 64-bit system that has Second Level Address Translation (SLAT), a feature present in the current generation of 64-bit processors by Intel & AMD. Users also require a 64-bit version of Windows 8, and at least 4GB of RAM, Microsoft said.
Despite requiring 64-bit hardware and a 64-bit version of Windows 8, Hyper-V still provides the ability to run both 32- and 64-bit guest operating systems.
According to Mathew John, Hyper-V program manager at Microsoft, Hyper-V enables developers to easily maintain multiple test environments and provides a simple mechanism to quickly switch between these environments without incurring additional hardware costs.
Improved security features: Windows comes with better security features that include an improved Windows Defender built into the OS. At the Build conference, Sinofsky demonstrated that Windows 8 would not boot from a rootkit-infected USB stick.
Sinofsky said that Microsoft will continue adding new features to Windows 8. Microsoft CEO, Steve Ballmer, said earlier that Windows 8 will arrive in 2012 on PCs and tablets. However, Sinofsky refused to offer a specific date. We're going to be driven by the quality, and not by a date, he said.
© Copyright IBTimes 2023. All rights reserved.