Top Environmental, Health And Safety Violators Tracked In New Database; Britain's BP At No. 1
Large corporations are responsible for a vast majority of penalties levied over the past five years on companies that have violated American environmental, health and safety laws. According to a new corporate misconduct database compiled by the think tank Good Jobs First, Fortune 500 companies and non-U.S. Fortune Global 500 companies account for over 80 percent of the $60 billion in penalties imposed by U.S. federal regulatory agencies since 2010.
"The never-ending cases of corporate wrongdoing, seen most recently in the Volkswagen emissions scandal, make it essential for policymakers, advocates, journalists, and the general public to have access to systematic information across agencies," Philip Mattera, the first research director at Good Jobs First, said in a statement accompanying the report.
Toward this end, the so-called Violation Tracker database includes approximately 100,000 cases with penalties of $5,000 or more initiated by 13 federal agencies dealing with the environment and a wide range of health and safety issues. In order to track these penalties, the database matches parent with subsidiary companies.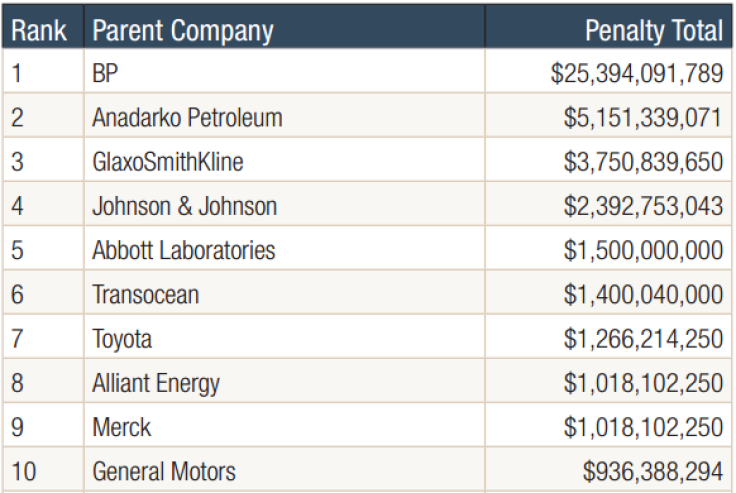 Unsurprisingly, British oil giant BP PLC -- responsible for the disastrous 2010 oil spill in the Gulf of Mexico -- tops the list of violators. The company's massive $25.4 billion fine far exceeds that of any other company and puts the oil and gas sector at the top of the sectors most affected by penalties.
According to the database, BP has 66 recorded violations -- most of them smaller than $100,000 -- from a variety of subsidiaries.
"Also high on the list is Transocean -- the company from which BP leased the ill-fated offshore drilling rig -- as a result of two settlements totaling $1.4 billion it reached with the Justice Department in 2013 on civil and criminal charges," the report found.
However, in terms of the number of recorded violations, Virginia-based mining company Alpha Natural Resources tops the list, with nearly 2,500 violations and over $500 million in fines since 2010.
In total, 40 parent companies have paid more than $100 million in penalties since 2010, while eight large corporations and their subsidiaries have paid over $1 billion for environmental, health and safety violations.
"The fact that so many of the companies in Violation Tracker are repeat offenders highlights the need to find more effective ways to deter corporate recidivists," Mattera added, in the statement.
© Copyright IBTimes 2022. All rights reserved.
FOLLOW MORE IBT NEWS ON THE BELOW CHANNELS