TPP Trade Deal Divides Democrats: President Obama Dismisses Sen. Elizabeth Warren's 'Investor-State Dispute Settlement' Warning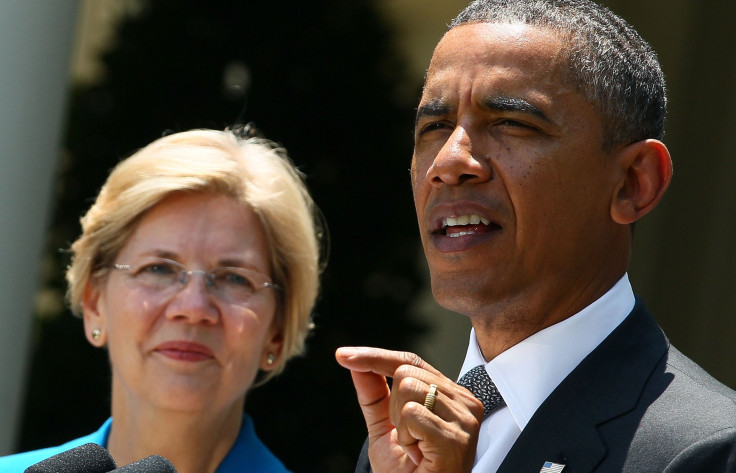 U.S. President Barack Obama pushed back against Sen. Elizabeth Warren, D-Mass., for her increasingly vocal attacks against a massive trade deal the president is seeking with 11 Pacific Rim nations. In an interview with columnist Matt Bai published Saturday, Obama accused his party's most outspoken critic of his global trade policy of "being a politician like everyone else" and that she's "absolutely wrong" about the powers the Trans-Pacific Partnership (TPP) would give to multinational corporations.
The president's remarks come after Warren accused the president of advocating a deal that would allow banks to water down U.S. regulations under the 2010 Dodd-Frank Act aimed at avoiding risky banking behaviors that dragged the global economy into recession. "The notion that I had this massive fight with Wall Street to make sure we don't repeat what happened in 2007 and 2008, and then I sign a provision that would unravel it?" the president said in response to a question about Warren's most recent attack on his free-trade policies. "I'd have to be pretty stupid."
Warren has emerged as one of the most vocal TPP opponents, saying the so-called Investor-State Dispute Settlement, or ISDS, provision would allow companies to sue TPP member countries, including the United States, if regulations harm profitability.
"Agreeing to ISDS in this enormous new treaty would tilt the playing field in the United States further in favor of big multinational corporations," Warren said in an opinion piece published in the Washington Post in February. "Worse, it would undermine U.S. sovereignty."
Warren and other TPP critics have said that the ISDS would allow, for example, tobacco companies to challenge state regulations on how they market harmful products. The president admitted that past free-trade deals have been "written sloppily," but that the TPP is a different kind of free-trade agreement, that there's "zero chance" companies could use TPP provisions to unravel consumer protections.
"Some companies -- particularly tobacco companies -- have tried to sue other countries -- not us -- but sue other countries, saying, for example, that if they had a rule that you couldn't have a brand name, or package cigarettes in a certain way, that that was discriminating against RJ Reynolds or some of the [other] big tobacco companies," Obama said. "I wouldn't sign something that undermines even other countries' efforts to protect public health and safety."
The TPP is opposed by many leftist Democrats, Tea Party Republicans and unions. The TPP is supported by many mainstream Democrats and Republicans and pro-business interests, such as the U.S. Chamber of Commerce. Supporters say the TPP and other free-trade deals promote U.S. exports and create U.S. jobs.
On Thursday, Kevin Kearns, president of the United States Business and Industry Council, which represents small and privately held businesses, told the International Business Times the TPP favors large corporations and, like past free-trade deals, would cost American manufacturing jobs and does not address the country's persistent trade deficit.
Watch the entire interview with the president here:
© Copyright IBTimes 2023. All rights reserved.
FOLLOW MORE IBT NEWS ON THE BELOW CHANNELS