TPP: Unlocking Your Phone Could Land You In Jail Under Treaty Rules, Critics Claim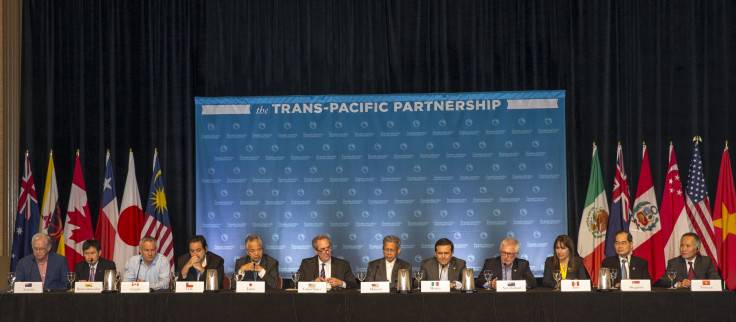 The Trans-Pacific Partnership (TPP) final negotiation text was released Thursday by the Obama administration, and it has privacy and digital rights advocates up in arms. They fear the TPP could greatly restrict the way consumers around the world use technology, while providing little recourse for appeals and overriding decisions by national legislatures and regulatory bodies.
For example, the Obama administration last year made it legal to unlock your phone for use on any carrier. The TPP could reverse that, said Evan Greer, campaign director of nonprofit advocacy group Fight for the Future. He cited article 18.68 of the TPP as having the potential to override that bill. These measures, Greer said, concern themselves with digital rights management (DRM), which is used to protect copyrighted work. Unlocking your phone could fall under a circumvention of the DRM that governs the software on your device. "The TPP appears to criminalize those types of practices," Greer told International Business Times.
Critics say the TPP, under negotiation by 12 Pacific Rim countries, including the U.S., Canada, Japan, Australia, Vietnam and New Zealand, would take some of the more onerous parts of the Digital Millennium Copyright Act and extend them globally.
Unlocking phones is not the only practice at risk. A statement from Fight for the Future points to Section J as one that would force the U.S. notice-and-takedown request system onto the rest of the world. Under the DMCA, courts can order websites to remove content that they deem to be infringing on copyrights. However, the TPP doesn't contain any counterclaim provisions that would let people fight against what they considered wrongful takedowns.
This means uploaded videos using copyrighted works would be subject to a takedown even if the user complied with rules surrounding fair use. A work of political criticism would face a takedown notice with no way for the creator to dispute this request, stifling free speech. Disputes arising under the TPP would be settled not by local courts but through an international mechanism known as investor-state dispute settlement (ISDS).
ISDS, consistently cited by activists as a notably objectionable element of the proposed partnership, would leave people with little power to challenge takedowns. Companies would have the power to sue governments to combat perceived standards violations. "It creates a system outside of a nation's ability to set its own laws," Greer said.
Free Speech
Greer also noted that when copyright takedown requests are imposed on Internet service providers, they have little incentive to reject them. "It doesn't really encourage them in any meaningful way to protect free speech," he said. This could lead to providers' complying with every request that comes through.
Big Business
Not everyone is against the agreement. Gary Shapiro, president of the Consumer Electronics Association (CEA), welcomed the deal. The CEA represents over 2,000 companies, and he said it plans to work with Congress to make sure the end result is favorable for both workers and companies.
"By removing trade barriers and promoting innovation and sustainable growth across the Asia-Pacific region, the TPP stands to benefit American businesses and workers through increased exports, greater contributions to the U.S. economy and the creation of new, high-paying jobs," Shapiro said.
The fear for activist groups like Fight for the Future, however, is that any perceived benefit to business will come at the expense of civil liberties and privacy. With democratic institutions overridden by secretive courts, the potential of copyright takedown abuse and the provisions against DRM, the release of the document has done little to quell the fears of activists.
© Copyright IBTimes 2023. All rights reserved.