Trans-Pacific Partnership Deal: Obama Offers Campaign Aid For Trade Deal Votes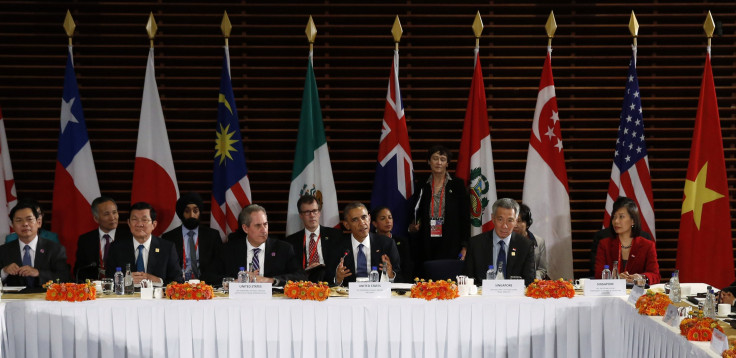 With the House vote on the Trans-Pacific Partnership deal looming, President Barack Obama this week has been ramping up pressure on Democratic legislators to back the free trade pact, offering campaign support in exchange for their vote. Amid strong attacks from unions aimed at Democrats who favor the deal, Obama aims to bolster wavering party support, according to the Associated Press.
Although the deal passed through the Senate, its passage in the House is much more contentious, and Obama has been pressuring members of the Democratic Party via television appearances and personal phone calls since June 3, according to Reuters. The vote is expected to take place sometime over the next several weeks.
While the Republican leadership advocates the Trans-Pacific Partnership (TPP), a trade agreement between 12 nations that would eliminate tariffs to make trade more efficient and increase regulation overseas, support from Democrats has been lacking over fears the deal would outsource jobs, as the North American Free Trade Agreement (NAFTA), signed by former President Bill Clinton, has been accused of doing. The AFL-CIO has been running a television ad campaign against the deal, but Obama hopes the deal will be a signature part of his legacy, especially since it would boost the role of the United States in the Pacific Rim.
"I'm not going to hypothesize about not getting it done," Obama said Monday at the Group of Seven meeting in Germany on Monday, reports the Associated Press. "I intend to get it done." Japan and Canada, members of G-7, would also be part of TPP.
Obama's offer of campaign help to compensate for primary challengers or union atacks has had a mixed reception, with some skepticism over how powerful a strong endorsement from the President would be.
Gretchen Newsom of the International Brotherhood of Electrical Workers told the Associated Press that unions' get-out-the-vote operation is much more powerful than a "celebrity endorsement" from Obama.
But Dan Pfeiffer, Obama's former senior adviser, told the AP that "he offers fundraising and organizational muscle like no one else other than the Democratic nominee, who will be otherwise occupied."
The divide among Democrats over TPP is an economic one, according to the Washington Post, with Silicon Valley, Hollywood and left-leaning businesses strongly favoring the deal, while blue-collar workers unions see it as a threat to their jobs.
© Copyright IBTimes 2023. All rights reserved.
FOLLOW MORE IBT NEWS ON THE BELOW CHANNELS