TPP Vote 2015: Senate Reaches Agreement To Move Fast-Track Trans-Pacific Partnership Trade Authority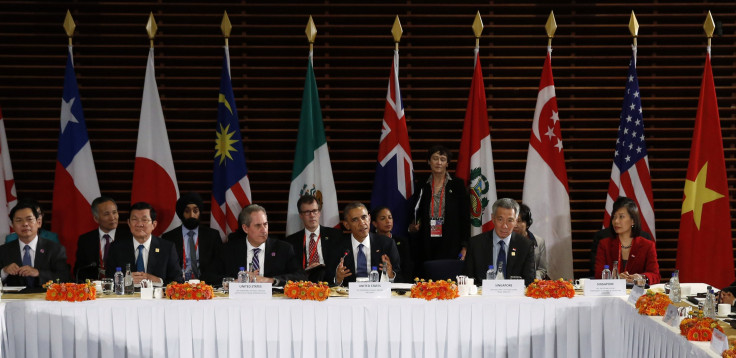 Senate Democrats reached a deal with Republicans Wednesday to move forward on U.S. President Barack Obama's fast-track trade agenda, one day after pro-trade Senators stalled the bill by blocking debate, according to Politico and Roll Call. In exchange for their support on a vote for the fast-track trade authority, Democrats will get separate votes on two related bills on currency manipulation and duty-free status to U.S. imports of goods from certain sub-Saharan African countries.
"We have to take some of these votes separately or we kill the underlying legislation," said Senate Majority Leader Mitch McConnell, R-Ky., according to Politico. "It's reasonable and I look forward to our colleagues from across the aisle joining with us."
McConnell worked with Senate Minority Leader Harry Reid, D-Nev., on the deal, which Reid called "fair," according to Roll Call. The negotiations are seen as a victory for Obama, whose trade agenda was stalled on Tuesday after debate on a vote to give him fast-track authority was blocked by Democrats. The Trade Promotion Authority bill would give Obama greater freedoms in negotiation trade agreements with other countries since Congress would have limited debate and no ability to amend the terms of the pacts. That legislation is seen as key to approving the Trans-Pacific Partnership, a trade deal between the U.S. and 10 other countries in North America, South America and Asia.
The trade issue is one of the rare areas where Obama and Republicans are on board. McConnell was the only Senate GOP member to vote against the president when the bill came up for debate Tuesday, according to the New York Times. Republican supporters of the Trans-Pacific Partnership say the deal will benefit American business who sell good abroad while Democratic opponents argue the deal will hurt American families by shipping jobs overseas while decreasing wages at home.
© Copyright IBTimes 2022. All rights reserved.
FOLLOW MORE IBT NEWS ON THE BELOW CHANNELS