Trans-Pacific Partnership Intellectual Property Law: Why Internet Freedom Groups Don't Like TPP Trade Agreement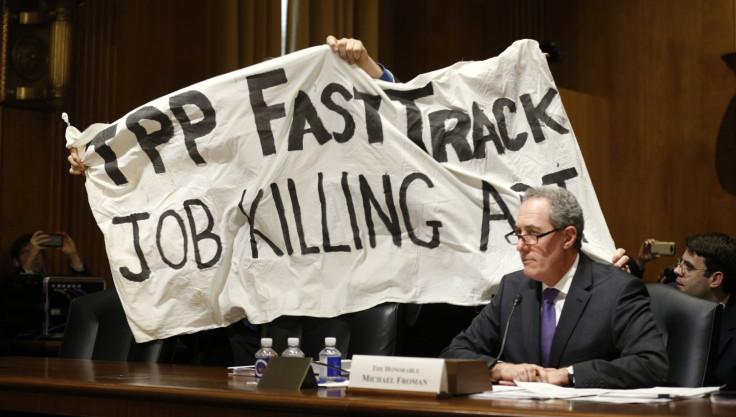 When WikiLeaks published a leaked version of the Trans-Pacific Partnership (TPP) agreement last month, Internet freedom advocates denounced the deal's provisions on intellectual property law that it said would place oppressive restrictions on the World Wide Web. Now that the full text of the 12-country pact was released early Thursday, advocacy groups are doubling down on their criticism and preparing to fight the deal in earnest.
The overarching issue Internet freedom activists have with the agreement is that it essentially imposes U.S. copyright laws on the other 11 countries involved in the deal, including Japan, Canada, Australia and Chile. Activists view the laws as outdated and overly strict, but copyright holders see this as a benefit that will protect their trademarks, which are often difficult to control across international borders.
"Now that we can read the final TPP text, it's obvious why it was kept in total secrecy for so long: this agreement is a wish list for powerful special interests and multinational corporations," Evan Greer, campaign director of Internet advocacy group Fight for the Future, said in a statement Thursday. "The Intellectual Property chapter confirms our worst first about the TPP's impact on our basic right to express ourselves and access information on the Internet. If U.S. Congress signs this agreement despite its blatant corruption, they'll be signing a death warrant for the open Internet and putting the future of free speech in peril."
The intellectual property restrictions do not only apply to the Internet, but also to pharmaceutical companies, the movie and music industries, food, alcohol and cosmetics, among other products. Fight for the Future and other similar groups highlight provisions such as the term for protection of trademarks and copyright as particularly problematic. The TPP establishes a minimum protection of 10 years for trademarks and requires countries to enforce copyright until 70 years after the creator's death -- both aspects of U.S. copyright law that activists say will hurt global free expression.
Trans-Pacific Partnership | Graphiq
"This will keep an enormous amount of information, art, and creativity out of the public domain for decades longer than necessary, and allow for governments to abuse copyright laws to censor online content at will, since so much of it will be copyrighted for so long," reads the Fight for the Future statement.
The trade deal, which could define U.S. President Barack Obama's economic legacy, has become increasingly controversial as Democrats and Republicans have strongly disagreed about the effect it could have, and as activists on all sides call for more information about the agreement. The full text of the TPP had been kept secret throughout years of negotiations, a factor that has added to the mistrust many have for its proposals.
Another controversial issue is around the treaty's requirements for Internet Service Providers (ISPs). In the Intellectual Property chapter, the agreement says that providers of Internet access and providers of services on the Internet need to help police online copyright infringement if they see it happening. If ISPs receive a complaint about copyright infringement, they would have to remove cached copies of the infringing material and search results pointing to the material. They would also need to take down or disable access to infringing material if they become aware of it.
In addition to these concerns, other activists have sounded the alarm about the fact that intellectual property could be subject to the treaty's investor-state dispute settlement process. What this means, according to Electronic Frontier Foundation, a digital rights group, is that a company could sue any country that signs the TPP if it believed the country's laws harmed its right to use its copyright interests.
Import and Exports of TPP Partners in 2014 | InsideGov
"The Investment chapter reinforces our fear that new, democratically-decided user protections within copyright can be attacked by an ISDS challenge," the group said on its website. "This is far from just a hypothetical threat."
Activists have said they plan to fight the deal by raising awareness about their concerns and encouraging individuals to contact their congressional representatives if they agree. Obama notified Congress Thursday that he intends to sign the agreement, which kicked off a required period of at least 90 days during which he will need to convince Congress to back the deal before he can sign it into law.
© Copyright IBTimes 2023. All rights reserved.
FOLLOW MORE IBT NEWS ON THE BELOW CHANNELS