Tropical Storm Isaac Cuts Petroleum Output, Price Hikes Expected
Louisiana refineries could be next to be closed down because of Isaac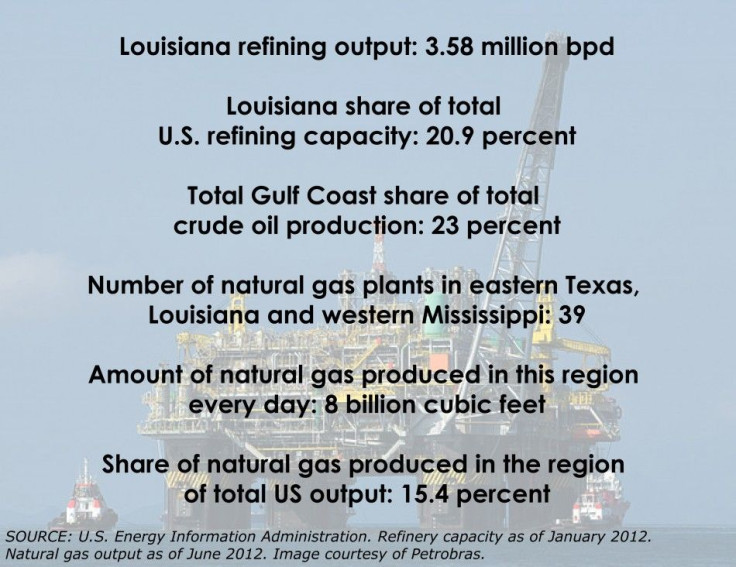 Tropical Storm Isaac, expected to turn into a hurricane as it churns across the warm waters of the Gulf of Mexico toward Louisiana and Mississippi, has forced scores of offshore rigs to halt operations and may do the same for coastal refineries. The resulting drop in production is expected to increase crude oil and gasoline prices.
At least 39 of the 596 manned offshore platforms have been evacuated, according to the Bureau of Safety and Environmental Enforcement. Eight of the 76 drilling rigs operating in the Gulf have also been temporarily abandoned as the storm approaches. All of this amounts to a shutdown of 24 percent of crude oil production and 8.2 percent of natural gas output.
Royal Dutch Shell PLC (NYSE: RDS), Apache Corporation (NYSE: APA), Exxon Mobil Corporation (NYSE: XOM), Anadarko Petroleum Corporation (NYSE: APC), Chevron and BP have all reported evacuations. BP PLC (NYSE: BP) reported a temporary output shutdown of all of its Gulf platforms; the others said they were monitoring the situation to determine where they need to shut down output to avoid a spill risk.
"There's panic right now that this could stage a direct hit on New Orleans or the Chevron refinery in Pascagoula [Mississippi]," Tom Kloza, chief oil analyst for the Oil Price Information Service, told CNN. "The refineries, once they're within 24 hours of either tropical storm or hurricane force winds, they have to start a shutdown. You can't just flip a switch. But this should not be a Katrina-like event."
Such shutdowns can lead to price spikes at the pump fairly quickly, though if production can be brought back online the effects are temporary. Average retail gasoline prices hit $3.75 Monday, according to AAA, up 7 percent this month already, thanks in part to a Chevron Corporation (NYSE: CVX) refinery fire earlier this month in Richmond, Calif.
The storm left the Florida Keys this past weekend and has been gaining steam along a path similar to Hurricane Katrina in 2005, albeit as a much weaker storm.
The Gulf Coast provides well over a fifth of the country's domestic crude. A large portion of that is in the path of Isaac. Louisiana alone is also home to about 20 percent of the country's refining capacity. The last time the infrastructure was put to Mother Nature's test was in 2008 with Hurricanes Gustav and Ike. Some facilities took months to get back online.
Weather Insight, part of Thomson Reuters, estimates a short-term shut-down of 85 percent of U.S. offshore production.
It's not just offshore that is a concern: the coast that's in the expected path of the storm is home to a sizable number of natural gas and crude oil refineries. The region is known informally as refinery row. The two major refineries within eyesight of downtown New Orleans, at Norco, La., are responsible for 438,500 barrels per day of production.
© Copyright IBTimes 2023. All rights reserved.