Troy Davis Appeal: Court Rejects Last-Ditch Effort to Stop Execution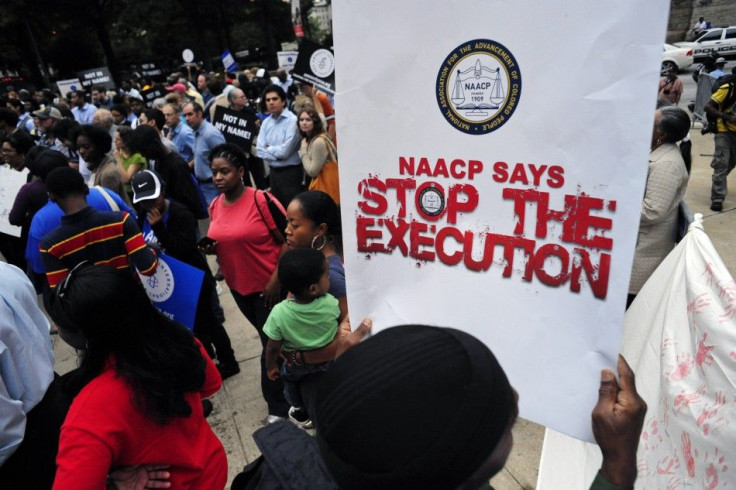 A last-ditch appeal on behalf of death row inmate Troy Davis was rejected on Wednesday, making it all but certain that Davis would be executed.
Davis, 42, is scheduled to be executed by lethal injection at 7 p.m. EDT on Wednesday, and the Georgia pardons board refused to halt it. The pardons board was the last legal recourse for Davis, who was convicted of killing a police officer in 1989 but insists he is innocent. His lawyers argue that his sentence should be commuted to life in prison without parole because of questions about the evidence used to convict him.
One of Davis' lawyers, Brian Kammer, filed the last-ditch appeal in Butts County Superior Court, urging the court to stay the execution. He also asked that Davis be allowed to take a polygraph test, but the pardons board denied that request as well.
There has been a huge outpouring of support in the past few days for Davis, whose execution has been postponed several times. More than 200 supporters gathered on Wednesday in a cordoned-off area outside the prison in Jackson, Ga., where Davis is being held.
They were joined by the Rev. Al Sharpton, a longtime civil rights activist, who had harsh words for the Georgia court system. There is no DNA, no gun, no physical evidence, Sharpton said, as quoted by USA Today. That is unheard of in a civilized society. This is much bigger than Troy Davis -- it's about people having the right to seek redress.
Davis was convicted in 1991 of the 1989 murder of Mark MacPhail, a Savannah, Ga., police officer. He has appealed many times on the basis of flawed evidence against him. Of the nine witnesses who testified against him in his original trial, seven have since signed affidavits changing part or all of their testimonies, and some claimed the police had pressured them to implicate Davis in MacPhail's killing. Others have implicated another man, Sylvester Coles.
Davis' appeals were all denied, with state and federal courts saying he and his lawyers did not provide a substantive claim of innocence. Execution dates in July 2007, September 2008 and October 2008 were all stayed at the last minute, and in August 2009, the Supreme Court ordered the federal district court in Georgia to reconsider the case with a new evidentiary hearing. It did so in 2010 and upheld Davis' conviction, calling the defense's arguments largely smoke and mirrors.
Since then, more than 900,000 people have signed petitions urging the pardons board to commute Davis' death sentence to life in prison without parole. He has also received high-profile support from Amnesty International, the National Association for the Advancement of Colored People, former President Jimmy Carter, Pope Benedict XVI, Archbishop Desmond Tutu and former FBI director William Sessions.
But the court denied Davis clemency on Tuesday and refused to reconsider on Wednesday, and his execution now seems set in stone.
© Copyright IBTimes 2023. All rights reserved.