Is Trump Bad For The Economy? Tourism To US Declines Significantly After Inauguration, Immigration Ban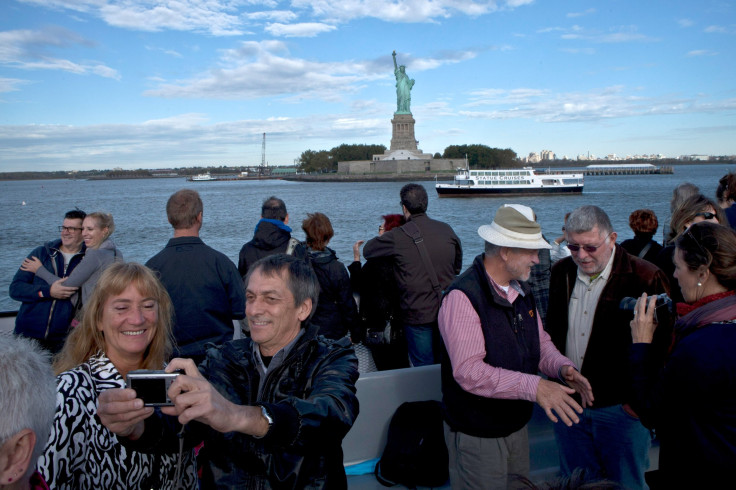 Though he has prided himself on being a master deal maker, President Donald Trump and his policies might be taking a toll on the economy. Tourism in the United States has taken a hit since Trump took office and implemented an executive order temporarily suspending immigration from seven Muslim-majority countries, according to data released by travel search engine Kayak on Monday.
Travel from the United Kingdom to the U.S. especially declined, the Guardian reported. Searches for flights from the U.K. to Tampa and Orlando plummeted by 58 percent, while searches for flights to San Diego dropped 43 percent. Searches for flights to Las Vegas and Los Angeles dropped 36 percent and 32 percent, respectively.
The data was merely the latest from the tourism industry showing the decline worldwide following Trump's inauguration. The flight app Hopper released data earlier in February showing that flight searches from places around the world dropped 17 percent since Trump took office when compared with the final weeks of Barack Obama's administration.
"Last year, we saw only a 1.8 percent decline for the comparable time period which suggests the change is not a simple seasonal effect," Hopper's data release read.
Though demand for flights to the U.S. plunged in 94 out of 122 countries, flight demand to the U.S. from Russia surged by 88 percent.
Since Trump's election, an estimated $185 million in tourism revenue has been lost, according to the Global Business Travel Association. Tourism has generated big money in America's economy and accounted for 5,302,000 jobs in 2014, or 3.6 percent of the nation's total employment, according to the World Travel and Tourism Council, directly contributing more than $450 billion to the nation's GDP.
Some industry analysts have attributed the slump in tourism to Trump's immigration ban, comparing the post-ban industry to post-9/11 America.
"After 9/11, it took many years for the impression to be sent and received by our friends around the world that America was indeed open for business again," Jonathan Grella, executive vice president of public affairs for the U.S. Travel Association, told the Boston Globe. "That was obviously a very different scale, but if something gives people pause, they'll spend their vacation dollars elsewhere."
© Copyright IBTimes 2023. All rights reserved.