Trump And The Economy: Poll Shows Nearly Half Of Voters Satisfied With President's Handling Of Economy So Far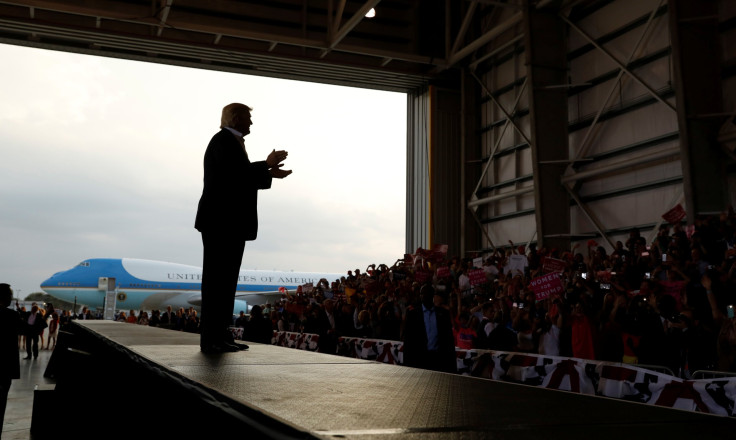 One of the cornerstones of President Donald Trump's campaign was the economy, and although he's only been in office for one month, a new poll shows nearly half of voters believe he's done just fine so far.
While running for the White House last year, Trump promised he'd create manufacturing jobs and grow economy by 4 percent each year with his economic policies. "On the economy, I will outline reforms to add millions of new jobs and trillions in new wealth that can be used to rebuild America," he said during his speech at the National Republican Convention in July.
His 4 percent goal is certainly ambitious — the last time the U.S. saw that growth rate was in the 1990s under then-President Bill Clinton. Regardless, now that Trump's in office, many Americans said they approved of the new president's handling of the economy — 44 percent, to be exact, according to a CBS poll released Thursday morning.
Other survey responses broke down as such:
On Trump's handling of the economy: 44 percent of voters approved, 38 percent disapproved
On Trump's handling of terrorism: 44 percent of voters approved, 46 percent disapproved
On Trump's handling of foreign policy: 34 percent approved, 53 percent disapproved
On Trump's handling of immigration: 39 percent approved, 55 percent disapproved
Moreover, 59 percent of Americans said they were very or somewhat confident that Trump's economic policies would create jobs, while 39 percent were not confident. When broken down by party, there was a sharper divide: 68 percent of Democrats were not confident in Trump's job-making abilities, while 30 percent were. And a mere 8 percent of Republicans did not have confidence in Trump's economic policies, while a whopping 90 percent of Republicans did. Independents aligned with the general population: 59 percent of Independents were confident Trump would create jobs; 40 percent weren't.
Overall, Americans' views of the economy have steadily become more positive since a low point in 2009, when the same poll found only 5 percent believed the economy was good. When surveyed this February, 61 percent said they had a positive view of the economy, while 37 percent had a negative view.
One third of people polled said they believed the economy was improving. More than half of Republicans said they believed it was getting better, while 15 percent of Democrats thought the same. Those numbers have reversed since December, when 28 percent of Republicans said the economy was improving, and 46 percent of Democrats believed the same.
© Copyright IBTimes 2023. All rights reserved.