Trump To Be Reinstated As President Before 2022, Lindell Predicts
KEY POINTS
The MyPillow CEO said there will be no 2022 and 2024 if Trump is not reinstated this year
The Trump rally took place in Cullman, Alabama, even after officials declared a state of local emergency
COVID-19 hospitalizations in the county rose by 218% over the past two weeks
Former President Donald Trump may be reinstated to the presidential seat before 2022, a close ally has predicted.
During Trump's rally in Cullman, Alabama, on Saturday, MyPillow CEO Mike Lindell predicted that the former president would be reinstated before the end of the year.
"When you steal an election, you don't just steal an election and we're going to sit here and go, 'OK, let's wait for 2020 — or let's wait for 2024,'" Lindell told rallygoers, according to The Huffington Post. "I'll tell you what, it's Trump 2021!"
Lindell also noted that if his forecast does not come true, "there is no 2022 and 2024." He reaffirmed his predictions in an interview with the Right-Side Broadcasting Network, adding that the Supreme Court could hold a "whole new election" this year.
According to the report, the MyPillow CEO had also predicted in July that Trump would somehow be reinstated as president in August, which has not happened as of yet.
During the Alabama rally, the former president took aim at President Joe Biden over the haphazard evacuation of U.S. allies from Afghanistan following the Taliban takeover, calling his decisions a "great stain" on the country's reputation.
Lindell's latest prediction and Trump's "Save America" rally came after officials in Cullman County declared a state of local emergency Thursday as hospitals faced overcrowding amid a surge in COVID-19 cases. The county is also facing a shortage of beds and labor.
Data shows that coronavirus-related hospitalizations in Cullman County, where the rally was held, rose by 218% over the last two weeks. The seven-day average of new cases on Saturday was 87, according to The New York Times.
Donald Williamson, the president of the Alabama Hospital Association, on Aug. 17 also said the state had run out of intensive care unit beds. "We've never been here before. We are in truly now in uncharted territory in terms of our ICU bed capacity," he told WSFA 12 News.
Despite the figures, Trump on Saturday night dismissed concerns that his rally would cause an outbreak of COVID-19 cases in the state.
"I'm shaking hands with everybody backstage. I say, well, I don't know, is this a good thing or bad? You'll read about it, three or four days, maybe. Hopefully not," he said.
He later urged the crowd of pro-Trump supporters to get vaccinated but walked it back after he received pushback from the rallygoers. "You do have your freedoms, you have to maintain that," the former president said.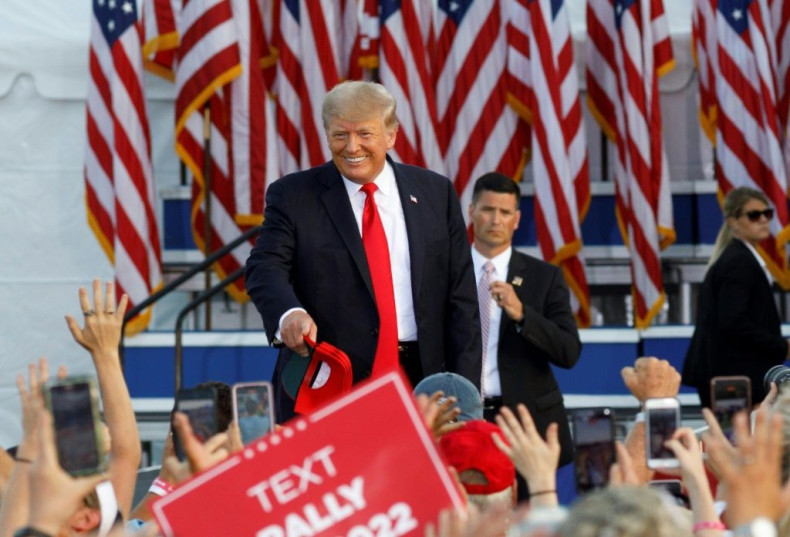 © Copyright IBTimes 2022. All rights reserved.