Trump Teases About Running For President In 2024: 'You're Gonna Be Very Happy'
KEY POINTS
Fox News host Maria Bartiromo asked Trump whether he plans to seek re-election in 2024
The former president claims campaign finance laws forbid him from giving a direct answer
Trump's former press secretary earlier said he believes Trump will run again in 2024
Former President Donald Trump on Wednesday teased his plans of running for president again during the 2024 election.
In an interview, Fox News host Maria Bartiromo asked the former president whether he has plans to run in 2024. "I don't think you would be going around the country doing rallies if you were not intending on throwing your hat in the ring again," Bartiromo began.
"Are you going to run in 2024?"
Trump stopped short of confirming whether he'll run for the country's top position again, claiming that "campaign finance laws" do not allow him to give a concrete answer. However, he teased a possibility.
"So the campaign finance laws, which are antiquated and stupid, doesn't allow me to tell you that," Trump replied. "But I can tell you this, I love our country. You're gonna be very happy."
He made similar remarks earlier to Fox News' Sean Hannity where he claimed it would be illegal to confirm whether he was going to seek re-election in 2024.
"I'd love to answer it. But let me put it this way, I think you'll be happy and I think a lot of our friends will be very happy. But I'm not actually allowed to answer it, it makes things very difficult if I do," Trump told Hannity during the interview, according to The Independent.
The interviews came after Sean Spicer, Trump's former press secretary, in early August said that he believes Trump will run again in 2024, noting that he indicated his interest after watching President Joe Biden's response to a number of issues, including immigration.
Trump is also seen as the leader of the Republican party, according to RNC Chairwoman Ronna McDaniel.
"You know, I always say go back to the voter, and I think when you see the [number] of people that show up to the rallies for President Trump and this $102 million fundraising haul, I think the voters in America — Republicans in America — would absolutely say the president's the most popular Republican and still leads the party," she had said earlier.
There has been a call to bar Trump from running after he "incited" the Jan. 6 Capitol insurrection that led to the death of five civilians. According to The Hill author Juan Williams, Attorney General Merrick Garland could cite section 3 of the 14th amendment rules that anyone who engaged in insurrection would be barred from holding office.
It is unclear whether the attorney general plans will cite the 14th amendment to rule out another Trump run.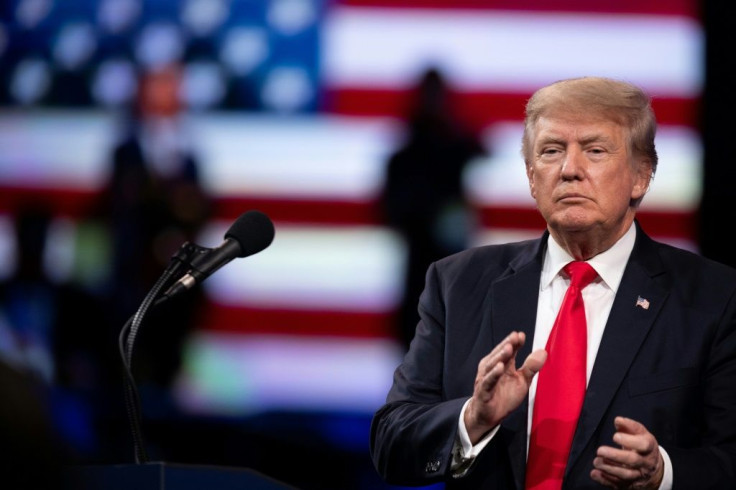 © Copyright IBTimes 2023. All rights reserved.