Trump To Russia: Find Hillary Clinton's Emails; 5 Unexpected Things GOP Nominee Said At Doral Press Conference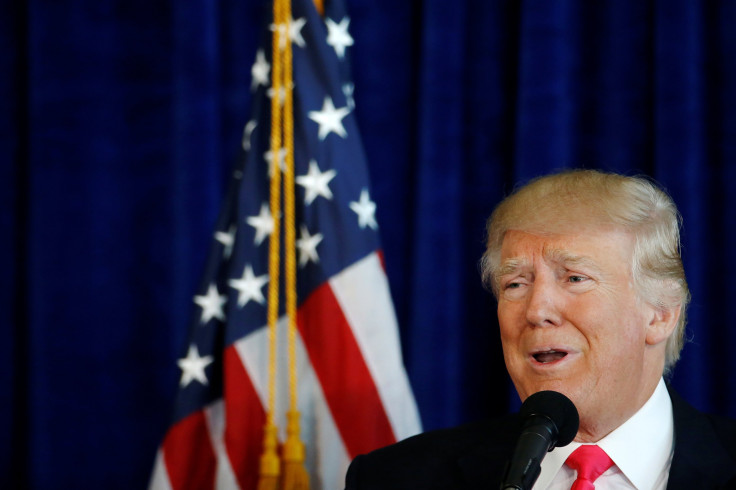 Republican presidential nominee Donald Trump seemingly called Wednesday for Russia to hack and leak 30,000 emails deleted by Hillary Clinton on her private email server used during her tenure as secretary of state. This on the heels of a hack of Democratic National Committee emails (which were released by WikiLeaks) and signs increasingly pointing toward Russia's involvement in the act.
"Russia if you're listening: I hope you're able to find the 30,000 emails that are missing. I think you will probably be rewarded mightily by our press, let's see if that happens, that'll be next," Trump said in a press conference at his golf club in Doral, Florida.
Many observers were taken aback that Trump was seemingly calling for Russia to meddle with the U.S. presidential election by surfacing Clinton's emails. Democratic politician Christine Quinn said on CNN the act was "almost treasonous."
"This has to be the first time that a major presidential candidate has actively encouraged a foreign power to conduct espionage against his political opponent," said Jake Sullivan, senior policy aide on the Clinton campaign, in a statement. "That's not hyperbole, those are just the facts. This has gone from being a matter of curiosity, and a matter of politics, to being a national security issue."
Outside of the comments on Russia, Trump's speech Wednesday in Florida — just a half-day after Clinton officially secured the Democratic presidential nomination — touched on a number of subjects, the GOP nominee making a number of controversial statements.
Here are five other perhaps unexpected things he said in Wednesday's press conference:
On Russian President Vladimir Putin, whom he one said "he got to know very well."
- "I never met Putin, I don't know who he is," Trump said. "He said one nice thing about me. He said I'm a genius."
On France, referencing recent terror attacks in Paris and Nice
- "France is no longer France."
On Clinton running mate Virginia Sen. Tim Kaine (who has never represented New Jersey)
- "Her running mate Tim Kaine, who by the way did a terrible job in New Jersey, first act he did in New Jersey was ask for a $4 billion tax increase. Not very popular in New Jersey and he still isn't." (Trump was then corrected by the press in attendance and said, "I mean Virginia.")
An aggressive exchange with a reporter
NBC News reporter Katy Tur pressed Trump during the question-and-answer portion of the press conference on his call for Russia to release emails. Tur asked if the thought that Russia having Clinton's emails then releasing gave Trump any pause.
"Nope, gives me no pause if they have them, they have them," Trump said. He subsequently pivoted an attack on Clinton. Tur then attempted to ask a question and Trump responded, "Be quiet."
On the DNC email leak scandal
"The things that were said in those emails, there were terrible things," Trump said. "Talking about Jewish, talking about race, talking about atheist, trying to pin labels on people. What was said was a disgrace. And it was [outgoing chairwoman of the Democratic National Committee] Debbie Wasserman Schultz and believe me as sure as you're sitting there Hillary Clinton knew about it. She knew everything. Debbie Wasserman Schultz could not breathe without speaking and getting approval from Hillary Clinton. Couldn't breathe."
© Copyright IBTimes 2022. All rights reserved.
FOLLOW MORE IBT NEWS ON THE BELOW CHANNELS