Tunisians Celebrate Their Revolution One Year On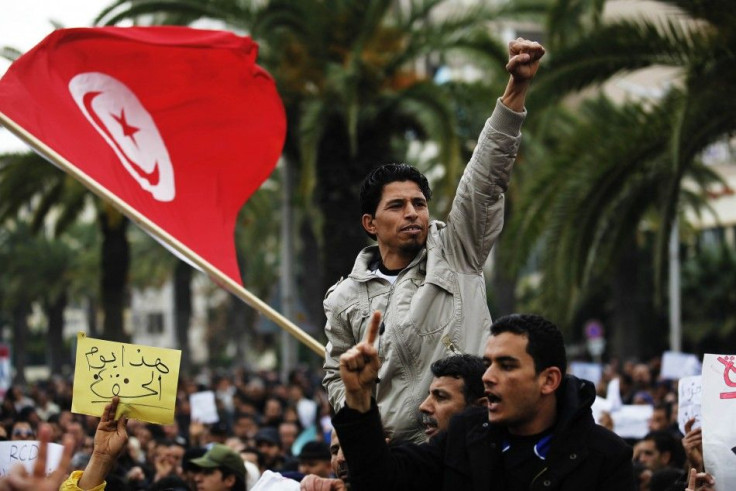 TUNIS | Sat Jan 14, 2012 11:38am EST
(Reuters) - Tunisians Saturday marked the first anniversary of the revolution that started the Arab Spring with celebrations that were true to the spirit of the revolt: raucous, unscripted and driven by the energy of ordinary people.
Thousands of people flooded into Bourguiba Avenue in the center of the capital, the same spot where demonstrators massed exactly one year ago, forcing autocratic leader Zine al-Abidine Ben Ali to accept his rule was over and flee the country.
Since that moment, Tunisia has become a model for democratic change in the Middle East, and its revolt has re-shaped the political landscape of the region. It inspired revolutions in Egypt and Libya, as well as uprisings in Syria and Yemen whose outcome is still in the balance.
In a nod to the people power origins of Tunisia's revolution, the country's new authorities did not try to stage-manage the public celebrations.
Instead they invited people to descend on the center of the capital to mark the day in their own way.
Some people marched down Bourguiba Avenue chanting Tunisia is Free! and Bye bye dictatorship. Welcome freedom! Others carried Tunisian flags, and cages with their doors swinging open, an allegory for the country's journey to freedom.
This is an occasion when all Tunisians should celebrate with pride, said Samir Ben Omrane, who was in the center of Tunis with his wife and two daughters. His wife was carrying a birthday cake with a single candle on the top.
I am happy that my children can live in freedom in this country, which has provided an example to the world, he said.
United Nations Secretary-General Ban Ki-moon said that a year ago the world was inspired by Tunisia's demands for democracy, freedom and dignity.
Their courage echoed throughout the region, where other peoples, encouraged by the actions of their Tunisian brothers and sisters, found the courage to also make their rightful aspirations heard, he said in a statement.
COMPETING VOICES
The celebrations in Tunisia were in stark contrast to the tightly-regimented and starchy public occasions held during Ben Ali's 23-year-rule over Tunisia, when dissent was punished with long jail terms, torture or forced exile.
The new Tunisia is a cacophony of different groups, each demanding to be heard.
For all its progress toward democracy, Tunisia has acute problems of poverty and unemployment and its society is split over the rise to power of Islamists who were banned from public life for years under Ben Ali.
One group of young people gathered in front of the Interior Ministry headquarters to press for deeper reforms.
It's true that Ben Ali is not here any more, said one of the group, 25-year-old Walid Ben Salam. But we still have to be careful and to protect this revolution ... What we are missing is a separation of religion from politics, he said.
We need to pay homage to the martyrs of the revolution and not forget the thousands of unemployed people.
Elsewhere, several dozen relatives of people killed by security forces in the run-up to the revolution protested outside the Saudi Arabian embassy.
They were demanding the extradition of Ben Ali and his wife, Leila Trabelsi, who have been in Saudi Arabia since fleeing there a year ago.
Moncef Marzouki, a political prisoner under Ben Ali who is now the country's president, declared Saturday a national holiday. He marked the event by granting pardons to 9,000 prisoners and commuting 122 death sentences.
In the official part of the celebrations later Saturday, Marzouki will take part in a ceremony attended by visiting officials including the heads of state from Qatar, Libya and Algeria.
(Writing by Christian Lowe; Editing by Ben Harding)
World United Nations Tunisia
© Copyright Thomson Reuters 2023. All rights reserved.