Turkey Coup: Erdogan Cracks Down On Military And Judiciary As Supporters Gather On The Streets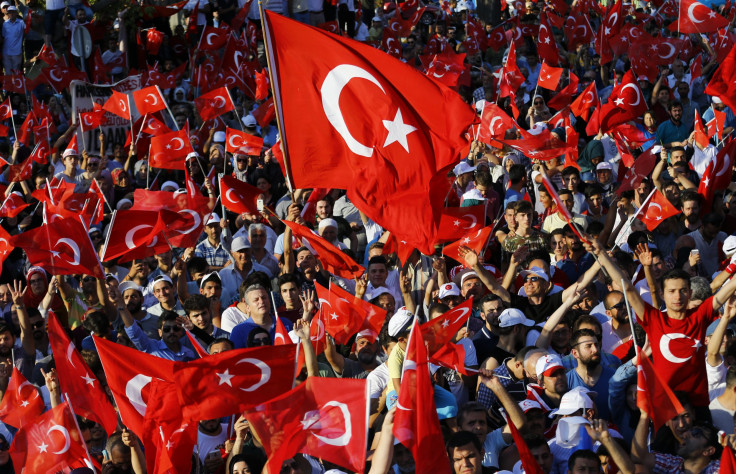 Thousands of people have gathered in cities across Turkey in a massive show of support for the country's democratically-elected government following late Friday's failed military coup. Meanwhile, the Turkish government, terming the coup attempt a "black stain on Turkish democracy," has launched a massive crackdown on soldiers and judiciary officials who are perceived to have lent their support to the effort.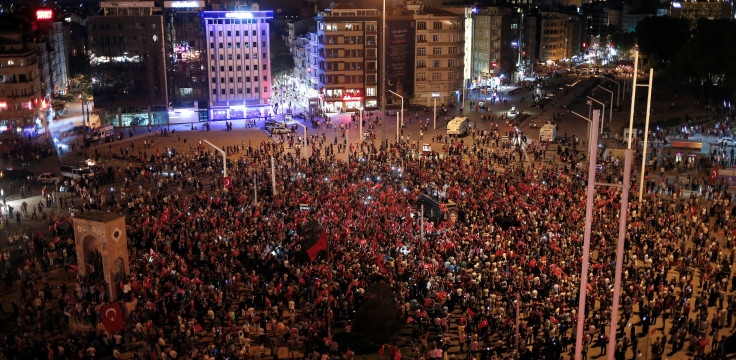 "Our sense is that the would-be junta had made preparations for some time. They had determined which military officers would take over as governors, heads of government agencies ... but they were forced to rush due to the upcoming Supreme Military Council meeting," a senior Turkish official, speaking on the condition of anonymity, told Al Jazeera, referring to the meeting that's scheduled to begin on Aug. 1.
"Their immediate goal was to seize control of key areas like the Bosphorus Bridge or Taksim Square. In Ankara, they tried to storm the Presidential Palace, the Prime [Minister's office], the National Intelligence Organization and the Parliament. They also attempted to take down the satellite infrastructure and, in some areas, seized control of telecommunications hubs," the official added.
In efforts aimed at reasserting control in the aftermath of the bloody coup — nearly 161 civilians and police officials, and over 100 "coup plotters" have been confirmed killed — the government led by President Recep Tayyip Erdogan has so far arrested nearly 3,000 military personnel and sacked over 2,700 judges.
Addressing a crowd of supporters in Istanbul on Saturday, Erdogan also urged the U.S. to extradite Fethullah Gülen — an influential cleric who leads the Hizmet movement and has been living in a self-imposed exile in the U.S. since 1999.
The Turkish government has accused Gülen and his supporters of orchestrating the coup attempt.
"I had told you that this person was in a preparation for a coup against Turkey, but I could not make you listen to me," Erdogan said. "I repeat my call on the U.S. and president [Barack Obama], give this person back to Turkey."
Gülen was an ally of Erdogan until 2013, when several anti-corruption allegations were levelled against supporters of Erdogan — who was the prime minister at the time.
Erdogan, convinced that the Gülenists were trying to unseat him, accused his one-time ally of being behind the corruption allegations. The festering rivalry between the two eventually culminated in a purge of perceived Gülenists in the police force, judiciary, media and the army.
However, the U.S., which stated Saturday that it would support the Turkish government's "legitimate investigative efforts" aimed at unearthing details about the coup attempt, said it is yet to receive an official request regarding Gülen's extradition.
"We fully anticipate that there will be questions raised about Mr. Gülen, and obviously, we invite the Government of Turkey, as we always do, to present us with any legitimate evidence that stands – withstands scrutiny, and the United States will accept that and look at it and make judgments about it appropriately," U.S. Secretary of State John Kerry told reporters in Luxembourg.
Meanwhile, Gülen — in a rare press briefing Saturday at his residence in Pennsylvania — denied involvement in the coup, suggesting that Erdogan himself may have staged the events.
"I don't believe that the world believes the accusations made by President Erdogan," Gülen said. "There is a possibility that it could be a staged coup and it could be meant for further accusations [against the Gülenists]."
© Copyright IBTimes 2023. All rights reserved.