Turkey's War of Words Against Syria Intensifies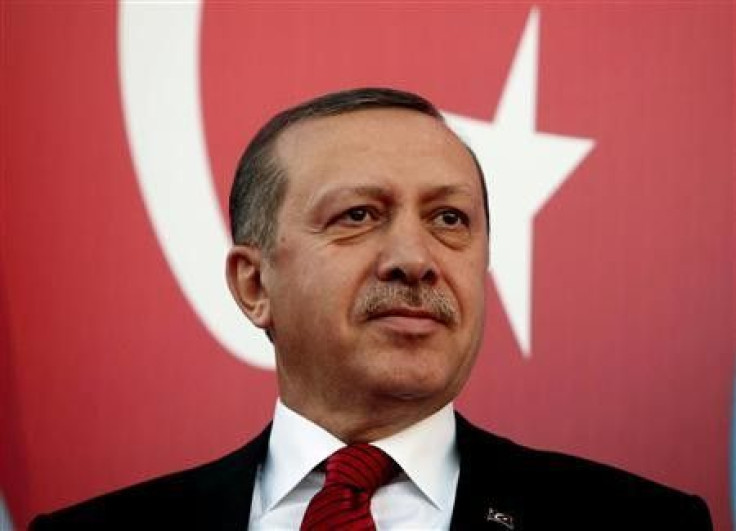 As the Arab Leagues tightens the screws on Syria, Bashar al-Assad's former ally to the west is also seeking to increase the pressure on the Syrian leader to desist from his violent crackdown on anti-regime protesters.
Turkey's Prime Minister Recep Tayyip Erdogan, once a friend of Assad's, has been escalating the war of words against Damascus in the face of the Syrian government's relentlessly brutal suppression of protesters.
While speaking to MPs of his ruling AK Party in Ankara, Erdogan said: Assad should see the tragic ends of the ones who declared war against their own people. I want to remind him that future cannot be built on the blood of the oppressed. [History] will mark these leaders as the leaders who feed on blood.
Erdogan's comments followed a call by the King of Jordan, Abdullah, for Assad to step down – making him the first Arab leader to do so.
The Arab League has also condemned Assad while suspending Syria's membership in the organization. The League has also demanded the release of political prisoners (in an apparent goodwill move, Syria released about 1,180 prisoners whom the government claimed had "no blood on their hands.")
Turkey, which is neither an Arab country nor a member of the Arab League, has supported its decision to suspend Syria.
Erdogan also condemned attacks on Turkish diplomatic missions in Syria by forces loyal to Assad. These incidents, in which the Turkish flag was burned, prompted Ankara to evacuate its personnel in Syria.
These attacks were a response to Ankara's endorsement of the Arab league's suspension of Syria. Diplomatic missions belonging to France and Saudi Arabia were also attacked.
"Bashar, you who have thousands of people in jail, must find those who attacked the Turkish flag and punish them, Erdogan said.
Syrian foreign minister Walid Muallem has apologized for the attacks on foreign diplomatic missions, but that did not appear to appease Erdogan.
"I want to make this clear to the Assad regime," Erdogan added.
"Throughout history, those who have tried to touch the Turkish flag were given their response. They will receive a response in the future as well. Once again, we strongly condemn these attacks. We want the Syrian regime not only to apologize, but also to find the culprits."
Turkey's President Abdullah Gül also condemned the attacks on Turkish diplomatic missions in Syria.
"If Syrian authorities do not take the necessary measures, if these attacks are repeated, then our reaction will certainly be a different one," Gül said at a news conference in Ankara.
However, Erdogan also suggested that international pressures against Assad will likely be futile.
Nobody now expects the [Syrian] people's demands to be met. We all want the Syrian administration, which is now on a knife-edge, to turn back from the edge of the cliff, he said.
In addition, Turkey's energy minister Taner Yildiz said that joint oil exploration projects Turkey's TPAO petroleum company and Syria's state oil-owned company will be immediately halted.
Yildiz also threatened to cut off electricity exports to Syria.
Right now, we are providing electricity [to Syria], Yildiz said. If [Syria] continues on this course, then we might have to reconsider these decisions, according to Turkey's semi-official Anatolian Agency.
Human rights activists estimate that at least 3,500 Syrians have been killed by security forces since the unrest erupted eight months ago and uncounted thousands of others have been detained. Thousands of other Syrians have fled across the border to Turkey to escape Assad's troops.
Damascus officials have repeatedly blamed the violence on so-called "armed gangs" and "militants."
© Copyright IBTimes 2023. All rights reserved.