Twitter Chatter Correlates With TV Ratings, But Is That Good Or Bad News For Nielsen?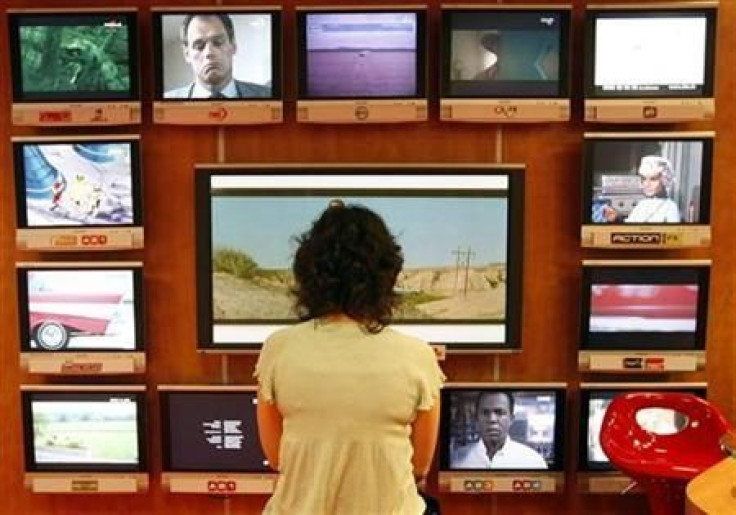 In an age when analytics are everywhere, how does the country's oldest data miner attempt to stay relevant? Like everyone else these days, it goes on Twitter.
Nielsen Holdings N.V. (NYSE:NLSN) on Wednesday released the results of a new study that shows a measurable correlation between television ratings and Twitter chatter, but it's hard to say whether the results are good or bad for the ratings behemoth's future.
The study found that increases in TV ratings correlate to spikes in the number of tweets about live-TV events. While that revelation might seem obvious on its face (more people watching TV equals more tweets about TV), the results counter some previous research on the correlation between Twitter and sentiment, in particular a recent Pew Research study showing that tweets around political topics are often out of step with the consensus of the general public.
By contrast, Nielsen said in the study that Twitter volume aligns with TV ratings across varying age groups, although, not surprisingly, the connection is stronger among younger viewers. For instance, in the 18-34 demographic, a one percent increase in TV ratings corresponded to an 8.5 percent spike in Twitter volume. For the 35-49 age bracket, a one percent increase in TV ratings corresponded to a 14 percent spike in Twitter volume, reflecting weaker relationship for older viewers. The study also found that the correlation strengthens as a TV season reaches its midpoint.
In a statement, Mike Hess, Nielsen's executive vice president of media analytics, said the company conducted the research as a way of understanding Twitter's affect on TV ratings. "While our study doesn't prove causality, the correlation we uncovered is significant and we will continue our research to deepen the industry's understanding of this relationship," Hess said.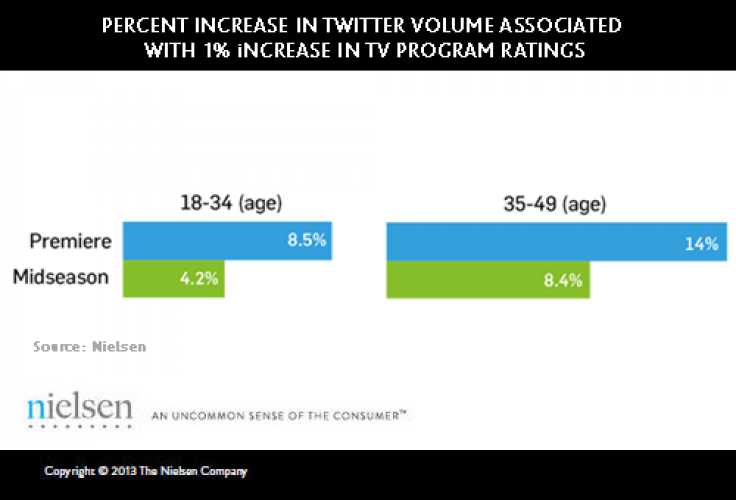 Nielsen's study was conducted with the analytics website SocialGuide, which part of a joint venture between Nielsen and the management consulting firm McKinsey & Company. It comes at a time when viewing habits are rapidly changing, and that has spawned debates over just how relevant Nielsen's traditional ratings data are in the age of DVRs, Internet streaming and mobile devices.
In fact, Twitter itself is adding to the debate. On Tuesday, Tom Vanderbilt, of Wired magazine, wrote that social media could be ushering in an end to Nielsen's dominance as an end-all, be-all entity whose ratings numbers are seen as the last word for executives who decide whether a show lives or dies. Vanderbilt cites as an example NBC's long-struggling sitcom "Community," which, despite abysmal ratings, avoided cancellation again this year after fans launched an impassioned Twitter campaign to save it. The show's fate is still being decided. As Vanderbilt notes, "Community's" ratings alone would have sealed its fate long ago in the days before Twitter.
It's perhaps not surprising, then, that Nielsen has become so chummy with the social networking site lately. In December, the company announced an exclusive multi-year agreement with Twitter to create "Nielsen Twitter TV Rating," which Nielsen describes as a "syndicated-standard metric around the reach of the TV conversation on Twitter." The initiative makes sense, especially when we consider the growing number of Twitter users who tweet about what they're watching -- or what they want to watch. According to SocialGuide, 32 million Twitter users in the U.S. tweeted about television in 2012. That's about one-third of all the tweeters in the country, going by data collected by Semicoast in January of that year. Had Nielsen not come on board to mine that data, someone else would have beaten it to the punch.
Still, the correlation between tweets and ratings raises some interesting questions. If TV executives can gauge the popularity of their shows simply by finding out whose tweeting about them, why does it need Nielsen? For that matter, why do we?
Either way, Nielsen's new Twitter TV ratings are expected to be commercially available at the start of the fall 2013 season.
Got a news tip? Send me an email. Follow me on Twitter: @christopherzara
© Copyright IBTimes 2023. All rights reserved.