The Twitter IPO: Five Things You Need To Know Before You Invest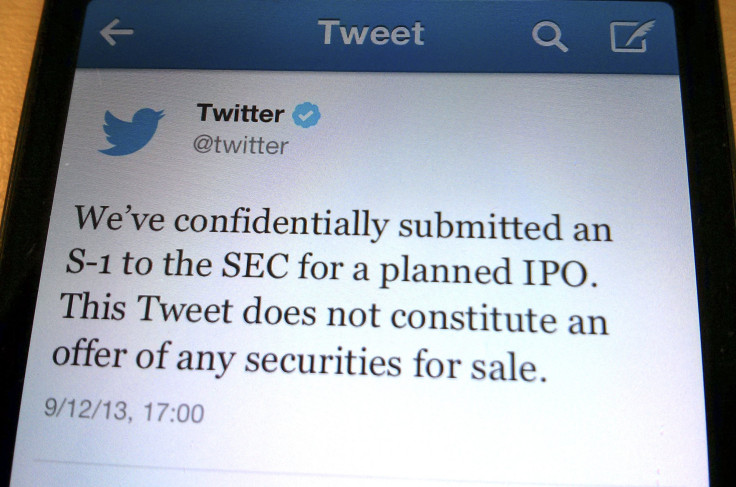 On Thursday, Twitter filed for its IPO, appropriately stating the news in a simple 135-character tweet.
Founded in March 2006 under the original name of Twttr, San-Francisco-based Twitter has grown to be one of the most successful social media platforms. The darling of mobile device users, the outlet has proven a solid contender in the ever-changing digital media landscape.
Though the announcement of its IPO has been highly anticipated for a while now, questions remain about the IPO, which was filed confidentially under the new JOBs act. This allows the financial details of the filing to remain secret for another three weeks. Below, we've gathered five important facts about pre-public Twitter that may help you make a confident decision of your own when choosing to invest in Twitter.
1. The Company Has Raised More Than $1 Billion
Through a loaded list of investors and successful funding rounds, Twitter has raised $1.16 billion, according to Crunchbase. Several Silicon Valley venture capitalists were among some the company's most early backers. Twitter raised $5 million in July 2007 from 10 investors, $15 million from six investors in May 2008 and an added $35 million in February 2009.
Between September 2009 and January 2010, $300 million was raised through funders such as T. Rowe Price and Kleiner Perkins Caufield & Byers. January 2010 also brought $5.17 million from unnamed investors. And finally, the company raised another $800 million between August and September 20111 from funders DST Global and DFJ Growth.
2. Its Revenue Is Likely Close To $1 Billion
Since the company was allowed to file an IPO confidentially, we can assume that its revenue falls under $1 billion. The confidential filing was allowed under a new federal law that allows companies with less than $1 billion in revenue earned to go public without having to release any of the financial documents usually needed for an IPO. Twitter has 21 days before it must release the financial files. But with the company posting $350 million in revenue last year, it is pretty safe to deduce that the company is likely much closer to that $1 billion mark. Still, according to sources
speaking to Bloomberg
last year, the company isn't expecting to top $1 billion in sales until 2014.
3. The Bird Cage Is Expanding
In the quest to become a more efficient and well-rounded social media giant, Twitter has acquired several companies involved with a range of digital markets including television, engineering and multimedia. From the mini-video social media network Vine to the online education platform Marakana, Twitter is working to perfect its specialty while exploring new outlets in which social media content can be implemented. These additions to the company express several outlets through which its business can grow.
4. The Company Is Valued At Close To $10.5 Billion
Though the companies revenue remains below $1 billion, the company has been valued at around $10.5 billion by
GSV Capital Corp
., one of its investors. This is a far cry from the $109 billion market value of Facebook -- which raised $16 billion in it's IPO last year. Still, it marks a solid foundation from which the company can grow if it can draw in investors, ensuring them that it will offer a better IPO performance than that of its fellow Internet giants like Groupon Inc. and Facebook.
5. Advertising Remains A Major Key To Its Success
This month, Twitter acquired MoPub, a mobile ad technology firm. The announcement of this acquisition points to one of Twitter's expanding business areas with the most potential. The ability for advertisers to easily purchase ads on Twitter is continually stressed as a vital piece in the company's growth. And their choice to invest in MoPub -- a company that can help simplify the process -- will make it easier for investors to see increased ad-revenue possibilities.
© Copyright IBTimes 2023. All rights reserved.