Twitter Reacts To Jake Paul vs. Hasim Rahman Jr Fight Cancellation Over Weight Issues
KEY POINTS
Jake Paul trended on Twitter Saturday after it was announced that his match against Hasim Rahman Jr. was canceled
Rahman reportedly refused to follow the contracted weight and said he would withdraw from the fight if the bout was not at 215 pounds
Some Twitter users speculated Paul got scared, while others called Rahman unprofessional for not following the contract
Jake Paul's boxing match against Hasim Rahman Jr. has been canceled, and fans and Twitter users have mixed opinions about it.
Paul trended on Twitter Saturday after it was announced that the social media star's latest PPV event at Madison Square Garden on Aug. 6 was canceled because of weight issues around Rahman, according to a press release from Paul's promotion Most Valuable Promotions.
Some Twitter users mocked Paul over the news and shared their own speculations about the cancellation of the fight.
"Lol smart by Jake. He was about to bite off WAY more than he could chew. Too early to get exposed. He saw it coming at that presser. There was a reason he was quieter than normal," one person commented.
"Why lose muscle when you're up against a [white] fake boy! I'd back out too because Jake Paul is absolute s--t," another added.
"100% Jake got scared and had the commission do this. 215 to 205 is not a hard cut at all. Hasim could easily make that on the night. Jake can pull strings easily. Million percent he got scared and did this. He SPINS shit!! He's been too quiet," a third Twitter user speculated.
"Jake Paul likes to fight much smaller, older and less experienced opponents," a fourth user claimed.
Some Twitter users defended Paul and called out Rahman for being unprofessional, pointing out that the 31-year-old boxer had already signed a contract and knew how much weight he needed to lose.
"Not a fan of Jake, but that's some serious unprofessional bum s--t on Hasim's side. It's not like he's a half pound, or pound over the 200 agreed-upon mark, but almost 20 more than Jake, AFTER given time to lose the weight. This isn't even Jake's call to cancel, it's New York's," one Twitter user commented.
"Chin up, Jake Paul. These fools [are] just scared. You're too good for them to ruin their careers over, so they backin' out left and right. Can't wait to see you box next -- hopefully, someone will step up," one supporter wrote.
"It's crazy how many people don't know anything about boxing and say Jake is running. There's a weight class. Jake didn't even need to go up to 205. Weight means more hard punches; that's why lightweights can't up against heavyweights," another explained.
"Hasim Rahman Jr. is a f---in' coward [who] knew he was gonna get KO'd by a 'YouTuber' and couldn't handle the heat just like Tommy Fury," another user wrote, referring to Paul's previous opponent for his Aug. 6 match.
Others wasted no time sharing memes.
Paul and Rahman's fight was expected to take place at the cruiserweight limit of 200 pounds. However, Rahman, a natural heavyweight, had never fought lighter than 211.75 pounds since becoming a pro boxer in 2017. Due to this, the New York State Athletic Commission (NYSAC) required weekly weight checks for him, according to Boxing Scene.
Rahman had not shown the proper progress in weight loss as of this week, prompting NYSAC to move the contracted weight up to 205 pounds.
However, Rahman indicated in subsequent offers that he planned to weigh in at 215 pounds at the official weigh-in and that he would pull out of the fight unless Paul agreed to those terms, according to Paul's promotion.
"MVP and Jake Paul will not reward someone that has conducted themselves in such a deceiving and calculated manner. Therefore, MVP is left with no choice but to cancel the Aug. 6 event," Most Valuable Promotions said in a statement, adding, "The boxing community must hold Hasim Rahman Jr. liable for his lack of professionalism."
Paul was originally set to fight Fury on the same date. However, the latter was denied entrance into the U.S. when attempting to fly from England for the introductory press conference, CBS Sports reported. Fury was forced to withdraw from the bout because of those visa issues.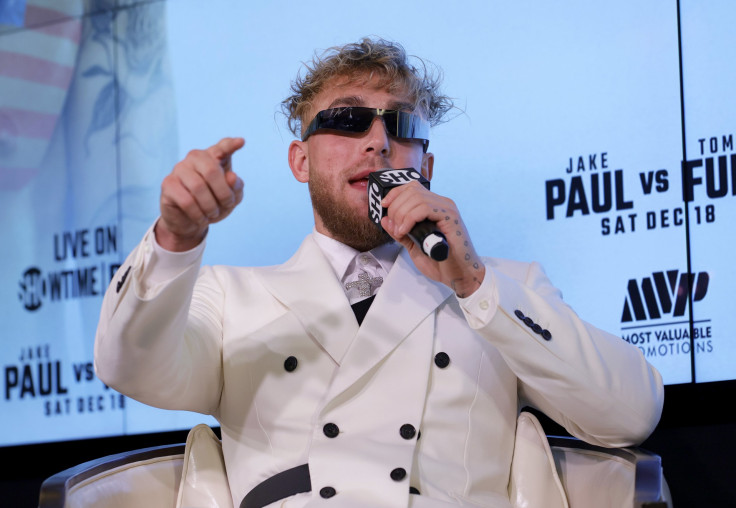 © Copyright IBTimes 2023. All rights reserved.