Twitter Shareholders' Lawsuit Accuses Elon Musk Of Conduct 'Designed' To Tank Company Stocks
KEY POINTS
The lawsuit said Musk's conduct drove "Twitter stock down substantially"
The complaint also requested injunctive relief
Musk has since added to his personal funding in the buyout deal
Twitter shareholders have filed a lawsuit accusing Tesla founder Elon Musk of purposefully engaging in conduct that caused company stocks to dwindle. Musk said earlier this month that the deal to purchase Twitter was "on hold" due to an investigation into bot accounts on the social media platform.
The class-action lawsuit was filed Wednesday by Twitter shareholder William Heresniak "on behalf of all stockholders of Twitter." The lawsuit was filed weeks after Musk proposed to buy Twitter at $54.20 per share or $44 billion. According to the lawsuit, while Musk had pledged some of his Tesla stocks to finance the Twitter buyout, Tesla shares have plunged since his Twitter acquisition was announced.
The lawsuit said that "Musk proceeded to make statements, send tweets, and engage in conduct designed to create doubt about the deal and drive Twitter's stock down substantially in order to create leverage that Musk hoped to use to either back out of the purchase or re-negotiate the buyout price by as much as 25% which, if accomplished, would result in an $11 billion reduction in the Buyout consideration."
The lawsuit further alleged that the SpaceX founder's "conduct was and continues to be illegal, in violation of the California Corporations Code, and contrary to the contractual terms he agreed to in the deal." The lawsuit is requesting injunctive relief from the court. If the court grants an injunction, it is possible for Musk to be forced to purchase the social media platform at the initially agreed-upon price.
Twitter's share price declined more than 12% since Musk announced his Twitter acquisition plans last month, CNBC reported. However, Tesla shares were affected even more, shedding about 28% since the buyout bid, the outlet reported.
Meanwhile, Musk noted in a filing with the U.S. Securities and Exchange Commission (SEC) Tuesday that he will present billions more from his own fortune to fund his Twitter buyout. In the 13D filing, Musk also said he will put up another $6.25 billion of equity for the buyout. Musk's personal funding for the acquisition is now at $33.5 billion, from the initial $27.25 billion. The billionaire initially took a $12.5 billion margin loan against Tesla stocks to finance the Twitter buyout deal.
Musk's SEC filing appears to have had a positive impact on Twitter stocks as company shares climbed around 4.5% as markets opened Thursday, Insider reported.
Earlier this month, Musk tweeted that the deal was "on hold" until the social media platform completes an investigation into fake user accounts.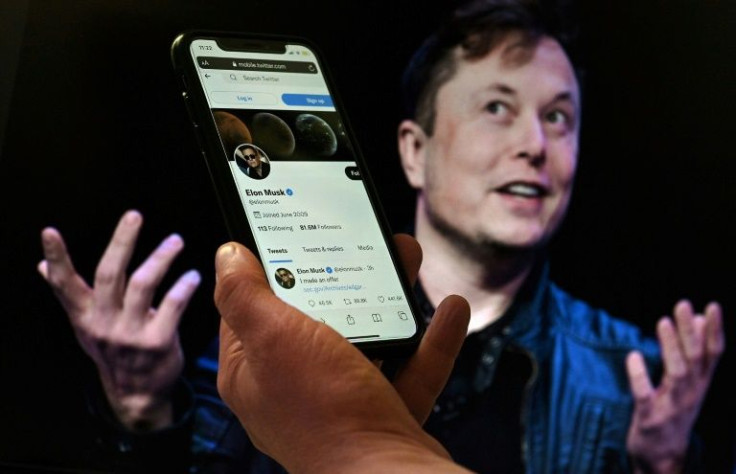 © Copyright IBTimes 2023. All rights reserved.