Twitter Teams up With Weather Channel on New Social Media Site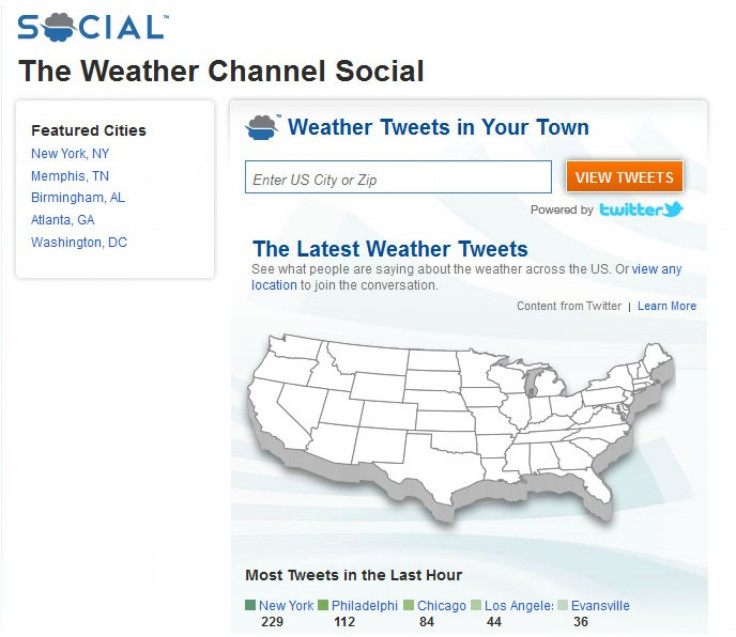 Twitter and The Weather Channel have teamed up to make your local forecast a more social experience. Now you can get the latest weather updates and read what Twitter users are saying with a new social media collaboration called The Weather Channel Social.
The Weather Channel Social, which launched Aug. 11, integrates news and weather forecasts in the social media realm and brings together real-time tweets and breaking weather forecasts. Users can see tweets spread across The Weather Channel's mobile, television and Web platforms.
So far 220 cities with populations of 100,000 or more have custom local Twitter feeds that display users' thoughts on the day's weather. The tweets gathered on the site range from full weather forecasts from local radio stations to comments about activities like running in the sunshine. A number of tweets also show up with no relation to actual weather but include keywords like "thunder" and "rain." The content is an aggregation of other Weather Channel Social and user-generated content.
Twitter has proved to be a powerful tool when covering weather events. After tornadoes devastated the town of Joplin, Mo. in March, Twitter users were quick to upload photos and videos of the devastation, giving a complete look at just how serious the damage was. The Weather Channel says it wants to capitalize on that with its Social endeavor, saying the partnership will be a powerful tool that will enable The Weather Channel to tell a complete story of how a weather event is making its impact locally.
"Twitter gives voice and context to the topics people are most interested in, and everyone is interested in the weather," Chloe Sladden, Twitter's director of content and programming, said in a statement.
According to The Weather Channel, on an average day, American users send approximately 200 weather-related tweets per minute. On an active weather day, users send between 300 and 500 weather-related tweets per minute. "Significant" weather events can generate more than 2 million tweets per day.
"Weather is the ultimate social content; it's guaranteed to spark conversation," Cameron Clayton, The Weather Channel's executive vice president of digital products, said in a statement. "Adding Social to all of our platforms makes our storytelling more complete, enabling us to partner our expertise and forecasting with real-time local input about the weather from our consumers in a way that is relevant and personal."
On the mobile side, The Weather Channel's iPhone app will feature tweets on all of its local forecast pages with a complete feed of real-time Twitter posts from The Weather Channel Social page. Users can also participate in the conversation by tweeting directly from the app.
Tweets will also show up on live Weather Channel programming. During dedicated live programming segments, The Weather Channel will bring users into the story by showing real-time messages before, during and after weather events as well as following and reporting on the leading weather trends from Twitter.
The Weather Channel worked with sponsor Citi and digital agency Razorfish to create The Weather Channel Social.
© Copyright IBTimes 2023. All rights reserved.