Twitter (TWTR) NFL Deal Is A Ticket To Local TV Advertising Dollars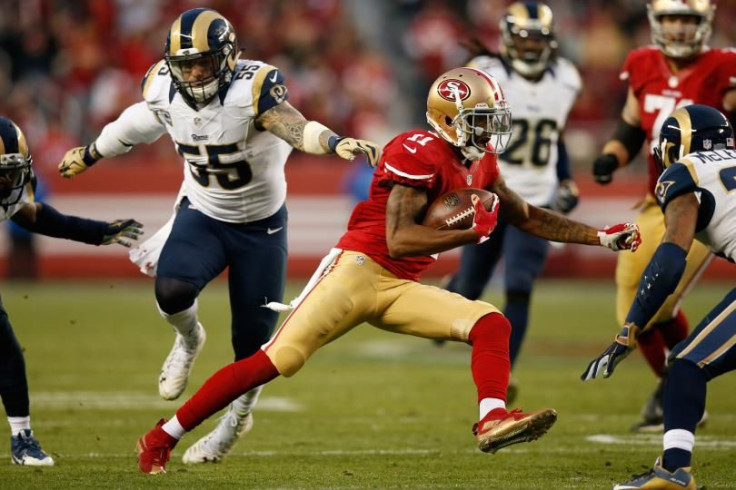 It sounds like the kind of coup that sends Silicon Valley and its investor class into paroxysms of joy: Dark horse Twitter seemingly came out of nowhere to win streaming rights to 10 Thursday Night Football games for the 2016-17 season, beating out rumored bidders like Yahoo and Amazon, for a reported $10 million.
It's all gravy for the NFL, which has managed to sell Thursday night now four times: on TV to CBS and NBC, on mobile to Verizon, and now on a global streaming basis to Twitter. The NFL gets a global audience while still raking in billions of dollars from broadcast partners. For Twitter, the deal is about reaching a mainstream audience, not necessarily versed in hashtags, RTs and @ messages.
The broadcasters aren't exactly threatened at this point, given the massive differential in viewership between telecasts and streams. Although a record-breaking 1.4 million people on average streamed Super Bowl 50, the average U.S. audience on CBS was 112 million.
Why not be threatened by an upstart tech company horning in on their rights? The networks get to keep the lion's share of the streaming ad revenue, as Twitter will be able to sell only the locally available slots in its own stream. NBC and CBS, who will be broadcasting the 10 games, get to sell all of the ad inventory in the national broadcasts and in the streams on their own sites and apps, and they get to tell national advertisers their commercials will be seen by however many people end up watching on Twitter.
And in addition to Twitter, CBS and NBC, Verizon Wireless' NFL Mobile service, long the exclusive mobile home for pro football, will also stream the games.
The lack of exclusivity does put the $10 million price tag for 10 games in perspective. Yet while that might seem cheap, given that Yahoo reportedly shelled out $20 million for a single Sunday game — a 9:30 a.m. ET matchup between the 3-3 Buffalo Bills and the 1-5 Jacksonville Jaguars played at Wembley Stadium in London — that's just the cost of the rights. Sources estimate the back-end streaming costs to tack on at least an extra $1 million per game.
That might be worth it to the beleaguered social network. The move aligns with CEO Jack Dorsey's new priorities for Twitter, announced to shareholders in February during the company's fourth-quarter earnings call. The second priority, under refining the core service, was live video. "We're focused now on what Twitter does best: live. Twitter is live: live commentary, live connections, live conversations," Dorsey wrote in a letter to investors.
"It's not surprising. Their name wasn't referenced [in any early reports], but anything involving the NFL makes sense for Twitter," said Brian Wieser, senior analyst of advertising, media and internet at Pivotal Research Group, noting their previous partnerships with American sports leagues like the NHL and NFL. In August, after two one-year trials, the social media company signed a two-year deal to share videos, GIFs and infographics of in-game highlights and next-day recaps.
"Twitter is clearly embracing the male millennial," says Matt Smith, chief evangelist of streaming back-end provider Anvato. "This is a generation that's grown up never having seen a single episode of 'SportsCenter.' All they know are highlights on YouTube and Twitter."
Twitter's streaming deal also gives it the rights to official pre- and post-game broadcasts from Periscope, the live-streaming video app the company released in March of last year, by teams and players.
It's not just male millennials Twitter is looking to snare, however. Although the NFL press release touts that Twitter has an audience of 800 million, only 320 million of those are registered and active on a monthly basis. And so the service is making the games available to anyone who stumbles onto Twitter, regardless of whether they're a user or not. "This is a great, great product for logged-out users," Twitter Chief Financial Officier Anthony Noto told Re/code.
Just because Twitter has a new integration with a live event doesn't mean more registered users. Twitter locked down a first-time partnership for a presidential debate with CBS in October. And yet, in the following quarter, Twitter announced a decline in monthly active users. For its 10-year history, Twitter has been a second screen to news and entertainment, and yet, user growth has stagnated.
Stagnant growth isn't an issue for the NFL, though. The league is looking for a global reach — thus the increasing number of games played abroad in countries like the U.K. and Mexico — and so those 800 million worldwide users provide a tempting pool of potential viewers. But as with concerns about how many people will opt to use Twitter to watch games, questions remain about Twitter's ability to actually deliver a pristine stream to every corner of the globe.
"It's one thing to have Odell Beckham Jr. Periscoping from the locker room," Smith says. "But streaming a three-and-a-half-hour game is an entirely different story."
Building the encoding infrastructure oneself can indeed be done in the roughly four months Twitter has before the start of the NFL season, but it also probably costs upward of $35 million, according to Smith's estimates.
Twitter declined to share how many employees and who will be working on the project. The company has undergone restructuring over the last six months since co-founder Dorsey has been back as CEO, laying off 336 employees — the majority of whom were engineers — in October.
A likely scenario, then, is that Twitter outsources that back-end work to a company like Encompass, and then contracts with multiple content delivery networks like Akamai or L3 for the kind of bandwidth required for potentially millions of lengthy streams. (Yahoo's London game averaged 2.36 million viewers per minute.)
While the NFL's TV partners greeted the news with a shrug, some analysts say this could be the true dawn of the Streaming Age. "As Internet and TV become closer together through deals like this, we are no longer in a three- or four-network game," says Gary Vaynerchuk, CEO of digital media agency VaynerMedia.
Unfortunately for Twitter, the big news doesn't seem to have impressed stockholders. Shares opened at $17.59, then promptly fell to around $17 as of press time.
Dorsey, meanwhile, had a different perspective.
© Copyright IBTimes 2023. All rights reserved.