Ubisoft Banks On Tom Clancy's 'The Division' To Win Back Gamers: Pledges No Microtransactions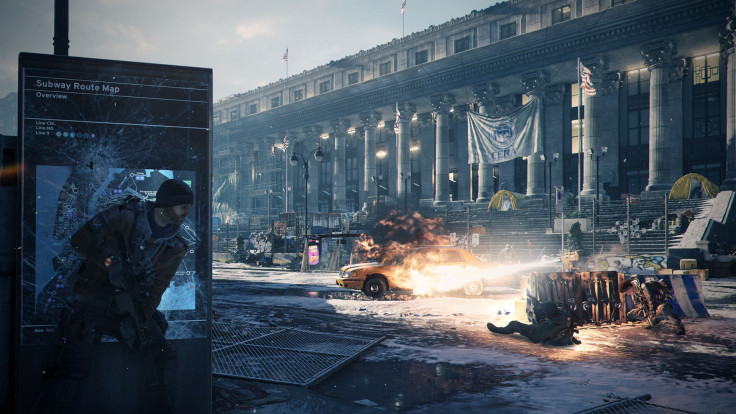 Ubisoft, one of the largest game companies in the world with annual revenue at $1.63 billion in 2014, is at a crossroads. Two of its most high-profile franchises are not delivering as expected. The latest entry in the hit "Assassin's Creed" suffered slow sales as consumers punished the French developer for releasing a previous version that was full of bugs. And "Tom Clancy's Rainbow Six Siege" has struggled to find a community.
So Ubisoft now needs a hit from "Tom Clancy's The Division," which is due for a March release. The company plans an aggressive marketing plan that likely includes a number of spinoffs. And in an attempt to sway gamers, "The Division" will contain no microtransactions -- in-game purchases that can enhance gameplay but can also kill a game's competitive balance by rewarding players willing to spend to win.
"The Division" is set after a deadly outbreak leads to a quarantine in New York City. The disease was spread via currency on Black Friday. A team of agents have arrived in Gotham to restore order while players learn more about the pandemic and who may have started it.
During a "The Division" event in New York on Tuesday, Magnus Jansen, the game's creative director, said the lack of microtransactions in the game will give it broader appeal. The only things gamers will pay for are downloadable content — mostly gameplay expansions — or purely cosmetic items.
"The way I define microtransactions is you pay to win, or spend money to get ahead or get to the goal. We have no such thing in the game nor have any plans for that," Jansen said. "We'll have DLC [downloadable content] down the line where you can buy new clothing, purely cosmetic items that do not affect gameplay in any way. You can buy a pack of that, but it's not pay-to-win."
After the release of "The Division" on March 8, the plan is to have free updates that include new content and experiences, according to Jansen.
Microtransactions are nothing new to games or first-person shooters, but their inclusion tends to upset fans. In December 2015, after Bungie said there would be no microtransactions that affect gameplay in "Destiny," the developer announced level-raising booster packs (to level 25) for $30, about half the game's initial price.
Despite the potential to lose gamers, companies can make millions, or even billions in the case of Riot Games' "League of Legends," as part of the $61 billion global digital market, according to industry analyst SuperData Research.
Some fans didn't see Bungie's move as a big deal because getting to level 25 is rather easy and fun, but others were worried about a transition to pay-to-win transactions. "My concern, which I think mirrors a lot of other players,' is that this is yet another step closer to the line between 'good' and 'bad' microtransactions," Jason Schreier, of widely read gaming publication Kotaku, explained in an article's comment section detailing the level booster. "And that the next move is Bungie selling engrams and consumables that increase loot drops and other stuff that actually impacts the game in a negative way for people who don't want to spend," Schreier wrote.
Microtransactions stacked the public perception against another high-profile Ubisoft release. In November, the company detailed its microtransactions plans for "Tom Clancy's Rainbow Six Siege." While maps and future DLC are free for "Siege," new characters need to be unlocked using the in-game currency Renown. Nearly everything a player does in "Siege" can earn them Renown or a player can pay for a Renown booster that helps speed up the process.
Prior to the December release of "Siege," another high-profile title from Ubisoft was suffering due to a bug-filled launch.
"Assassin's Creed Syndicate," launched in 2015, suffered a sales slump due to the widely panned "Assassin's Creed Unity," Ubisoft said in an investor call in November. The first week sales for "Syndicate" were affected by "Unity," but positive reviews led to better sales in the second week. An update on the performance of the latest "Assassin's Creed" title is expected to be released during Ubisoft's earnings report on Feb. 11. Analysts expect Ubisoft to report 1.47 billion euros ($1.64 billion) in revenue for its current fiscal year.
Ubisoft is putting some marketing muscle behind "The Division." It has kicked off an impressive advertising campaign that includes a tie-in novel and a live action miniseries released on YouTube. There's also an interactive viral site where players can check their money to gauge bacteria and germs that may be on the currency.
The launch of an original game can lead to big sales for a company. Ubisoft released "Watch Dogs" in May 2014, which led to strong earnings for the fiscal year that ended March, 30, 2015. Net income was 170.7 million euros on revenue of 1.46 billion euros. By contrast, sales for the first-half of Ubisoft's most recent fiscal year, in which it did not launch any blockbusters, were down 57.2 percent year-over-year, resulting in a loss of 107.8 million euros compared to a loss of 24.9 million euros for the same time period in the previous year.
With the integration of a seamless multiplayer area, called the Dark Zone, within "The Division" that gives players the opportunity to be hostile or cooperative with others online, Jansen sees "The Division" standing out from the competition with the help of fans. "The second we release the game, we'll be working with the community to expand the experience. 'You guys want to do this?' Fine, we'll test that and release an update," Jansen said.
FOR FREE to continue reading
✔️ Unlock the full content of International Business Times UK for free
offer available for a limited time only
✔️ Easily manage your Newsletters subscriptions and save your favourite articles
✔️ No payment method required
Already have an account?
Log in
© Copyright IBTimes 2023. All rights reserved.