UK Ebola Nurse Update: 4 Came Into Contact With Infected Worker; Medic And 2 Others Evacuated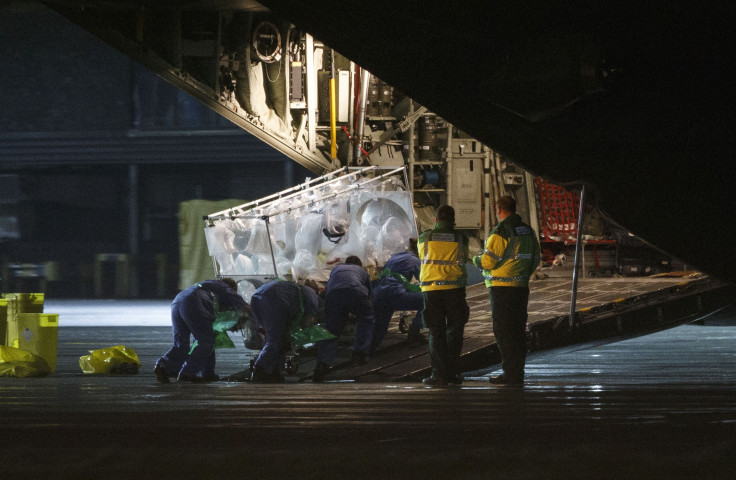 A British health care worker who tested positive for Ebola came into contact with four other military health care workers, Public Health England, a government body, announced Thursday. The nurse with the British Army tested positive in Sierra Leone and was evacuated from the West African country early Thursday.
Two other British health care workers who had been in close contact with her were sent back on the same flight as a precautionary measure, while two others are being watched in Sierra Leone for the time being.
The woman who tested positive and the two others will be treated at the Royal Free Hospital in London, where they will remain in a special isolation unit. So far only the woman has tested positive for Ebola and the two accompanying her have not shown symptoms of the virus, the Guardian reported.
Treating the health care worker who contracted Ebola included several options, namely the experimental antiviral drug favipiravir as well as transfusions of blood from previous Ebola survivors, Dr. Ben Neuman, a University of Reading virologist, told the BBC.
Health officials sought to minimize concern within the United Kingdom about the possible risk posed by this latest case. "The U.K. remains well placed to respond to this threat," U.K. Development Secretary Justine Greening told Parliament on Thursday. "The chief medical officer confirms the risk to the U.K. remains low."
Two British nurses who previously also contracted Ebola in Sierra Leone both recovered fully. As many as 700 members of the British military are in Sierra Leone fighting the Ebola crisis, the BBC reported.
The current outbreak of the Ebola virus in West Africa that began in December 2013 has killed nearly 10,000 people, out of nearly 24,000 cases. Liberia, Guinea and Sierra Leone have been the countries hit hardest by the virus, which typically kills 60 to 90 percent of the people it infects.
© Copyright IBTimes 2023. All rights reserved.