UK Election 2015: Cameron's Victory Creates A Headache For The European Union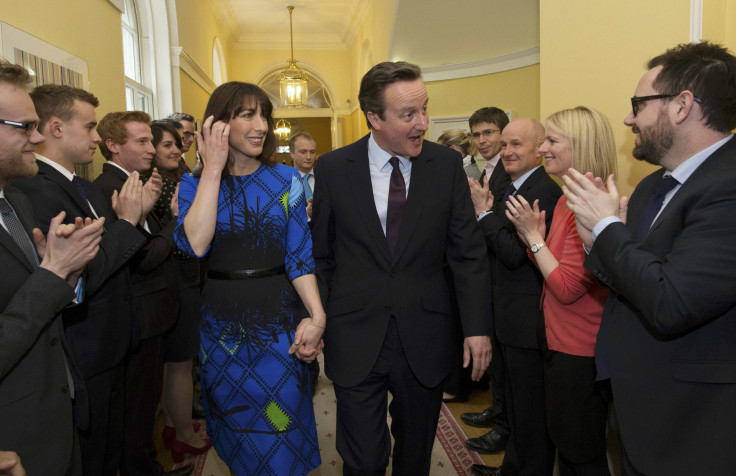 David Cameron's victory in Thursday's U.K. election, after a campaign run on a message of anti-Europeanism, has observers on the continent worried that the Conservative government will take its re-election as a mandate to finally do what successive British governments have hinted at for decades: leave the European Union.
The real nightmare for EU leaders would have been a resounding success by the virulently anti-Europe U.K. Independence Party (UKIP), which has not come to pass. UKIP got a lot of votes, but only one seat because of Britain's majoritarian electoral system. Still, the UKIP failure has not been accompanied by good news for the EU. A leader who campaigned promising a referendum about whether the U.K. should stay in the Union is now in charge of its third-largest economy.
The issue that concerns Cameron the most may sound esoteric: The prime minister wants "treaty change," or a renegotiation of the treaties that founded the EU. It would be a lengthy process requiring a majority of member states to agree on a new wording and, in essence, on what it means to be part of a union of states.
But what that actually means is simple, and Cameron explained it himself: "We need to get out of ever-closer union," he said earlier this year. And he would put the question of whether to do that to voters in the referendum he has promised to hold by 2017.
For continental governments and especially for Germany, the biggest economy in the Union, having less Britain in Europe -- or worse, no Britain at all -- would be a big problem.
"Angela Merkel will not be thrilled" by Cameron's victory, wrote Karl Arzheimer, a professor of political science at the University of Mainz in Germany. The German chancellor has a strongly pro-Europe ally in French president François Hollande, but "Germany has always relied on a balancing strategy that uses the U.K. to curb French enthusiasm for deficit spending, state intervention, and European bureaucracy."
The threat of "Brexit," the British opt-out whose threat periodically resurfaces in Europe's media, also adds uncertainty to the future of the 28-nation bloc. Europe is already facing an economic crisis that's been going on for seven years, the possibility of a Greek collapse, a foreign policy crisis with Russia and the arrival of more and more immigrants.
The "Brexit" will not come for a few more years, if at all. But the unanimity needed for EU policy decisions means that, even before a referendum, a recalcitrant U.K. can stall progress anytime it wants. And Cameron's tiny majority in parliament means that he will have to listen to, and take to Brussels, even the most extreme anti-European views in his party.
"The Conservative party has become much more Euro-skeptic over the past decade, as the older pro-Europeans have largely retired," Simon Usherwood, a senior lecturer in politics at the University of Surrey, said. Cameron "has got to keep his party together. He can't afford to have many people vote against him since he has a small majority." The collapse of the more pro-European Liberal Democrats, the Conservatives' coalition partners in the outgoing majority -- who will not be in power in the new parliament, where Conservatives can rule alone -- takes away the only tempering influence on EU matters, Usherwood said.
"There is no way Cameron can survive if he does not offer a referendum," Usherwood said. "Now the big driver is his back bench."
The issues dear to those back-benchers -- a crackdown on immigration and less regulation from Europe -- are familiar to Europeans, who have heard complaints about them out of London for a long time. (And not without some merit: Britain's finance-driven economy has been doing a lot better than the Eurozone's since the financial crisis began in 2008. In 2013, the U.K. grew by 1.7 percent and the EU by just 0.1 percent, according to World Bank stats.)
To some, the positions that Cameron has already taken on many problems affecting the Union are already a reflection of how much ground he has had to give to his party's right wing. For example, he wants to send immigrants back to their home nations if they can't find a job in Britain in six months -- an impractical policy that would create major headaches for countries on the continent.
"For an EU that's really suffered in recent years, this is all another massive problem to have to deal with," Usherwood wrote in a blog post. And, he added in a phone interview, "A lot of Europeans have tired of it all. They want the British to make a decision, whatever the result of the referendum."
© Copyright IBTimes 2023. All rights reserved.