UK Opposition Seeks Debate on RBS Chief's Bonus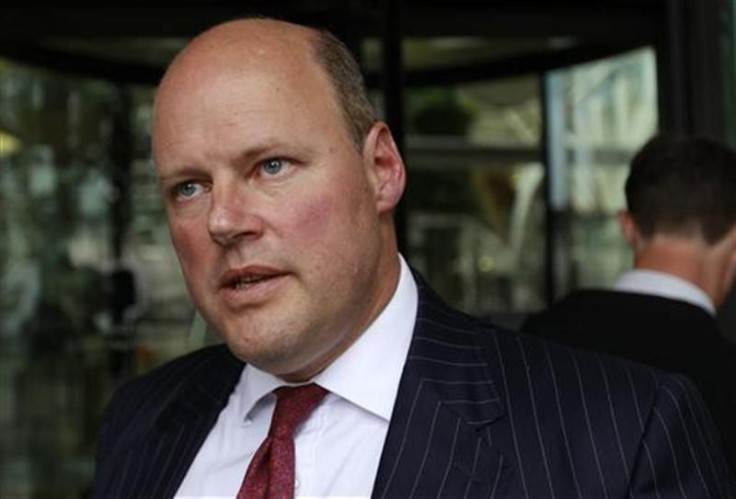 (Reuters) -- Pressure grew on the chief executive of bailed-out lender Royal Bank of Scotland on Sunday to give back a million pound ($1.5 million) bonus as the Labor opposition said it would force a parliamentary debate on the row.
The bonus for RBS CEO Stephen Hester has hit a raw nerve with Britons at a time of austerity when most workers are suffering wage freezes or sub-inflation rises, while the government has said its hands are tied by his contract.
British newspapers calculated that under Hester's contract he could be in line in future for a bonus eight times as large as the deal which has stirred the latest row.
A Labor source said the party aimed to hold the debate in early February on one of its allotted "opposition day" sessions in parliament. Labor says the government should use its 83 percent stake in RBS to cancel the bonus awarded by the bank's board last week.
Although the parliamentary debate would not be binding, it will raise the political heat on Conservative Prime Minister David Cameron and his Liberal Democrat coalition partners.
The coalition says that overruling the RBS board would risk destabilising a bank whose balance sheet is as large as Britain's entire economy, and points out that the bonus will be handed out under a contract drawn up when Labor was in power.
Hester's bonus could expose rifts within the coalition, as the left-leaning Lib Dems have led the way on government proposals announced last week to give shareholders more power to restrain soaraway boardroom pay. [ID:nL5E8CN39V]
Ministers would love Hester to solve the problem for them by declining the award, and Cameron pointedly said at the weekend that it was up to the RBS chief to take such a decision.
Hester could theoretically receive an 8 million pound bonus under a long-term incentive plan. This gives him up to 375 percent of his annual 1.2 million pound salary, along with other share plans, based on RBS's recent share price of 28 pence.
RBS, in which the state has held a majority stake since the bailout during the 2008 credit crisis, said this week that Hester's 2012 share award and long-term incentive plan would continue in line with a policy set out in 2010.
RBS declined to comment on the situation Sunday.
Public anger over bankers' pay shows few signs of abating, with many still set for million pound salaries while thousands of Britons lose their jobs in a weakening global economy.
Salaries at RBS and Lloyds are particularly controversial as both banks were bailed out with 66 billion pounds of taxpayers' money during the crisis. The British government owns 40 percent of Lloyds.
BOARDROOM PAY
RBS halved Hester's stock bonus for 2011 to just under 1 million pounds from 2 million in 2010, apparently responding to calls from Cameron to limit the size of the payout.
But it resisted demands from others to axe Hester's bonus altogether, although it waived a 1.4 million pound bonus for its chairman, Philip Hampton.
"Mr Cameron has been talking about how shareholders need to flex their muscles and have a bigger say in the way that executive pay is set," Labor legislator Liam Byrne told Sky News. "Fine - let's keep you to your word, step in now and say that this bonus payment to Mr Hester is wrong and should be stopped."
However, Conservative cabinet minister Iain Duncan Smith said the government could not micromanage RBS.
"You can't interfere and tell them what to do. And if we did not like that, the only option would be to get rid of the board. If you do that, imagine what would happen in the banking sector, and imagine what would happen to RBS. You would have chaos," he told BBC television.
Lib Dem Treasury minister Danny Alexander said he had studied all options over the bonus.
"I looked into whether we could do more, whether we could say no bonuses at all. That would have been the easier political choice. It would be one that Liberal Democrats and others would be very happy with," he told BBC TV's Sunday Politics show.
"(But) if we were to just tear up that agreement, it would involve undoing all the arrangements that are place, putting a much bigger risk to the taxpayer, which is in the Royal Bank of Scotland to the tune of tens of billions of pounds" he added.
Hester, a former Abbey National and Credit Suisse banker, joined RBS in October 2008 from property company British Land as RBS was reeling from its disastrous acquisition of Dutch bank ABN AMRO and the effects of the credit crisis.
Britain used about 45 billion pounds of taxpayers' money to rescue RBS, leading to the eventual resignation of former head Sir Fred Goodwin, who was replaced by Hester.
Hester was given a brief to restructure RBS and restore its fortunes, and the bank has cut more than 30,000 jobs under him.
Britain aims to sell its state holdings in RBS and Lloyds back to the private sector, although volatile markets have meant the timing of any disposal is uncertain.
(Editing by Sophie Walker and David Stamp)
© Copyright Thomson Reuters 2023. All rights reserved.